Discover more from Stained Page News
Cookbook fans, you have come to the right place.
Over 12,000 subscribers
Howdy cookbook fans!
Quick bit of housekeeping: as I mentioned, August is FALL COOKBOOK PREVIEW month, and I am so excited to share with all of you the books we'll be discussing for the rest of the year. Paid subscribers will be getting the preview issues a week ahead of free subscribers; so if you're a paid subscriber, you get preview August 3. If not, yours will start August 10. Become a paid subscriber here to join the cool kids. Got it? Got it!!!
---
This email contains affiliate links through bookshop.org. If you purchase a book after clicking one of those links, I'll receive a commission, which helps me keep Stained Page News affordable. Links are not necessarily recommendations. If a book's in the news, I'll link to it, be it garbage or treasure.
---
The Bestselling Cookbook of the First Half of 2020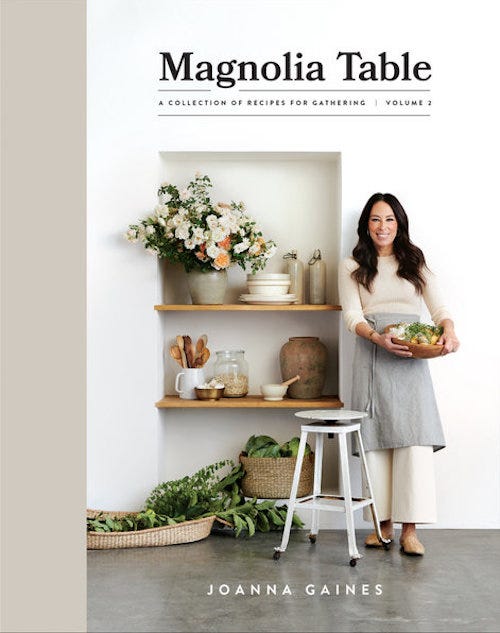 NPD BookScan released sales numbers for the first half of the year, and to the surprise of absolutely no one, the highest ranking cookbook, the only cookbook in the top 20, and #2 bestseller overall is Magnolia Table, Vol. 2 by the Queen of Waco herself, Joanna Gaines. Gaines has sold 529,824 copies of the book as of the release, which is…many, many books. [PW]
---
You know, I'm famous for never cooking the same thing twice. People ask me, "Can you cook so and so that you made before?" … How many times can you paint the Mona Lisa? I'm not doing that again! You know, I'll do something similar. But in all three of my cookbooks, I have three different macaroni and cheese, for example. The last one is made with buttermilk. As I approach life, cooking, and food, and particularly in this book, I wanted to give people something else to consider
—Chef and cookbook author Alexander Smalls shakes things up in his new book, Meals, Music, and Muses. [Heated]
---
Just Some Really Fun Marvel Cookbook Merch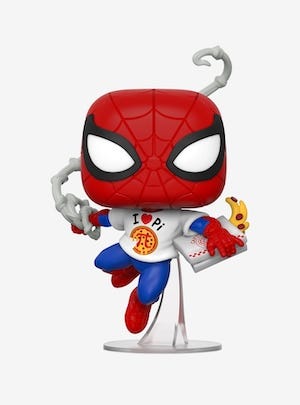 As previously covered in this very newsletter, Marvel released an officially official cookbook, Marvel Eat the Universe by Justin Warner. And now they've announced some officially official merch to go with the book, including the above Spiderman-as-pizza-delivery-guy Funko Pop! bobble-head above. There's also a t-shirt with the menu from the cafeteria at Xavier's School for Gifted Youngsters from X-Men and the menu from the Legendary Grill at Camp Lehigh from Captain America. [BoxLunch via ComicBook.com]
---
The way I shoot my dishes has always been intentional, and a lot of my inspiration comes from geometry and color theory and the way shapes and shadows all work together. There's a strong perception that Mexican food is cheap and is nothing more than tacos or burritos, and so I've shot everything with a colorful and minimalistic approach to help change that. I want you to be able to take a step back and see one of my photos and challenge your biases.
—Esteban Castillo discusses his food styling/photography choices in his new book, Chicano Eats.
---
Is Your Cookbook Lying to You?
Here is an essay from The Times by that paper's food editor Tony Turnbull, titled What the cookbooks get wrong. "I hate being lied to," Turnbull writes, "especially in the privacy of my kitchen, but it has been happening all too frequently over the past few months."
Lies Turnbull is frustrated with: recipes that claim you can cook onions quickly, recipes that take longer to cook than the cookbook claims, recipes that call for vegetables to be roasted at too low of a temperature, recipes with too many sub-recipes, and recipes that hide time-consuming steps in the ingredients list. LIES! All lies. What lies do you hate to see in cookbooks? [Times]
---
When I started a career in food editorial, I was sent cookbook after cookbook, month after month. I certainly appreciated the range, but felt that the majority were more aspirational over inspirational. And while there is definitely an audience for this type of book, it didn't speak to someone like me who is a professional eater and not a professional chef. I wanted to read something that made cooking (and kitchen failures!) fun and entertaining.
—Joey Skladany, author of the upcoming Basic Bitchen, on how he found his cookbook's niche of accessible, not-boring wellness recipes. [Forbes]
---
Check this out!
Just a nice illustrated discussion of the tomato sauces of the legendary Marcella Hazan. [NYT]

Sisters Amy Chung and Emily Chung on debuting their Burmese cookbook, The Rangoon Sisters—while working as NHS doctors in London amidst the coronavirus pandemic. [Observer]

NYT restaurant critic Pete Wells did a 6 hour Zoom with writer Bill Buford, during which they made fancy French chicken, talked about Mario Batali, and discussed Buford's new book, Dirt. [NYT]

Book podcast Backlisted—tagline "giving new life to old books"—looks at MFK Fisher's How to Cook a Wolf this week. [Twitter via @ckbk]

"Towards abundance!" with 1939's Soviet cuisine cookbook, The Book About Delicious and Healthy Food. [Gastro Obscura]

The four 20th century cookbooks of Minnesota author Norma Burke. [Litchfield Independent-Review]

Inside 1979's Wisconsin farm cookbook, The One-of-a-Kind Cookbook by Dorothy Gessert. [FT]

An exploration of older cookbooks that are "ripe for rediscovery." [Seattle Times]

A "citizen-artist" explores food, culture, and the impact of COVID-19 in Houston, Minnesota. [Fillmore County Journal]

5 tips for making dumplings from MasterChef Australia Brandon Pang's new book, This Is a Book About Dumplings. [Good Food]

Cookbook review: Let's Brunch by Belinda Smith-Sullivan. [PW]

Cookbook review: Impossible: The Cookbook by Impossible Foods, Inc. [SFChronicle]

Cookbook review: Sweet, Savory, Spicy by Sarah Tiong. [Herald]

Cookbook review: Local Dirt by Andrea Bemis. [PW]

The 10 best cookbooks of 2020, so far. [F52]

9 ice cream cookbooks. [Chowhound]
---
Okay pals that's it! Did you spot all the former MasterChef Australia contestants above? I'm leaving the comments open on this one so you can tell me about all the cookbook lies you hate, as a treat! Okay! See Friday folks Friday!