Discover more from Stained Page News
Cookbook fans, you have come to the right place.
Over 12,000 subscribers
Alton Brown's Haunted Cookbook Special
Plus: make a cheesy Dutch baby for dinner.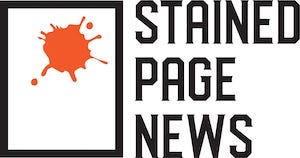 ---
Howdy cookbook fans!
Hope your Tuesday is going well. For those of you burnt out on cooking dinner, today's issue features a cheesy Dutch baby topped with a salad, an all-in-one dinner that's blessedly easy from the appropriately-titled Dinner Uncomplicated by Claire Tansey. As for me, I am finding new cooking inspiration by finally letting myself cook fall vegetables—dinner this week has been a lot of (toaster oven) roasted broccoli, even though it's going to be 88 today. Please don't tell my okra plants, which are still going gangbusters.
Lots to get to today! If you'd like to see me in your inbox again on Friday, consider becoming a paid subscriber by clicking the big red button below. And on with it!
---
If for us there was room to feel enthralled by the experience of reconnecting with our ancestral lands, there was also a deep awareness of the difficulties of life in a region that, for almost four decades, had been assaulted by attempts at control waged by various regimes. By the time we returned to Australia, we had connected more dots — about ourselves, our parents, our ancestors, the land where we had been born and the paradoxes that define it. We had affirmed a new resolve: if those inside Afghanistan were still making objects of beauty and preserving their heritage in creative ways while bombs exploded overhead, then an ocean away in Australia, we could also contribute to the story of our times in our own way, through creativity and food.
—Durkhanai Ayubi on returning to Afghanistan for the first time since she was a child, a trip that informed her new book Parwana. [Travel + Leisure]
---
Alton Brown's Haunted Cookbook Halloween Special
Don't miss Good Eats: The Return's 1-hour Halloween special, The House That Dripped Chocolate, October 8 at 9 pm EST on
@foodnetwork.
I suggest you find a blanket to hide under...
#goodeatsthereturn
Feeling spooky? Alton Brown's Food Network show Good Eats: The Return will air a Halloween special featuring…a haunted cookbook? Sure, why not. According to a press release I have not been able to find, the special "tells the mysterious tale of a ghoulish 100-year-old cookbook…shot in black and white, the story begins when a cook, played by Brown, buys an old candy cookbook that turns out to be cursed. Every time he makes a treat, the tricks get weirder… not to mention more painful." Airs October 8, 9 EST. There's a quick preview in the Instagram above. [Insta/The Wrap]
---
One book agent told me that the American public doesn't know what Salvadoran cooking is…What has kept me going is realizing I am the American public. There are many people who look like me and who have been longing to see a book like this on shelves.
—Karla Vasquez on her quest to publish a cookbook of Salvadoran cuisine. [LAT]
---
Sixth & I Digital Book Series: Ina Garten, Claire Saffitz
Washington, DC-based arts nonprofit/synagogue Sixth & I is taking its author speaker series digital, a boon to those of us based everywhere else. Coming up, two cookbook author talks to put on your radar:
---
Cape Town, SA Cookbook Author Aunty Flori Dies at 67
Cookbook author and co-host of the TV show Flori en Koelsoem se Kosse (Flori and Koelsoem's Food) Florence "Flori" Shrikker has died at age 67. Her co-host, Koelsoem Kamalie, died in April at age 72. The duo wrote Kook Saam Kaap (Cook Together Cape) in 2016. [News24]
---
---
It was hard to choose which recipes would be in the book…Most of the readers are Mexicans in the U.S. or other parts of the world, or people who are married to Mexicans who want to cook the food, or the children of Mexicans, because they still remember the food of their mom. They tell me, "When I see your recipes it's like my mom telling me how to do it."
—Mely Martínez on writing a cookbook aimed at a Mexican-American audience, The Mexican Home Kitchen. [DMN]
---
Cheesy Dutch Baby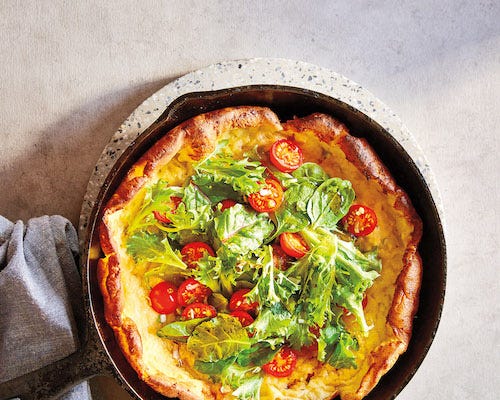 Excerpted from Dinner, Uncomplicated: Fixing a Delicious Meal Every Night of the Week by Claire Tansey. Copyright © 2020 by Claire Tansey. Photography by Suech & Beck © 2020. Reprinted by permission.
Dutch baby is like a giant puffy pancake— part popover, part soufflé and all delicious. Making it feels a bit like a magic trick since you put a pan of liquid batter into the oven and in no time it blooms up into a crispy, golden puffball (kids will happily sit in front of the oven glass and watch its progress with awe). Dutch baby is also like a distant but beloved cousin of the cheddar soufflé in my first book. It's easier and faster than soufflé, though, and while it's not as luxurious, it's still incredibly tasty and satisfying.
Serves 2 to 3
4 eggs

2/3 cup all-purpose flour

2/3 cup milk

1/4 teaspoon salt

2/3 cup grated old cheddar, divided

3 tablespoons butter

2 tablespoons extra-virgin olive oil

1 tablespoon balsamic vinegar

1/8 teaspoon salt

4 cups mixed greens

1/2 cup cherry tomatoes, cut in half

1 green onion, minced
Preheat the oven to 450°F. Whisk the eggs and flour together in a large bowl. Whisk in the milk and salt. Whisk in about half of the cheese.

Melt the butter in a 10-inch, oven-safe frying pan (such as cast iron—the pan cannot be non-stick) over medium. Swirl so it coats the entire bottom of the pan. Pour the egg mixture into the melted butter. Sprinkle with the remaining cheese. Transfer the pan to the oven and bake 12 to 15 minutes, or until the mixture puffs up and browns across the top.

While the Dutch baby cooks, whisk the oil, vinegar and salt in a large bowl until combined. Add the greens, tomatoes and onions and toss to coat. Pile the salad into the centre of the hot Dutch baby and serve immediately, cut into wedges.
---
That's it pals! See Friday folks Friday and GOSH I hope you have a great week.
---