Discover more from Stained Page News
Cookbook fans, you have come to the right place.
Over 12,000 subscribers
Angela Dimayuga Book Deal; Chicken and Rice Recipe
And more cookbook links than is probably healthy.
Howdy cookbook fans!
Lots to get to today, as usual! Today marks the RETURN OF RECIPES to Stained Page News, with Keeping it Simple author Yasmin Fahr's mama's chicken and rice. Just the cure for the early February blahs, if you ask me. Friday subscribers will get a second recipe from Fahr's book, Baked Eggs and Barley with Peppers, Greens, and Goat's Cheese. Become a paid subscriber by clicking the big ol red button below if you want that (and book deal news and other fun stuff).
Okay, here we go!
---
Angela Dimayuga's
Filipinx Cookbook
On the holy palindrome day of 02/02/2020 I signed a book deal with
@abramsbooks
and tbh couldn't think of a better pairing. Thx to my agent
@ricasuave
for encouraging me to do this project for the past 4 years!!!! Let's recognize how clutch it is that Abrams & Rica used that X in FILIPINX, actively decolonizing our language in a MF'n CONTRACT! So ready to gut punch 2020 : GET READY FOR A FILIPINX COOKBOOK BY ME BIG CRUEL WORLD WHO'S COMIN W ME !!!!!
Today in OH HELL YEAH: NYC chef Angela Dimayuga will write Filipinx Cookbook for Abrams. Dimayuga is the Creative Director of Food and Culture for Standard Hotels and once changed my life with her grandma's recipe for stuffed chicken at Mission Chinese. For a sneak peek of what you can expect in the book, check out her 10 Essential Filipino Recipes in the NYT. (And if you're unfamiliar with the term "Filipinx," read all about it here.)
---
Check this out!
---
My Mama's Chicken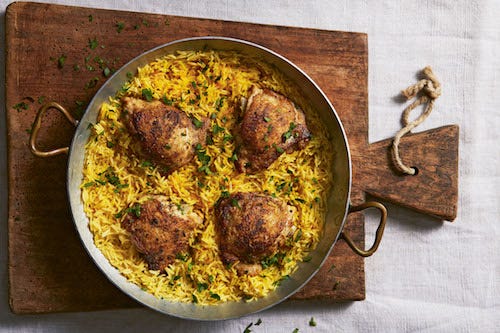 Recipes excerpted with permission from Keeping It Simple by Yasmin Fahr, published by Hardie Grant Books February 2020. Photo: Patricia Niven.
Growing up in my house we had a running joke, 'what's for dinner?... chicken!' My mother is not someone who enjoys cooking, even though she's very good at it. It's ironic because both my sister and I have pursued careers in food. My dad is the one who loves cooking and instilled that appreciation in us. Regardless, it was very important to both our parents that we ate well and always had dinner together as a family.
Inevitably, what was at the centre of this dinner was some form of chicken dish. My mother made a chicken stir fry, a roasted 'chicken with greens' (Cornish hens coated in dried oregano and other herbs) and 'lemon chicken' (roasted Cornish hens in a lemon and saffron bath with whole black peppercorns and red potatoes). All were served with fluffy basmati rice.
This recipe is inspired by these dishes, as it's a one-pot combination of seared chicken that's finished on top of a bed of lemon-saffron rice. The idea is to get a nice colour on the chicken and add some of their rendered tasty bits to the overall dish as they will finish cooking with the rice. As a note, the skin will get a little soft during the cook process, but will still taste delicious. Though the rice ends up being softer than traditional Persian rice, the taste and smell are undeniably as rich and wonderful as my childhood memories.
Serves 4
4 skin-on, bone-in chicken thighs (about 675 g/1 ½ lb)

1 teaspoon ground cumin

3 tablespoons olive oil, divided

¼ teaspoon saffron threads

1 tablespoon hot water

salt and freshly ground black pepper

500 ml (17 fl oz/2 cups) low-salt chicken stock (broth) or water

200 g (7 oz/1 cup) basmati rice, rinsed

2 lemons, juice of 1, 1 cut into wedges, for serving

15 g ( ½ oz/ ½ cup) fresh parsley or coriander (cilantro) leaves and fine stems, roughly chopped, for sprinkling
Season the chicken all over with salt, pepper and cumin. Heat 2 tablespoons of the oil in a large frying pan (skillet) with a tightfitting lid over a medium-high heat until very hot – less of a gentle, wavy shimmer and more like aggressive lava when you move the pan. Add the chicken, skin-side down, and cook without moving until it easily releases from the pan, and skin is crispy and well browned, about 4–7 minutes. (Test the chicken at 4 minutes to check its resistance.) Use tongs to flip and brown the other side, about 3–6 minutes longer. Transfer chicken to a plate and set aside.

Meanwhile, in the bottom of a small metal or sturdy bowl, grind the saffron and mix with hot water until dissolved.

Reduce the heat to medium and add the chicken stock to the same pan, scraping up anything stuck to the bottom with a wooden spoon. Add the rice, juice of 1 lemon and saffron water then season with salt and stir to combine. There will probably be a little fat in the pan, which is great. If it's charred or black though, rinse it out quickly and add 1 tablespoon of the oil to the rice/stock mixture.

Cover with the lid, bring the liquid to an active boil and then lower the heat to maintain an active simmer. Remove the lid and lay the chicken, skin-side up, carefully on top. Cover and cook until the rice is tender, most of the liquid is absorbed and the chicken has finished cooking, about 15–20 minutes. Use this time to clean up, set the table and make sure your pepper mill is stocked.

Remove the rice from the heat, fluff with a fork, cover and let it sit for a few minutes while you prep the herbs. Divide between plates and finish with loads of pepper. Top with the herbs and serve with lemon wedges.
---
And that's it for today! See you Friday, send me scoops, happy cooking.