Discover more from Stained Page News
Cookbook fans, you have come to the right place.
Over 12,000 subscribers
Howdy cookbook fans!
Apologies for getting this out so late today, but I promise it's worth your while. First of all, we have a COOKIE RECIPE from the new book Rage Baking, which is worth the wait alone. As always, if you'd like to get the Friday issues in addition to these Wednesday freebies, become a paid subscriber by clicking the big ol red button below.
Also! Substack has recently made commenting available to EVERYBODY, so I'm turning on comments on this post as an experiment. Feel free to discuss anything in this issue, what you've been reading/cooking lately, whatever. If people dig it we can do it every issue. Okay, on with it!
---
Art of Eating Prize Shortlist Announced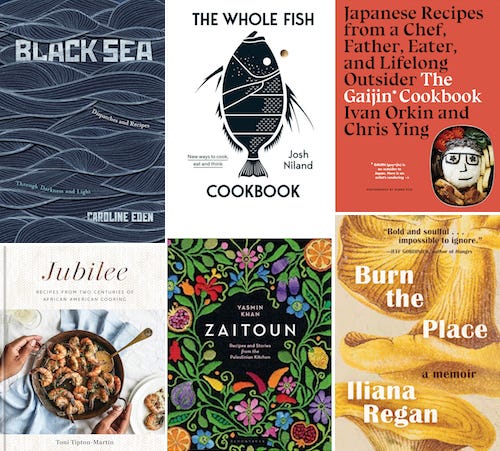 The Art of Eating prize shortlist has been announced! Head over to their site for some of the judges' reasoning for picking these titles, but the list is as follows:
Black Sea: Dispatches and Recipes, Through Darkness and Light by Caroline Eden [Quadrille]

Burn the Place: A Memoir by Iliana Regan [Midway]

The Gaijin Cookbook: Japanese Recipes from a Chef, Father, Eater, and Lifelong Outsider by Ivan Orkin and Chris Yang [HMH]

Jubilee: Recipes from Two Centuries of African American Cooking by Toni Tipton-Martin [Clarkson Potter]

The Whole Fish Cookbook: New Ways to Cook, Eat and Think by Josh Niland [Hardie Grant]

Zaitoun: Recipes from the Palestinian Kitchen by Yasmin Khan [Norton]
The winner of the $10,000 prize will be announced February 25.
---
Food52 Ends the Piglet
I super missed this: at the end of January, Food52 announced the end of their long-running cookbook review tournament the Piglet and are replacing it with a to-be-announced hunt for the best cookbooks of all time. Rebecca Onion at Slate has an obituary of sorts for the tournament: "I learned so much from reading the Piglet comments about why people cook, how they evaluate recipes, and what they expect from cookbooks." RIPiglet.
---
Check this out!
---
Marbled Chocolate-And-Vanilla Cookies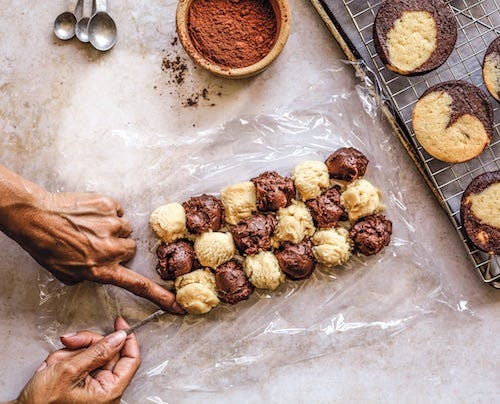 Excerpted from Rage Baking: The Transformative Power of Flour, Fury, and Women's Voices by Katherine Alford and Kathy Gunst. Used with permission. Tiller Press 2020.
Why choose between vanilla and chocolate? These playful cookies combine a vanilla dough and a chocolate dough in a patchwork quilt pattern. It's way simpler than it sounds. Drop spoonfuls of the dough onto a piece of plastic wrap or reusable wrap, roll it up like a party favor, chill, then slice. The result? A delish, impressive-looking, swirly black-and-white cookie without a lot of fuss.
Makes 18 to 24 cookies
2 cups (300 grams) all-purpose flour

½ teaspoon baking powder

½ teaspoon fine salt

¼ teaspoon baking soda

2 ounces bittersweet chocolate, chopped, or about ⅓ cup bittersweet chocolate chips

2 sticks unsalted butter, at room temperature

2 tablespoons unsweetened Dutch-process cocoa powder, sifted if clumpy

½  teaspoon ground cinnamon

1 cup sugar

1 large egg

2 teaspoons pure vanilla extract, or 1/2 teaspoon pure almond extract
Whisk the flour, baking powder, salt, and baking soda in a medium bowl.

Put the chocolate and 3 tablespoons of the butter in a medium heatproof bowl and set it over a small saucepan of barely simmering water (make sure the bottom of the bowl doesn't touch the water). Stir together until melted and combined, about 2 minutes. (Alternatively, put the chocolate and butter in a microwave-safe bowl and microwave in 20-second bursts, stirring after each, until melted and combined.) Whisk the cocoa powder and cinnamon into the melted chocolate until smooth. Set aside to cool slightly.

In a stand mixer fitted with the paddle attachment, beat the remaining butter and the sugar on medium-high speed until light and fluffy, about 3 minutes. Add the egg and vanilla and beat until combined, stopping to scrape down the sides of the bowl as needed. With the mixer on low speed, add the flour mixture and beat until combined. Divide the dough evenly in half (about 380 grams per piece).

Return half the dough to the mixer bowl and transfer the other half to a separate bowl. Add the melted chocolate mixture to the dough in the mixer bowl and beat until smooth.

Lay out a large piece of plastic or reusable wrap or parchment paper on your work surface. Drop alternating heaping tablespoonfuls of the dough—one chocolate and one vanilla—onto the plastic to make a rough patchwork quilt, about 3 inches wide and 11 inches long. Use the plastic to roll the dough into a tight log, then twist the ends tightly like a party favor to compact the dough. (For larger cookies, don't roll the dough quite so tight so you have a fatter log.) Refrigerate until firm, about 2 hours or up to overnight.

Position racks in the upper and lower thirds of the oven and preheat to 350 F. Line two baking sheets with parchment paper. 

Slice the dough into 1/2-inch-thick rounds and place them about 2 inches apart on the prepared pans. Bake the cookies until the edges are golden, 15 to 20 minutes, switching the pans halfway through. Let cool on the pans for about 5 minutes, then transfer to wire racks to cool.

---

That's it for this today, pals! If you're a subscriber, I'll see you Friday. Have a great week!