Discover more from Stained Page News
Cookbook fans, you have come to the right place.
Over 12,000 subscribers
Awards Bonanza: IACP, Taste Canada
Plus: A crispy rice recipe from Hugh Acheson.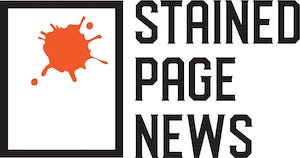 ---
Howdy cookbook fans!
And welcome to your Tuesday issue. Special welcome to anyone who finds themselves here after today's IACP conference panel, The Art of the Newsletter. And big thanks to Wahsington Post food editor Joe Yonan for putting the panel together.
In today's issue: a recipe for crispy rice with kimchi and sausage from your favorite Canadian-Georgian and mine, Hugh Acheson. Hugh's new book is called How to Cook, and I am super fascinated by the concept: he wrote it for his kids as they grow up and go to college, using simple cooking building blocks (in this case, how to make white rice), and then applying it to tasty recipes (in this case, an easy weeknight dinner). This is a great book for people who can maybe make a recipe or two, but are really looking to up their comprehensive cooking skills. (Not just kids!) In other words, how to cook. Like the title says.
SPN HQ UPDATE: It is suddenly winter. Skipped right past fall to pull the basil and make soup weather. I have been neck deep in old cookbooks for an upcoming feature I'm writing, so while I don't have a fall cookbook update for you this second, I can assure you there is a stack at my feet right now begging to be read (before they topple!). The good news is this means soon you'll get LOTS of cookbook writing from me, so stay tuned. And hopefully my office will be less perilous, ha.
And now! News!
---
IACP Cookbook Awards, Taste Canada Awards Announced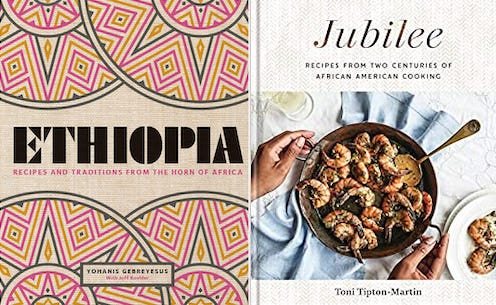 Awards are in the air. This spring's delayed IACP conference and its awards ceremony are happening digitally right now, which means there are a bunch of 2019 cookbook authors owed congratulations. Head over to the IACP website for the full list of winners, but the major category winners include:
The IACP Julia Child First Book Award
Book of the Year
Culinary Classics Awards
I love these kind of classic cookbook/hall of fame awards. Had never heard of the Capon title, which is described as a book "from a passionate and talented chef who also happens to be an Episcopalian priest comes this surprising and thought-provoking treatise on everything from prayer to poetry to puff pastry." It goes on the to-read list.
And up in Canada, the Taste Canada awards. I've long been fascinated by the world of Canadian cookbooks (and am in fact looking for someone to interview on this very topic; if that's you, email me). These awards follow a format I haven't seen before: they're separated into French- and English-language categories, and then five books each are given gold and silver awards. The Gold winners are listed below; check their Instagram for the rest.
Gold English-Language
Gold French-Language
---
Readers Donate Cookbooks to Replace Chef's Collection
After the San Francisco Chronicle ran a story about chef Cindy Pawlcyn losing her 3,800 volume cookbook collection to the Glass Fire, readers have been donating their own cookbooks to Pawlcyn's Napa restaurant, Mustards Grill. Staff are putting them aside for her for a later date, as Pawlcyn says she's "too fragile right now to see them." Her collection previously contained irreplacable volumes, including family heirlooms and signed editions from the legends of American cookbooks.
If you would like to donate to help those affected by California's devastating wildfires, here's the California Community Foundation's Wildfire Relief Fund. As always, sending much love to Napa.
---
---
Crisped Rice With Sausage and Kimchi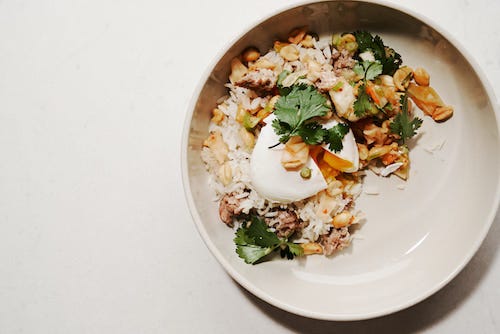 Excerpted with permission from How to Cook by Hugh Acheson. Clarkson Potter, 2020. Photo: Andrew Thomas Lee.
This is a meal that requires a couple of pans, but it is worth it. It is a textural delight, punches with acid and heat, and comforts with meaty sausage and the pillow of a poached egg. If you're not already familiar with cabbage kimchi, you are in for a treat. A Korean pickled cabbage, it sings with chile, acidity, and a delicious funk. If you are still acquiring the taste for it, you can use less. (You can also sauté it in a bit of butter, which mellows it out a bit.)
The trick to this dish is the rice, which uses a Thai technique, where the already cooked rice is oiled prior to crisping in a hot pan. Works like a charm.
No breakfast sausage? Use some cooked chicken, tofu, shrimp, or whatever is hanging out in your fridge.
Serves 2
2 tablespoons peanut or canola oil

1/4 pound bulk breakfast sausage

2 cups cold cooked rice (page 000)

Kosher salt

1/2 cup napa cabbage kimchi, chopped

2 tablespoons cilantro leaves

1 tablespoon minced scallions

1 tablespoon freshly squeezed lime juice

2 tablespoons roasted peanuts, lightly crushed

2 eggs, room temp if possible (optional)
Place a large frypan on the stove over medium high heat. Add 1 tablespoon oil and then break up the sausage into the pan. Cook until cooked through, about 6 minutes, stirring every minute or so. Remove to a bowl.

Clean out the sausage pan and place it back on medium high heat. While it is heating up, place the cold cooked rice in a bowl, crumble it with your hands, and add the oil. Mix well with your hands to get some of the oil on every kernel of rice. If it seems like not enough oil, drizzle in a little more. When the pan is nice and hot, place the rice in the pan and press down a little bit with a spatula to lay down an even foundation of rice. Don't mess with it for about 5 minutes, and then lift a corner of if to see how the crisping is coming along. Begin to break it up a little bit when it is nicely crisped and golden. Turn off the heat. Crumble the cooked sausage into the rice and season to taste with a pinch of salt.

In a medium bowl, combine the kimchi, cilantro, scallions, lime juice, and peanuts. Toss gently to combine.

Get your eggs poached, if using.

Arrange bowls on the counter and divide the crisp rice and sausage amongst them evenly. Add a hot poached egg to each and then evenly divide the kimchi salad over the top of the eggs.
Note: If you want to double this, either use a really big pan for the rice – 12" – or do this in batches, to avoid under-crisping the rice.
---
That's it for cookbook news today! I will see Friday folks Friday (brace for a survey) and I hope everyone has a great week.
---