Discover more from Stained Page News
Cookbook fans, you have come to the right place.
Over 12,000 subscribers
Bastianich PA's Memoir; Texas Mexican Film
Howdy cookbook fans!
Rainy day here in Austin! Not much to announce today but the news so let's get into it, shall we? (As always, send me tips if you got 'em!) Become a paid subscriber, if you want! Okay!
---
Babbo Hostess/Bastianich's Assistant's Memoir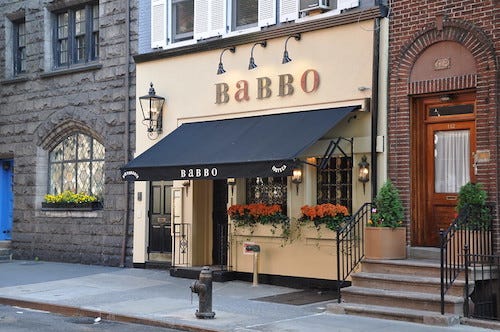 [Flickr]
Kim Reed, former Babbo hostess and personal assistant to restaurateur Joe Bastianich, is writing a memoir for Hachette. Publishers Marketplace describes it as "a crash course in celebrity, eccentric and difficult bosses, and the perils of losing oneself to an addictive job at the expense of one's personal life." I'd be tempted to call it something like The Devil Wears Expensive Italian Suits except, well.
This deal was announced in Publishers Marketplace in late November. Earlier this month, New York State Attorney General Letitia James announced her office was "'looking into' claims against" Bastianich as part of their ongoing investigation into claims of sexual misconduct within B&B Hospitality. That company, which Bastianich owned with chef Mario Batali, ran multiple restaurants, including Babbo. Batali divested after 2017's bombshell sexual misconduct claims, and Bastianich runs the restaurants under a new company.
It's unclear how much of the memoir will touch on these events, if at all. The way the announcement was phrased it sounds more personal than tell-all—the working title of the book is All Roads Lead to Kim. And who knows what the deal is with NDAs. One to keep an eye on, for sure.
---
Texas Mexican Food Documentary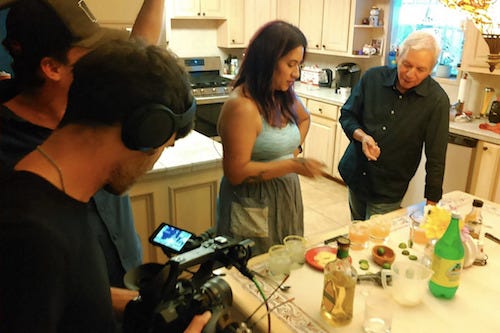 Cookbook author Adán Medrano's life's work is exploring Texas Mexican food, a cuisine that originated in Texas and has developed over generations. Medrano has two cookbooks to his name, 2014's Truly Texas Mexican and 2019's Don't Count the Tortillas. And now he's raising funds for a documentary, along with producer Virginía Diaz and director Anibal Capoano.
Texas Mexican Food Stories will be "styled as a 'road movie,' shot across Texas cities like Houston, San Antonio, Corpus Christi, McAllen, Harlingen, ending aboard a small boat on the waters of the Rio Grande. Foregrounding the leadership of Mexican American women, the scenes of cooking, baking, singing, feasting and barbecuing, all show that food is key in the formation of identity and the strengthening of community." Sounds great! They're aiming for $25,000, so toss 'em a couple bucks if you can.
---
Check this out!
---
Okay that's it for today! Quick programming note: in the event I have a super busy work week (which may be coming down the pipe), preference will be given to the weekly paid issue. So if you don't get a free Wednesday issue, that's what's up. Yet another great reason to subscribe! Have a great week, and happy cooking.