Breaking: 2020 Beard Awards Cookbook Finalists
Congrats to all the nominees!
Howdy cookbook fans!
Here I am with a special MONDAY issue of Stained Page News, because the James Beard Foundation has announced the finalists for their 2020 cookbook awards! On Twitter! No rules 2020, y'all. The winners will be announced online on May 27. The Book of the Year and Cookbook Hall of Fame Awards will be announced then, as well.
Finalists below; congrats to all!
---
The 2020 JBF Cookbook Awards Finalists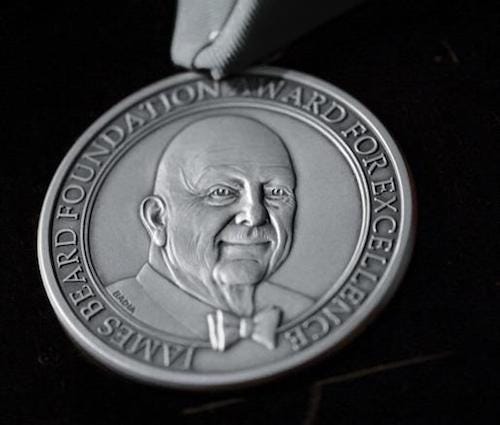 Photo: JBF
Restaurant and Professional
Dishoom by Shamil Thakrar, Kavi Thakrar, and Naved Nasir [Bloomsbury]

Eleven Madison Park: The Next Chapter by Daniel Humm [Ten Speed]

The Whole Fish by Josh Niland [Hardie Grant]
Baking and Desserts
Dappled by Nicole Rucker [Avery]

Living Bread by Daniel Leader with Lauren Chattman [Avery]

Pastry Love by Joanne Chang [HMH]
Beverage
Last Call by Brad Thomas Parsons [Ten Speed]

The Martini Cocktail by Robert Simonson [Ten Speed]

The Nomad Cocktail Book by Leo Robitschek [Ten Speed]
Best Books About Beverages Without Recipes
The Complete Guide to Japanese Drinks by Stephen Lyman and Chris Bunting [Tuttle]

Red and White by Oz Clarke [Little, Brown]

World Atlas of Wine by Hugh Johnson and Jancis Robinson [Mitchell Beazley]
General
All About Dinner by Molly Stevens [Norton]

Milk Street: The New Rules by Christopher Kimball [Voracious]

Where Cooking Begins by Carla Lalli Music [Clarkson Potter]
Health and Special Diets
The Beauty Chef Gut Guide by Carla Oates [Hardie Grant]

Canelle et Vanille by Aran Goyoaga [Sasquatch]

Gluten-Free Baking at Home by Jeffrey Larsen [Ten Speed]
American
Cook Like a Local by Chris Shepherd [Clarkson Potter]

Jubilee by Toni Tipton-Martin [Clarkson Potter]

South by Sean Brock [Artisan]
International
Black Sea by Caroline Eden [Quadrille]

Ethiopia by Yohanis Gebreyesus [Kyle]

The Food of Sichuan by Fuchsia Dunlap [Norton]
Reference, History, and Scholarship
Gandhi's Search for the Perfect Diet by Nico Slate [University of Washington Press]

A South You Never Ate by Bernard L. Herman [UNC Press]

The Whole Okra by Chris Smith [Chelsea Green]
Single Subject
From the Oven to the Table by Diana Henry [Mitchell Beazley]

Pasta Grannies by Vicky Bennison [Hardie Grant]

Sour by Mark Diacono [Quadrille]
Vegetable-Focused Cooking
Ruffage by Abra Berens [Chronicle]

Vegetables Illustrated by America's Test Kitchen [ATK]

Whole Food Cooking Every Day by Amy Chaplin [Artisan]
Writing
Eat Like a Fish by Bren Smith [Knopf]

Notes from a Young Black Chef by Kwame Onwuachi with Joshua David Stein [Knopf]

Women on Food by Charlotte Druckman [Abrams]
Photography
American Sfoligno; Eric Wolfinger, photographs [Chronicle]

Le Corbuffet; Esther Choi, photographs [Prestel]

Oaxaca; Quentin Bacon, photographs [Abrams]
---
Okay that's it! Sorry typos! Sorry for not using your lovely subtitles! See y'all Wednesday. And, if you would like to become a paid subscriber by clicking the red button below, I'll see you Friday, too.