Chrissy Teigen's 'Clean' Book; Giant Cookbook Database Launches
Plus: translating medieval Arabic cookbooks.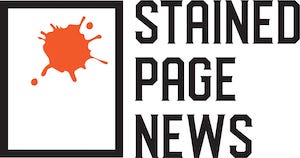 ---
Howdy cookbook fans!
NEW LOGO ABOVE! Thanks to Julie Mills at Design Pony. What do you think?! The font's inspired by midcentury cookbooks; the splotch is inspired by tomato sauce. I love it.
My fall cookbook preview is about halfway through for paid subscribers, who have heard from me every day for the past week. It has been a lot of fun, but I am pretty excited to stop previewing and start cooking! If you're curious what's coming this fall, here's what I've covered so far (these will be made accessible to free subscribers after fall preview is complete, but for now, paywall): Multi-purpose cookbooks, focus on flavor, baking, desserts, pie!, restaurant and chef books, single subject and special interest, drinks, gadgets, cooking with kids.
Also! The folks at Substack were kind enough to interview me for their podcast, so give it a listen if you want to hear me talk about cookbooks (duh), blogging, why I launched a newsletter, and more. Okay news time!
---
Chrissy Teigen to Write Third Cookbook, on "Clean" Food
It's funny, I mentioned recently in an interview that writing this newsletter meant I could cover things other than Chrissy Teigen cookbooks, and now here I am with news from the Teigen household for the second week in a row. Anyway! Teigen announced via Twitter that she is working on book number three, which will feature "clean, delicious food" and less bacon and cheese than her prior outings. If she's going to start writing it this fall we're still a ways out, but keep it on your radar. Teigen's previous two titles, Cravings and Cravings: Hungry for More were with Clarkson Potter.
*I don't cover books on weight loss, so this might be the last I mention it, depending how far it veers in that direction.
---
I'm really hoping that this cookbook helps people understand the complexities of our cuisine, because "Nigerian cuisine" itself is a term that doesn't really tell you the story of the food that we have there — its diverse backgrounds and the different cultures that have all been like lumped together into one country through the British colonization. I think the recipes I'm working on, I hope, will reflect that diversity in our story.
—Yewande Komolafe on what readers might expect from her upcoming book on the foods of Nigeria, coming fall 2021. [Heated]
---
Cookbook Database The Sifter Launches With 5,000 Works

After decades of work, food historian Barbara Wheaton launched the Sifter, an open-access, searchable database of cookbooks and other historical food documents. The database contains over 5,000 documents, mostly in European languages, although they are hoping to expand beyond Europe. Wheaton presented the website at the digital Oxford Food Symposium this year. Food historian Rachel Laudan discusses the history of the project here, while Bee Wilson wrote about it for the New York Times Magazine in 2015. You can hear Wheaton herself explain it in the video below. [via @nicmillerstale/Twitter]
---
From a place of application, once you've done a few things, that kind of gives you a view on life. Five restaurants, a Grammy, and a Tony, some other awards along the way. Traveled around the world. A sense of being seasoned and having had multiple careers and been involved in telling and curating a story. You kind of feel like you have a kind of platform, if you will, to talk about it in a very full way. So I felt like, with Meals, Music, and Muses, how fitting it was to give readers an opportunity to witness my process through my own eyes and through the things that were most important to me.
—Chef and cookbook author Alexander Smalls on incorporating music into his cookbook Meals, Music, and Muses.
---
Sneak peek of our first copy of the cookbook. In store this Fall. Preorder yours and get it before it hit the store. Link in bio. Photographs by
@jodyhorton
and beautifully designed by
@juliehsavasky