Discover more from Stained Page News
Cookbook fans, you have come to the right place.
Over 12,000 subscribers
Could Your Family Recipes Become a Bestselling Cookbook?
Survey says: 2/3s of Americans think theirs could!
Howdy cookbook fans!
Hello from gorgeous Austin where finally, finally we have nice fall weather. (It's going to be 94°F Friday though…sigh.) We have an EXCESS of kimchi liquid that I am planning on braising…something…in tonight. (Collards?) Otherwise I am in recipe-development-land. Keeping busy over here!
We've got a chunky newsletter today, with book designer Frances Abrantes Baca back to explore a design-forward cookbook, a bunch of book deals, a cookbooky survey that shows y'all think VERY HIGHLY of your meemaw's recipes, and much more. Head to the website if this is too long for your email. Let's get to it!
---
Today's issue of Stained Page News is brought to you by Knopf Cooks and Latinísimo: Home Recipes from the Twenty-One Countries of Latin America by Sandra A. Gutierrez. From Tortillas de Nixtamal (Fresh Masa Tortillas) and Arroz con Pollo (Chicken and Rice), to Arepas Clásicas (Classic Arepas) and Pastel de Tres Leches (Tres Leches Cake), Latinísimo is filled with recipes that reflect the incredible breadth and richness of Latin culinary traditions. Order your copy today!
---
Most Americans Believe Their Family Recipes Could Be Bestsellers
Think you've got a bestselling cookbook in you? You're not alone: Two-thirds of Americans believe their family recipes are "worthy" of bestselling cookbooks, according to a survey done by Bob Evans Farms (yes like the sausage people). Best of luck to all 220 million of you! (Someone is going to have to also…buy those cookbooks. We'll cross that bridge when we get to it, I guess.) Other stats from the survey:
71% have a family recipe from either their parents (54%), grandparents (40%), or great-grandparents (24%).

Millennials (80%) are most likely to "continue their family's heritage through cooking" as compared to Boomers (76%), Gen X (75%) and Gen Z (67%). (Has Gen Z even had their cooking moment yet though?)

Meanwhile, Gen X (77%) actually has possession of the family recipes, versus Boomers (76%), Millennials (68%), and Gen Z (53%).
So! Do you have family recipes? Would you publish them? Have you published them? I wish I had my grandmother's bread dumplings recipe, sigh. I'll have to tinker with that and see if I can recreate it.
---
The Creative Brief with Frances Abrantes Baca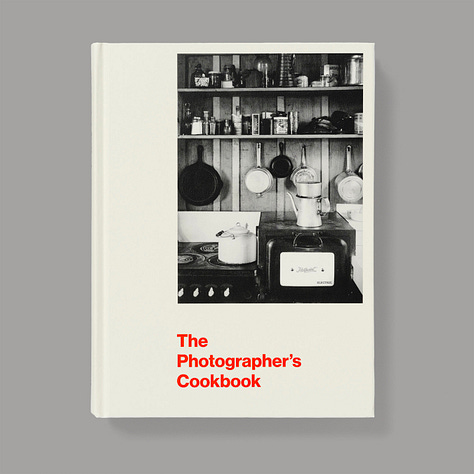 It was 1977 when Deborah Barsel, a young employee of the noted American photography museum the George Eastman House (now the George Eastman Museum), began pursuing a project that she conceived—collecting recipes from some of the world's most well-known photographers. Her plan was to publish the more than 120 contributions she received, but she departed for graduate school before the project was completed, leaving the material behind in a box marked "Photo Cookbook."  Fast-forward more than thirty years, and former Eastman Museum curator of photography Lisa Hostetler discovered the neatly organized box in the museum's archives. Together with Aperture, the Eastman Museum finally published the long-forgotten recipes and images in 2016.
The Photographer's Cookbook is the result of Barsel's vision, and offers forty-nine recipes selected by Hostetler and Aperture's senior editor Denise Wolff. The book features the work of legendary photographers such as Ansel Adams ("Eggs Poached in Beer"), Imogen Cunningham ("Borscht"), and Richard Avedon ("The Royal Pot Roast"), as well as that of several lesser known artists like Grant Mudford ("Pavlova"), Jim Alinder ("The World's Best Brownies"), and Linda Connor ("Pumpkin-Pomegranate Soup"). And although most recipes produce reliable results, some are more conceptual—Les Krims's "Formalist Stew," for example, calls for "185 ingredients and takes 31 days to prepare" but warns "you die of boredom and hunger before it's ever finished."
London-based studio Atelier Dyakova designed The Photographer's Cookbook. The recipes are set in Helvetica and Typewriter, typefaces that pay tribute to the cookbooks, advertising, and typewritten correspondence of the 1970s. The neon orange that accents the recipes and floods the chapter dividers feels strikingly modern, though it also borrows somewhat from the saturated, garish colors of 1970's food photography.
Designing with fine art requires a high degree of restraint—to preserve their artistic integrity, the photographs cannot be cropped nor manipulated—and Atelier Dyakova sensitively presents the mostly black-and-white images, framing them with a modest white border. The one exception is a full-frame two-page spread featuring Neal Slavin's Frankfurters in Full Dress, whose colorful hot dogs rest alluringly on a dark blue surface, adorned with ingredients such as bacon, pineapple, mayonnaise, and—fascinatingly—crab apples.
Though The Photographer's Cookbook may seem like an odd concept, Hostetler beautifully sums up the curious, but complementary, relationship between photography and cooking: "...both chefs and photographers regularly transmute ordinary matter into works of great value and rarity. Whether the pleasure of consuming them is visual or alimentary, creativity is critical to successful results."
---
Coming Attractions: NPH & David Burtka! Mxriyum! ChaoticForager! Masala y Maíz! Danielle Sepsy!
Husbands Neil Patrick Harris and David Burtka to write Mixed: Paired Cocktails and Mocktails to Fit any Mood, which is a pretty good idea honestly. The cookbook is organized around the four elements. Plume, pub date TBA.

Mxriyum (TikTok 7.8 million, Insta 1 million) to write I Sleep in My Kitchen (which is her bio text on both platforms). The cookbook will "[celebrates] the author's Palestinian heritage as well as her creativity in the kitchen." Clarkson Potter, fall 2025.

Gabriellle Cerberville, aka "Mushroom Auntie" aka @chaoticforager (Tiktok 1.1 million, Insta 307K), to write Gathered, "a wild food field guide and memoir with seasonal recipes and foraging exercises." Harper, pub date TBA.

The chef/owners of Mexico City's Masala y Maíz restaurant, Norma Listman and Saqib Keval, to write an as-yet-untitled Masala y Maíz book (although I think the restaurant name is a pretty good title). The book, like the restaurant, will "explore the crosscultural foodways of Mexico, South Asia, East Africa, and California" and sounds very delicious. Clarkson Potter, pub date TBA.

I did not watch The Big Brunch so I am unaware of baker Danielle Sepsy's "famous scone recipe," but it will be released in her upcoming cookbook for the first time, along with "tried-and-true baking recipes with a good dose of Americana and Italian American influence." The book will be called The Scone Queen Bakes and it will be published by Knopf. Pub date tba.

And finally, "the Food Dolls" aka sisters Alia Elkaffas and Radwa Elkaffas (TikTok 1.5 million) to write an as-yet untitled cookbook "featuring 100 recipes for easy Middle Eastern-influenced Midwestern-meets-the-Mediterranean comfort food for family meals and gatherings." Co-written with Rachel Holtzman, Clarkson Potter, spring 2025.
---
---
Ok that's all for today! Have a great week and see you again soon.