Discover more from Stained Page News
Cookbook fans, you have come to the right place.
Over 12,000 subscribers
Duff Goldman's Kids' Baking Book; Pimento Cheese Recipe
And a bunch of stuff to read!
Howdy cookbook fans!
And welcome to Wednesday. How are you? I hope you are ready for some COOKBOOK NEWS, because that's the name of the game around here. That and PIMENTO CHEESE, for which we have a recipe this week from the lovely Buttermilk Kitchen by Suzanne Vizethann.
As always, if you'd like to see me in your inbox again on Friday you may become a paid subscriber for $5/month or $50/year. Click the red button below!
Happy birthday Willie Nelson!
---
Duff Goldman Writing Kids' Cookbook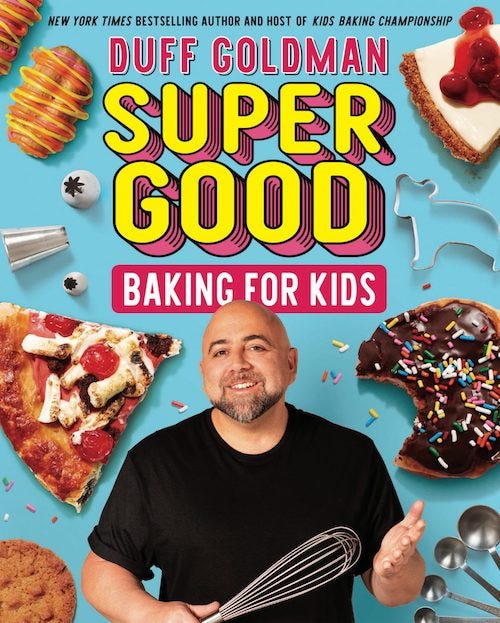 Cake television person Duff Goldman is working on a cookbook for kids. Called Super Good: Baking for Kids, he tells People the book will feature over 35 of his "gooiest, chewiest, easiest-to-follow" recipes. Harper Collins September 2020.
Cookbooks for children weren't really a trend I saw coming, but this is the third kids' book I've come across this past month. The other two are a Julia Child biography written by the late cookbook author's nephew Alex Prud'homme and Kenji Lopez-Alt's Every Night Is Pizza Night. More to come? Stay tuned.
---
I am very happy to share the cover of my new cookbook, The Flavor Equation (October 2020) with you. This book focuses on the different aspects of how we interact and interpret flavor. There are gorgeous illustrations by
@crockhaus
who converted all my crazy ideas into art. I will also share the science behind some Indian recipes and there are experiments to play with. To get a glimpse of what's inside and preorder www.abrowntable.com/the-flavor-equation thank you for your support XX
Behold, the cover for Nik Sharma's upcoming second book, The Flavor Equation. More on that here.
---
Check this out!
Curl up with another Texas Monthly classic. Tonight, Executive Editor Kathy Blackwell brings you a story by Prudence Mackintosh on the pleasure of poring over old cookbooks. 'The Joy of Looking' first appeared in our December 2013 issue.
Find the Bedtime Stories image at the link in our bio to read along or to savor the story another time.
---
Pimento Cheese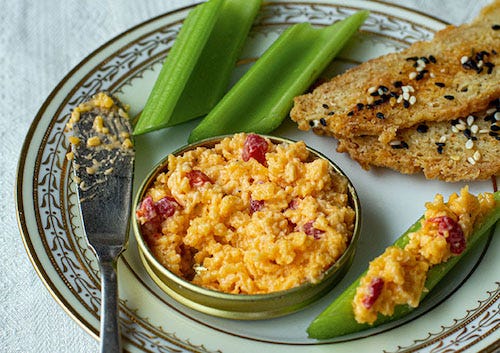 Used with permission from Buttermilk Kitchen by Suzanne Vizethann. Gibbs Smith 2020, all rights reserved. Photo: Angie Mosier
Makes 4 cups 
1 pound sharp cheddar cheese, grated 

1 cup mayonnaise

1/2 cup small diced fire-roasted red peppers (pimentos), drained 

2 teaspoons Sriracha 

2 teaspoons minced onion (see page 34) 

1/2 teaspoon kosher salt 

1 teaspoon freshly ground black pepper 
Place all ingredients in a medium-size mixing bowl. Combine, using your hands, massaging the ingredients until thoroughly combined. Taste for seasoning and adjust if needed. 

Transfer pimento cheese to an airtight container and store in the refrigerator for up to 1 week. 

---

And that's it folks! I'm in a good mood today so I am sending each and every one of you good vibes. I hope they find you safe and well. See Friday folks Friday.