Discover more from Stained Page News
Cookbook fans, you have come to the right place.
Over 12,000 subscribers
Eric Ripert on Vegetables; K-Pop's First Cookbook
Howdy cookbook fans!
Very exciting news from cookbook HQ (my house): I'm going to be on a panel at the annual IACP conference in Pittsburgh at the end of March, talking about…this very newsletter! The conference is mostly industry-facing so this is the last time I'll bring it up here, but if you're going to be in Pittsburgh, do let me know, would love to say hi.
OKAY! Cookbook news time. If you want to hear from me again on Friday, become a paid subscriber by clicking this big red button right here:
---
Eric Ripert's Vegetable Cookbook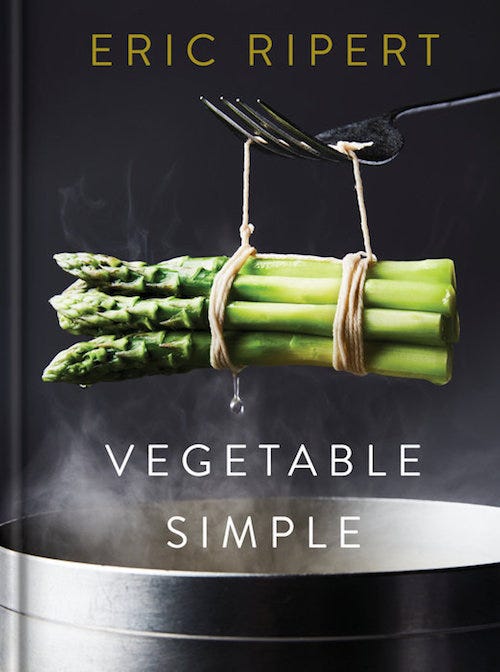 Coming this September, here's the cover for New York chef Eric Ripert's upcoming Vegetable Simple [Random House]. Per the publisher's copy, "From vibrant Sweet Pea Soup to Fava Bean and Mint Salad, from warming Mushroom Bolognese to Roasted Carrots with Harissa, [Ripert] articulates a vision for vegetables that are prepared simply, without complex steps or ingredients, allowing their essential qualities to shine and their color and flavor to remain uncompromised." Photos by famed portrait photographer Nigel Parry. Lightly obsessed with vegetable cookbooks these days, looking forward to it. [via @ericripert]
---
Super Junior's Lee Teuk Releases Cookbook
Today in K-Pop cookbook news, Super Junior's LeeTeuk has released a cookbook of "simple easy recipes," focused on the solo diner. The boy bander is the host of a cooking show called The Best Cooking Secrets in South Korea, and is apparently the first K-Pop idol to write a cookbook. It seems like it's exclusively available in Korean (screenshots here) so, you know, English-speaking K-Pop Twitter, do your thing.
---
Check this out!