Fall Preview 2020: Baking, Desserts, PIES!
PIES!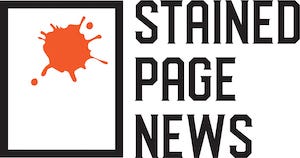 ---
Stained Page News Fall Cookbook Preview 2020
---
Pastry and Baking Books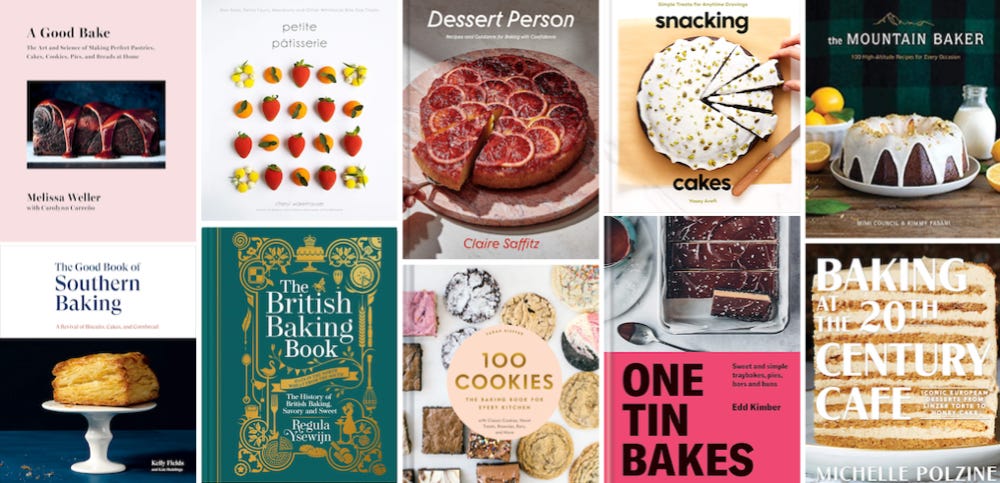 This cookbook, the third from the writer behind The Vanilla Bean Blog, does exactly what it says on the cover: offers 100 recipes for cookies from inventive treats to old fashioned classics. Recipes include "Marshmallow Peanut Butter Brownies, Olive Oil Sugar Cookies with Blood Orange Glaze, Red Wine Cherry Cheesecake Swirl Bars, and Pan-Banging Ginger Molasses, S'mores Cookies, Snickerdoodles, and more." And several recipes for different kinds of chocolate chip cookies. Chronicle: August 25.
Petite Pâtisserie by Cheryl Wakerhauser
Tiny little sweet things are the name of the game in this book from Portland pastry chef Cheryl Wakerhauser, of Pix Pâtisserie. We're talking petit fours, we're talking bon bons, we're talking macarons. Wakerhauser covers the components here so you can build the tea party of your dreams. Page Street: August 25.
UK baker Edd Kimber won the first-ever season of The Great British Bake-Off, and has been writing cookbooks ever since. This is Kimber's fourth title, in which he focuses on the no-fuss simplicity of one pan baking projects. From cobblers to brownies to cakes to buns, satisfy a sweet tooth without making a giant mess. Kyle: September 1.
The Bundt Collection by Brian Hart Hoffman
Bundt pans: they're big, they're round, they've got a hole in them, and they hold all different kinds of cake. Here, Hoffman offers a whopping 128 variations on this classic cake style, along with glazes and soaks. 83 Press: September 1.
The Good Book of Southern Baking by Kelly Fields and Kate Heddings
If you love biscuits, you've come to the right place. Kelly Fields of Willa Jean in New Orleans offers recipes for seven varieties of biscuit in her first cookbook, including one for southern canines. Over 100 recipes, including "quick breads, muffins, biscuits, cookies and bars, puddings and custards, cobblers, crisps, galettes, pies, tarts, and cakes." Hope you (and your dog) are hungry. Lorena Jones: September 8.
The British Baking Book by Regula Ysewijn
Have you every watched The Great British Bake-Off and wished you had context for all the treats they're asked to bake? Regula Ysewijn brings the context in this heavily-researched book, called Oats in the North, Wheat from the South in the UK. Covers 100 classic British baked goods including "pink-frosted Tottenham cake, jam-layered Victoria sandwich cake, quintessential tea loaf, sweet lamb pie, Yorksire curd tart, and more." Weldon Owen: September 8.
Baking at the 20th Century Cafe by Michelle Polzine
San Francisco pastry chef Michelle Polzine is the owner of the 20th Century Cafe, where she specializes in the baked goods of Central and Eastern Europe, with a boost from the bounty of Bay Area farmers markets. Her signature dish is the sky-high Russian honey cake that graces the cover of the book, and other recipes include "plum kuchen, walnut hamantaschen, Sacher torte, linzer torte, poppy-filled rugelach, vanilla cheesecake--even pierogi and potato knishes, all full of twists and innovations." Artisan: October 13.
The Mountain Baker by Mimi Council and Kimmi Fasani
For those who live at sea-level, the concept of high-altitude baking is an obscure one, an extra couple instructions at the end of a recipe on the back of a bag of chocolate chips. But this book will be a major win for those who live and bake up in the clouds, with recipes adjusted for baking above 5,000 feet, troubleshooting for cakes that won't rise and burnt cookies, and much more. Countryman: October 13.
Dessert Person by Claire Saffitz
Missing the BA Test Kitchen videos? Gourmet Makes star Claire Saffitz has a book coming in October featuring recipes both sweet and savory, including "Apple and Concord Grape Crumble Pie, Strawberry-Cornmeal Layer Cake, Crispy Mushroom Galette, and Malted Forever Brownies." Saffitz also offers troubleshooting advice on topics like pie dough, layer cakes, and more. Clarkson Potter: October 20.
Because cakes don't just need to be for special occasions, here's a collection of snack cakes from the recipe developer/food stylist/photographer behind the Apt. 2 B Baking Co. blog. Featuring photography by the author, the 50 everyday cake recipes include flavors like "Nectarine and Cornmeal Upside-Down Cake and Gingery Sweet Potato Cake to Salty Caramel Peanut Butter Cake and Milk Chocolate Chip Hazelnut Cake." Clarkson Potter: October 27.
Baker Melissa Weller has a resume for the ages, with stints at Babbo, Sullivan Street Bakery, Per Se, Bouchon Bakery, and Roberta's, and her own bagel restaurant, Sadelle's. In her first cookbook, the former chemical engineer gets into the science of baking with extremely detailed recipes and technique tutorials. And fans of her chocolate babka and salted caramel sticky buns will be delighted to find the recipes for those treats within. Knopf: November 17.
---
PIES!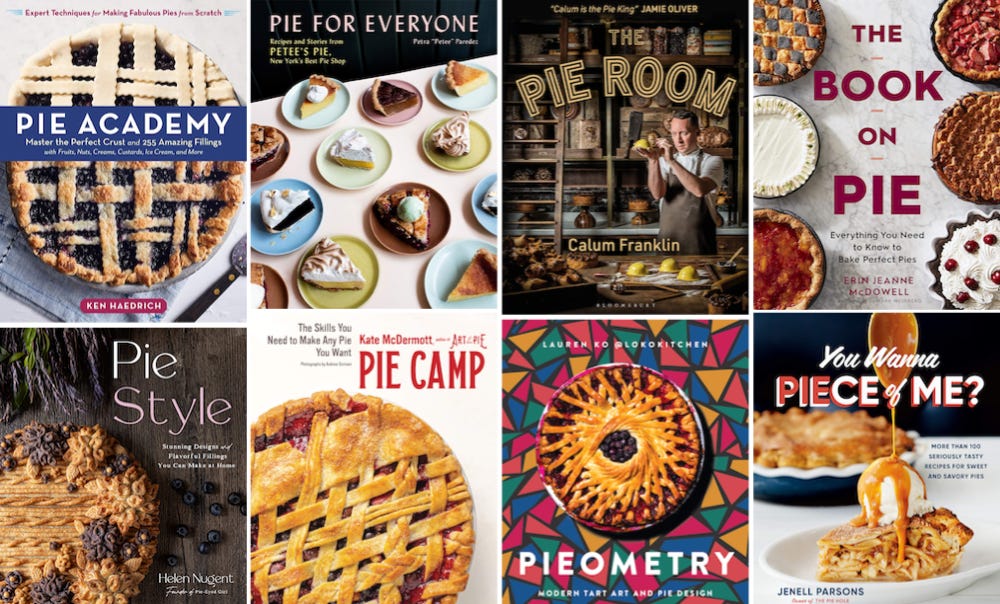 Pie for Everyone by Petra Paredez
Renowned New York City pie maker Petra "Petee" Paredez brings her pie magic to your kitchen in this book filled with tips and recipes from her bakery, Petee's Pie Company. Paredez is known for using local ingredients, so expect plenty of good seasonal fruit pies, but her famous chess pies are top notch as well. Abrams: September 22.
Here baker Helen Nugent teaches readers to emulate the intricate, floral pie-decorating style she made famous on her Instagram. While the book promises "you won't believe how achievable it is for even the least-experienced baker to whip up a show-stopping pie," this book is perhaps best for bakers who know how to make their pies taste good and wants to make them look even better. Page Street: September 22.
This is Kate McDermott's second title on pies, named after her skills workshops where she teaches the technical elements of pie. Pie Camp focuses on these same techniques, from lattice tops to perfect custard to getting even layers in cream pies. Expect a dozen base recipes that lead to endless variations of your own creation. Countryman: October 6.
Lauren Ko is perhaps best known for her Instagram full of stunning geometric pastry designs, and in this book she shares tips with readers to create their own gorgeous pies and tarts at home. The book to get if you want your pies to not only taste good, but look amazing as well. William Morrow: October 13.
The Pie Room by Calum Franklin
The Pie Room is chef Calum Franklin's London restaurant dedicated to the art of the British pie, so we're talking mostly savory, meat-filled pastry. While the book does contain some sweet pies, you're here to learn about pork pies, sausage rolls, beef wellingtons, and (gasp) even vegetarian versions. Need convincing? Check out his stunning creations on Instagram. October 27: Bloomsbury Absolute.
This all-in-one pie text covers everything: step-by-step crust basics, a primer on fruit fillings, decoration designs, and more. Aimed at both beginners and those looking to step up their game, recipes include "Blueberry-Pineapple Pi a Colada, Triple-Layer Pumpkin-Chocolate, Ricotta Pie with Chocolate and Toasted Almonds, and a Classic Lemon Meringue." Storey: October 27
The Book on Pie by Erin Jeanne McDowell
Looking to get started with pies? McDowell, "Baking Consultant at Large" for Food52, walks you through everything you need to know, starting with the basics and offering plenty of recipes. She also offers mix-and-match suggestions for pie and filling, so you can come up with creations like "Pumpkin Spice Pie Dough and Dark Chocolate Drippy Glaze with the Pumpkin Pie, or sub in the Chive Compound-Butter Crust for the Croque Madame Pielets." Rux Martin: November 10.
You Want a Piece of Me? by Jenell Parsons
This pie book offers a little bit to everyone, with recipes for pies that are "vegetarian, vegan, fish, chicken, beef, lamb, fruit, cream, nut and more." Parson has plenty of options for those with dietary restrictions (including gluten-free crusts) and ideas for what to do with pie scraps like Pie Pop Tarts and Pie Poutine (!). Appetite by Random House: November 17.
---
Stained Page News Fall Cookbook Preview 2020
---
Disclaimers! I have not yet seen copies of all of these books. Everything written here is based on what I know about the book right now. At the end of the season (early December), I'll write a list of my best cookbooks of 2020, which will reflect my experience reading and cooking from these books. Anything in "quotes" is publisher's copy. Books are listed in order of publication date, not preference. Please be kind about the categories, I had to divide them up somehow and many books fit in multiple categories. And while I did try to be thorough, I'm sure I missed some titles. Can't be everywhere at once. This post contains affiliate links through bookshop.org. If you purchase a book after clicking one of those links, I'll receive a commission, which helps me keep Stained Page News affordable.
---