Discover more from Stained Page News
Cookbook fans, you have come to the right place.
Over 12,000 subscribers
Fall Preview 2020: Drinks, Gadgets, Kids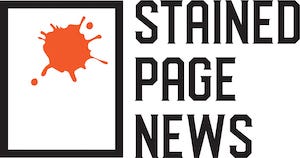 ---
Stained Page News Fall Cookbook Preview 2020
---
Drinks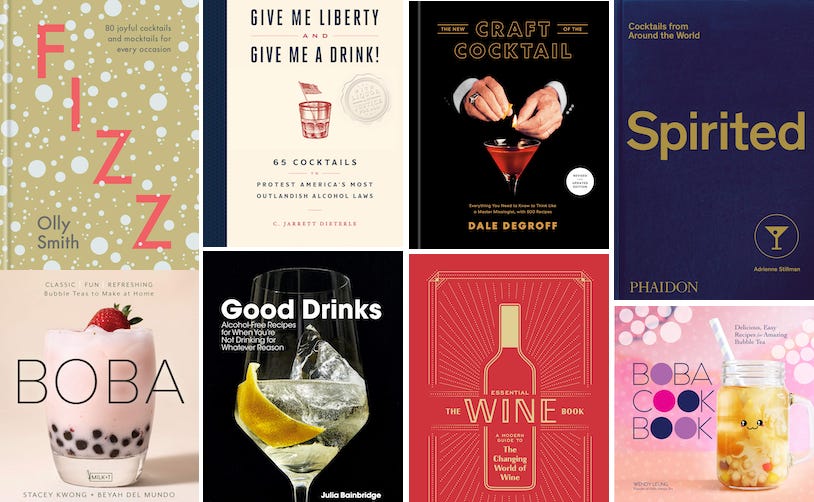 There's just something about bubbles. This book by UK wine writer Olly Smith looks at them all, from champagne to beer to soda water to kombucha. 80 recipes for cocktails with and without alcohol, including spritzes, negronis, sangrias, and more. Clarkson Potter: September 15.
Give Me Liberty and Give Me a Drink! by C. Jarrett Dieterle
Thanks to the legacy of Prohibition, the US has some bonkers liquor laws. Here, alcohol policy expert C. Jarrett Dieterle gives recipes that mock, skirt, or even flout these arcane laws, all in the name of tipsy protest. Artisan: September 15.
The New Craft of the Cocktail by Dale Degroff
Dale Degroff updates his 2002 classic The Craft of the Cocktail with 100 new recipes and a new history of cocktails. The book also has all-new photography by photographer Daniel Krieger. Clarkson Potter: September 22.
Spirited: Cocktails from Around the World by Adrienne Stillman
As is often the case with Phaidon titles, this is a whopping huge book, with over 400 pages of cocktail recipes from more than 60 countries and spanning 500 (!) years. Recipes are arranged by flavor profile, so you'll end up with tropical cocktails from Hawaii, New Orleans, and the Caribbean all on one page, for example. Phaidon: September 30.
Good Drinks by Julia Bainbridge
All the flavor, none of the alcohol: that's the idea behind this collection of zero proof stunners. Bainbridge gathered recipes for no-alcohol drinks from bartenders across the country, and ended up with this collection of sophisticated, complicated beverages, including "Blackberry-infused cold brew with almond milk and coconut cream. Smoky tea paired with tart cherry juice. A bittersweet, herbal take on the Pimm's Cup." Ten Speed: October 6.
The Boba Cookbook by Wendy Leung
Wendy Leung is the proprietor of New York City boba shop Hello Always Tea, and in this slim volume, she shares 35 of her recipes, including her homemade tapioca balls. Also included are some snack recipes and Leung's photography from her travels in Taiwan. Sterling: October 20.
The Essential Wine Book by Zachary Sussman
It's not a big fall for wine books, with this exception: Wine writer Zachary Sussman highlights a modern world of wine, looking at affordable up-and-coming regions, highlighting bullet points for dabblers just looking to find good bottles at their local shop, and really going into detail for those looking to take a deeper dive. Ten Speed: October 20.
Boba by Stacey Kwong and Beyah del Mundo
Stacy Kwong and Beyah del Mundo founded Los Angeles food truck MILK+T in 2015; they now have locations in LA, Oregon, and Las Vegas. Here they tell the story of their self-serve boba shops, with 50 recipes for milk teas, fruit teas, and MILK-T's own specialty boba drinks. Rock Point Calendars: October 27.
---
Gadgets

Instant Pot Cheese by Claudia Lucero
For awhile now, I've been making ricotta in my Instant Pot sauté setting, mostly because it's less likely to scorch than cooking it in a pot on the stove. And now I feel vindicated, because cookbook author Claudia Lucero has written this entire volume on the topic. I have big plans to expand me repertoire; Lucero covers paneer, chevre, feta, mozzarella, and more. Storey: September 29.
Instant Family Meals by Sarah Copeland
These long months of endless coking have really made me appreciate the one pot meal, and here former Real Simple food director Sarah Copeland shows how to use your electric pressure cooker to make them even simple. Recipes included dishes like "Cacio e Pepe Risotto, Double Vegetable Pot Roast, Late Summer Bean Stew with Fresh Mint, and 10-Minute Pistou with Pasta and Herbs." Clarkson Potter: October 27.
Rice Cooker Revival by Roxanne Wyss and Kathy Moore
I use my rice cookbook almost every day, but in the boring regular way (to make rice). Here Wyss and Moore explain how to use it for so much more than that, making everything from risotto to frittatas to soups and even cakes. Tiller Press: November 17.
Rustic Farmhouse Slow Cooker by Alli Kelley
When the weather here in Central Texas turns colder, I anticipate my slow-cooker getting way more of a workout. I'm super into this collection from blogger Alli Kelley. Recipes veer homey and, well, rustic: "Sage and Thyme Braised Chuck Roast, Garlic-Rosemary Leg of Lamb and Pork Roast with Fresh Apple Slaw…Winter Vegetable Chowder, Garden Butternut Squash Soup and Hearty Chicken Stew." Page Street: November 17.
---
Cooking With Kids

Every Night Is Pizza Night by J. Kenji Lopez-Alt
Cookbook author/chef J. Kenji Lopez-Alt turns his attention to kids in this picture book with illustrations by Gianna Ruggiero. Every Night Is Pizza Night follows young girl/pizza fan Pipo through her neighborhood as she learns about the dishes her neighbors love, bibimbop and tagines. Bonus pizza recipe! Norton: September 1.
This one is for the older kids, the teens, and the folks who never learned to cook as kids. Georgia chef Hugh Acheson wrote this book based on the experience of teaching his daughters how to cook, and breaks the fundamentals of cooking into "twenty-five basic building blocks," that are then expanded into more complex recipes. Clarkson Potter: October 20.
Milk Bar: Kids Only by Christina Tosi
You may know Christina Tosi as the founder of the bakery chain Milk Bar, with the cereal milk and the layered cakes with unfrosted sides, but your kid probably knows her as a judge on MasterChef Junior. This book is for them, with recipes for treats like "Apple Pie Waffles to PB&J Cereal Treats to Strawberries and Cream Cupcakes to marshmallowy Choco Crunch Cookies." Sugar!!!!! Clarkson Potter: October 27.
Kid in the Kitchen by Melissa Clark
New York Times food writer and author of many cookbooks with the word "dinner" in the title Melissa Clark is here with a book aimed at 8-to-14 year olds. It features recipes like "Brown Butter French Toast, Sweet or Savory Dutch Babies, Burgers with Kimchi Mayo, Gingerbread Snacking Cake, and No-Machine Ice Cream." Maybe your kid will start making dinner for you? Or at least ice cream! Clarkson Potter: November 10.
---
Stained Page News Fall Cookbook Preview 2020
---
Disclaimers! I have not yet seen copies of all of these books. Everything written here is based on what I know about the book right now. At the end of the season (early December), I'll write a list of my best cookbooks of 2020, which will reflect my experience reading and cooking from these books. Anything in "quotes" is publisher's copy. Books are listed in order of publication date, not preference. Please be kind about the categories, I had to divide them up somehow and many books fit in multiple categories. And while I did try to be thorough, I'm sure I missed some titles. Can't be everywhere at once. This post contains affiliate links through bookshop.org. If you purchase a book after clicking one of those links, I'll receive a commission, which helps me keep Stained Page News affordable.
---