Discover more from Stained Page News
Cookbook fans, you have come to the right place.
Over 12,000 subscribers
Fall Preview 2020: Food Books
Memoirs, biographies, science books, more!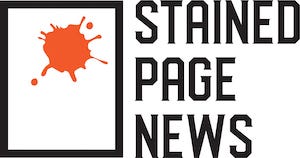 ---
Stained Page News Fall Cookbook Preview 2020
---
Food Books, Histories, Memoirs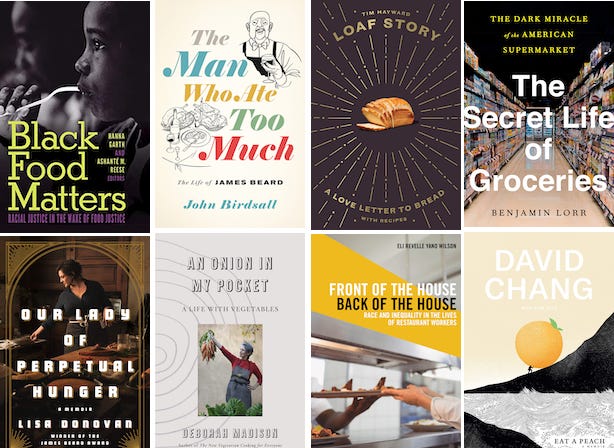 Our Lady of Perpetual Hunger by Lisa Donovan
Pastry chef Lisa Donovan has worked in some of the biggest restaurants in the south, and this memoir follows her time cooking in them—and what come next. This is a look at food and class and misogyny in the southern restaurant world, and how one woman navigated it. Penguin: August 4.
Eat a Peach by David Chang and Gabe Ulla
This is the big David Chang/Momofuku memoir, in which Chang looks back at his life from his childhood in Virginia to his time in Japan to opening Noodle Bar in 2004 and beyond. Originally slated to publish this spring (in case you feel like I've been talking about it for awhile), Peach also promises lots of kitchen talk, New York dining insider intel, introspection and "unflinching honesty about the industry's history of brutishness." Clarkson Potter: September 8.
The Secret Life of Groceries by Benjamin Lorr
I spent a lot of time reading grocery industry trade magazines this spring for a story, and let me tell you: if you've never stopped and thought about grocery stores, they are super interesting. This book explores "the dark miracle" of what makes grocery stores tick. (Also big recommend for reading grocery store trade mags, if you're a nerd like me.) Avery: September 8.
Bread! This is a book about bread. Not about how to make bread, but about the human relationship with bread, "from the British and American white sliced loaf to the French baguette, Scandinavian rye, and the uber-trendy Japanese katsu sando." Includes 60 recipes for things to do with bread. I guess it's technically a cookbook? Oh well. Quadrille: September 15.
An Onion in My Pocket by Deborah Madison
Chef, cookbook author, and vegetable cookery advocate Deborah Madison traces her life in this memoir. Madison was a Buddhist priest for many years before she became a cook, and this book follows her life in Northern California from those early days, through her time at Chez Panisse and Greens, and into the modern food era. Knopf: September 29.
The Man Who Ate Too Much by John Birdsall
The title refers to James Beard: cookbook author, gourmet, and namesake of the awards/foundation. Here food writer John Birdsall looks at Beard's life, as a queer person and as it paralleled 20th century food in the US. James Beard lived a fascinating life, and now has a biography to match. Norton: October 6.
They're everywhere, but what do you actually know about how scents work? Food science author Harold McGee looks at how noses interact with the molecules that trigger smells, and what effect scents have on us. Apparently these molecules come from space?! I know nothing about how noses work. I guess that's the point of the book. Penguin: October 20.
Black Food Matters edited by Hanna Garth and Ashanté M. Reese
This collection of essays is themed around the intersection of food systems and the lives of Black Americans—a big subject, with much to dig into! The authors are mostly non-white, and essays focus on topics from "examining animal husbandry practices in South Carolina, the work done by the Black Panthers to ensure food equality, Black women who are pioneering urban agriculture" and more. University of Minnesota Press: October 27.
Front of the House, Back of the House by Eli Revelle Yano Wilson
I first heard of this book about a month ago, amidst the whole Sqirl jam drama, and thought: well, that's timely. This book, by University of New Mexico sociology professor Eli Revelle Yano Wilson, looks at three separate high end restaurants in Los Angeles and the disparities between the largely white front of house staff and the largely Latinx immigrant staff in the kitchen. It's a little $$, because academic book, but I think could be illuminating. NYU Press: December 29.
---
Stained Page News Fall Cookbook Preview 2020
---
Disclaimers! I have not yet seen copies of all of these books. Everything written here is based on what I know about the book right now. At the end of the season (early December), I'll write a list of my best cookbooks of 2020, which will reflect my experience reading and cooking from these books. Anything in "quotes" is publisher's copy. Books are listed in order of publication date, not preference. Please be kind about the categories, I had to divide them up somehow and many books fit in multiple categories. And while I did try to be thorough, I'm sure I missed some titles. Can't be everywhere at once. This post contains affiliate links through bookshop.org. If you purchase a book after clicking one of those links, I'll receive a commission, which helps me keep Stained Page News affordable.
---