Discover more from Stained Page News
Cookbook fans, you have come to the right place.
Over 12,000 subscribers
Fall Preview 2020: International, Regional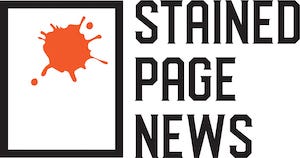 ---
Stained Page News Fall Cookbook Preview 2020
---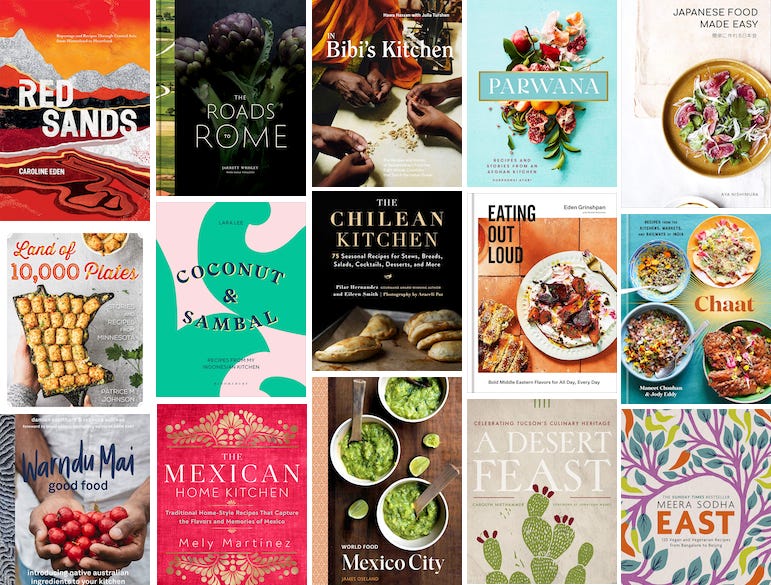 Warndu Mai by Damien Coulthard and Rebecca Sullivan
Unless you live in Australia, your mileage may vary on this one, but I thought it was too cool not to include. "Warndu mai" means good food in author Damien Coulthard's indigenous Adnyamathanha language; Coulthard and Sullivan are advocates for Australian native foods and run a food brand called Warndu. The book includes recipes that use Australian ingredients like wattleseed, lemon myrtle, kangaroo meat, native plums, currants, and berries. And lots and lots of emu, both eggs and meat. Recipes include "kangaroo meatballs with lemon-myrtle pasta; emu prosciutto; bunya nut pesto; wattleseed brownies; emu-egg sponge cake; strawberry-gum pavlova and more." More on Coulthard and Sullivan's work here. Hatchette Australia: August 11.
Eating Out Loud by Eden Grinshpan
Top Chef Canada host Eden Grinshpan explores the flavors and ingredients of Middle Eastern cooking in this volume of over 100 recipes. Recipes include "roasted whole heads of broccoli topped with herbaceous yogurt and crunchy, spice-infused dukkah; a toasted pita salad full of juicy summer peaches, tomatoes, and a bevy of fresh herbs; and babka that becomes pull-apart morning buns, layered with chocolate and tahini and sticky with a salted sugar glaze." Clarkson Potter: September 1.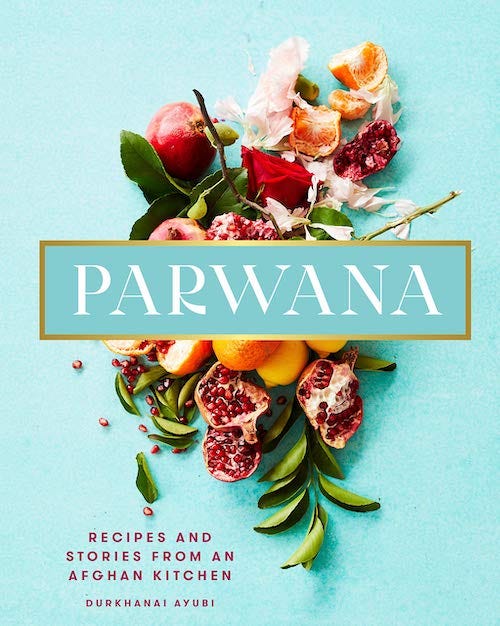 You don't see a ton of cookbooks covering the food of Afghanistan, so this is one to keep an eye out for. Durkhanai Ayubi's parents immigrated to Adelaide, Australia in 1987, where they opened a restaurant called Parwana serving Afghan cuisine. Here she shares recipes that have been in her family for generations, including "rice dishes, curries, meats, dumplings, Afghan pastas, sweets, drinks, chutneys and pickles, soups and bread." Interlink: September 1.
The Mexican Home Kitchen by Mely Martinez
Born in Tampico and spending much of her youth at her Grandmother's farm in Veracruz, Mely Martinez now shares her vast knowledge of Mexican home cooking writing her blog Mexico in My Kitchen from Dallas. The book focuses on her favorite comfort foods, including albondigas, enchiladas, tamales, all manner of salsas, and homemade aguas frescas. Rock Point Calendars: September 15.
A Desert Feast: Celebrating Tucson's Culinary Heritage by Carolyn Niethammer
Carolyn Niethammer is the author of several books about the cuisines of the Southwest, and in this book she focuses on Tucson, the first city in the US to receive acknowledgment as a UNESCO City of Gastronomy. A Desert Feast takes a historic approach, looking at "the Sonoran Desert's first farmers…the arrival of Roman Catholic missionaries, Spanish soldiers, and Chinese farmers" before turning to current farmers and artisans to see how Tucson food became what it is today. University of Arizona Press: September 20.
Land of 10,000 Plates by Patrice M. Johnson
Minnesotans rank high among People Who Are Extremely Into Their State, and that extends to the food. Here Twin Cities Nordic foods expert Patrice M. Johnson dives into the tater tot-topped cuisine, exploring traditional recipes and newer traditions alike. Minnesota Historical Society Press: October 1.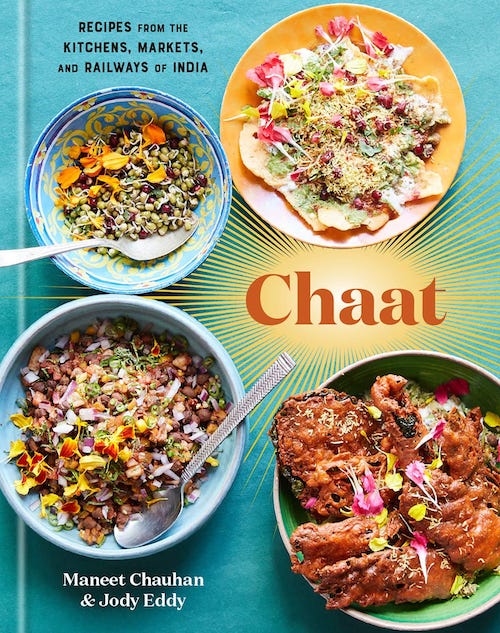 Chaat by Maneet Chauhan and Jody Eddy
Chef and Chopped judge Maneet Chauhan took a rail trip across India, eating the country's famous chaat, a category of snacks or street food all its own. The book focuses on regional diversity of recipes, including dishes like "Goan Fried Shrimp Turnovers, Chicken Momo Dumplings from Guwahati in Assam, Hyderabad's Spicy Pineapple Chaat, and Warm-Spiced Carrot and Semolina Pudding from Amristar." Clarkson Potter: October 6.
The Chilean Kitchen by Pilar Hernandez and Eileen Smith
Another cuisine you don't see represented in cookbooks very often: Chilean food. Pilar Hernandez writes the blog En Mi Cocina Hoy; this is her second cookbook and her first in English. The book is arranged by season and "tweaked ever-so-slightly to fit neatly into the US market," with recipes for dishes like empanadas, grilled meats and seafood, and dulce de leche thousand layer cake. Skyhorse: October 6.
In Bibi's Kitchen by Hawa Hassan with Julia Turshen
This book looks at recipes from grandmothers (aka bibis) from, as the book's subtitle puts it, Eight African Countries That Touch the Indian Ocean. These include South Africa, Mozambique, Madagascar, Comoros, Tanzania, Kenya, Somalia, and Eritrea, countries the book copy notes are "at the backbone of the spice trade, many of them exporters of things like pepper and vanilla." With location photography by acclaimed Nairobi-based photographer Khadija Farah and food photography by Jennifer May. Expect a stunner. Ten Speed: October 13.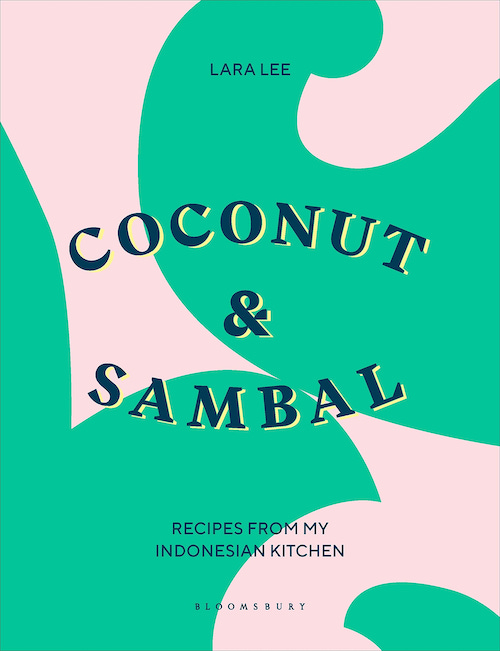 London chef Lara Lee is known for her supper clubs and catering company that serves the foods of Australia and Indonesia; here, she turns her attention to the latter. 80 recipes look at classic Indonesian dishes including "Nasi goreng, Beef rendang, Chilli prawn satay and Pandan cake," with an entire section dedicated to the cuisine's condiment of choice, sambal. Bloomsbury: October 13.
Japanese Food Made Easy by Aya Nishimura
I'm seeing simple/easy trends across genres, and here UK writer Aya Nishimura explores the simple side of Japanese home cooking. Recipes include ramen, gyoza, teriyaki…tonkatsu…grilled peppers with bonito flakes, kakiage fritters, homemade fried tofu…teriyaki sauce, tonkatsu sauce, miso dressing and shichimi togarashi." Murdoch: October 20.
I am a huge fan of UK cookbook author Meera Sodha's Made in India, so I'm really excited to read her latest offering. Here Sodha looks at vegan and vegetarian dishes across Asia, including recipes from India, Indonesia, Singapore, Japan, China, Thailand, Vietnam, and more. Dishes include "kimchi pancakes, delicious dairy-free black dal…chili tofu…sweet potato momos…salted miso brownies and a no-churn Vietnamese coffee ice cream." Flatiron: October 20.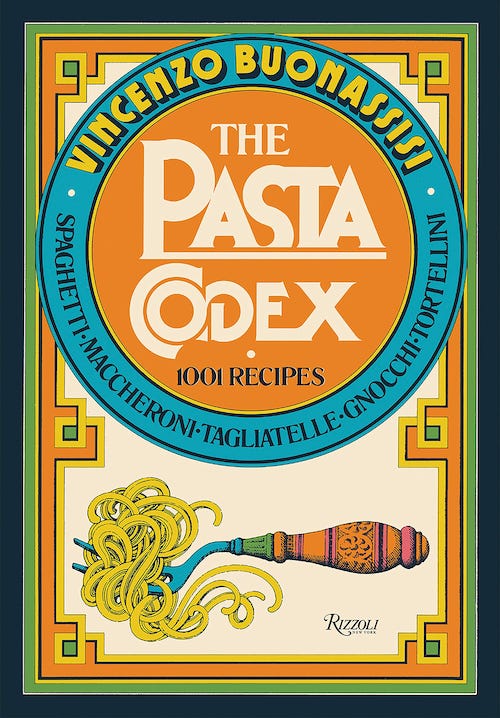 Pasta Codex by Vincenzo Buonassisi
This is the first-ever complete English translation of Il Codice della Pasta, a 1974 cookbook documenting 1001 different kinds of traditional pasta from across Italy. It "uses every noodle shape and form--flat, shaped, rolled, stuffed--and both dried and fresh pasta," so if you are looking to brush up on your noodle knowledge, this is the book for you. Also, the publisher's copy promises "Buonassisi's delightfully gossipy voice," so… that's fun? Rizzoli: October 27.
The Roads to Rome by Jarrett Wrisley and Paolo Vitaletti
Jarrett Wrisley and Paolo Vitaletti own an Italian restaurant in Bangkok together (which is probably a whole story in its own right), but this book focuses on their research trips throughout Italy. Focusing specifically on the foodways/producers that contribute and influence Roman cuisine, the book contains recipes for "Vignarola…with sautéed artichokes, fava beans, and spring peas with guanciale to Porchetta made with crisp-roasted pork belly and loin." Clarkson Potter: November 3.
This new series from former-Saveur EIC James Oseland promises to explore the world, city by city, with the first two volumes focusing on Mexico City and Paris. (Paris has been bumped to 2021.) This book offers 75 recipes from Mexico's capital city, alongside reported storytelling looking at food purveyors, artisans, home cooks, and more. I'm told this was a four-book deal, so we've got two more cities (at least!) to look forward to after DF and Paris. Ten Sped: November 24.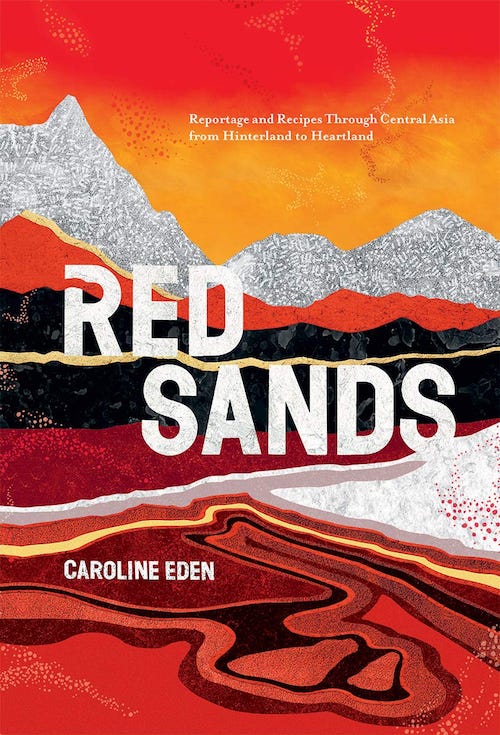 Caroline Eden's prior work, The Black Sea, was one of the most awarded cookbooks of 2019, a sweeping travelogue told through the lens of food. This book moves east, roughly from the Caspian Sea to the Fergana Valley in Uzbekistan, again telling stories of Edens travels and histories of the region, studded with recipes. Quadrille: November 17.
---
Stained Page News Fall Cookbook Preview 2020
---
Disclaimers! I have not yet seen copies of all of these books. Everything written here is based on what I know about the book right now. At the end of the season (early December), I'll write a list of my best cookbooks of 2020, which will reflect my experience reading and cooking from these books. Anything in "quotes" is publisher's copy. Books are listed in order of publication date, not preference. Please be kind about the categories, I had to divide them up somehow and many books fit in multiple categories. And while I did try to be thorough, I'm sure I missed some titles. Can't be everywhere at once. This post contains affiliate links through bookshop.org. If you purchase a book after clicking one of those links, I'll receive a commission, which helps me keep Stained Page News affordable.
---