Discover more from Stained Page News
Cookbook fans, you have come to the right place.
Over 12,000 subscribers
Fall Preview 2020: Multi-Purpose, Flavor!
CAN YOU BELIEVE IT'S FALL COOKBOOK SEASON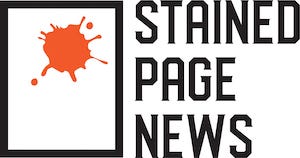 ---
Stained Page News Fall Cookbook Preview 2020
---
Multi-Purpose Cookbooks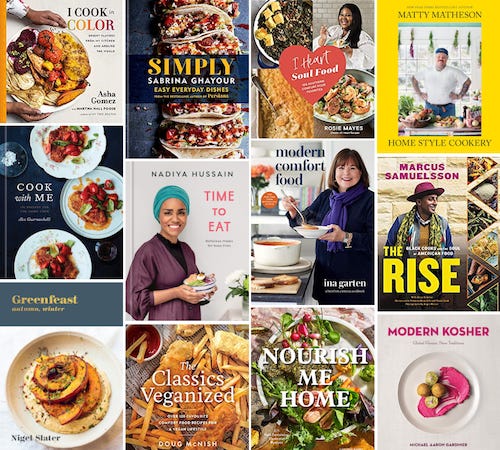 Nourish Me Home by Cortney Burns
Former Bar Tartine chef Cortney Burns picked up and moved from San Francisco to New Hampshire, where she produced this volume of "110 recipes in 6 chapters that pay homage to the seasons and the elements of water, fire, air, and ether." I am intrigued to find out what that looks like! Practically speaking, it means using a "pantry of preserved foods" to create vegetable-focused dishes. Seems to lean ever so slightly woo-woo. Chronicle: August 18.
Greenfeast: Autumn, Winter by Nigel Slater
London-based cookbook author Nigel Slater is offering 110 vegetarian recipes for the colder seasons in Greenfeast. Recipes promise to be "quick, easy, and filling," grouping ingredients in trios like "fennel, peas, halloumi," "beetroot, apple, goat's curd," and "pumpkin, onions, rosemary." Expect more of what you love from the author of Eat: simple, elegant cooking, lovely writing, extremely British mood overall. (Also, expect Greenfeast: Spring, Summer in March.) Ten Speed: September 8.
Modern Kosher by Michael Aaron Gardiner
What does modern kosher cooking taste like? Author Michael Aaron Gardiner draws inspiration from Jewish communities around the world and across many Jewish traditions. He also knows that modern life means accommodating all kinds of diets at family gatherings, and includes vegan, vegetarian, and gluten-free options as well. Rizzoli: September 8.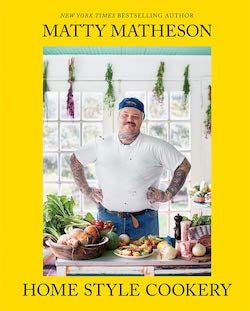 Matty Matheson: Home Style Cookery by Matty Matheson
Canadian chef and YouTuber Matty Matheson follows up his eponymous 2018 bestseller with this collection of 135 "signature recipes that are equal parts approachable and tasty." Matheson is known for being bold! and kind of foul-mouthed and covered in tattoos; listed recipes (Beef and Bone Marrow Stock, Double Beef Patty Melt with Gruyere and Molasses Bread, Lobster Thermidor with Bearnaise and Salt and Vinegar Chips) feel very restuarant-classics-at-home-with-a-twist to me. Also I am obsessed with the throwback 1980s celebrity chef-style cover. Abrams: September 29.
The Classics Veganized: Over 120 Favourite Comfort Food Recipes for a Vegan Lifestyle by Doug McNish
See that "u" hanging out up there in "favourite"? That's right: this one's Canadian. And it's full of a bunch of recipes for classics, just….veganized (ability to read titles is why they pay me the big bucks). Topics include everything from pantry staples to baking to sports bar-style appetizers, with a particular focus on comfort foods. Penguin Books Canada: September 29.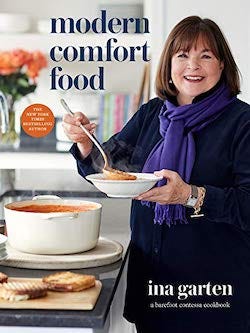 Modern Comfort Food by Ina Garten
Like a psychic contessa, here is Ina Garten with the cookbook you'll almost certainly be looking for come fall 2020: Modern Comfort Food. In Modern Comfort Food she brings her how-easy-is-that ethos to dishes like smashed burgers, chicken enchiladas, and Boston cream pie. Plus: hash browns cooked in a waffle iron! You don't need me to sell you on this; if you're an Ina fan, you're already in. Clarkson Potter: October 6.
I Cook in Color by Asha Gomez and Martha Hall Foose
I was a big fan of Atlanta chef Asha Gomez's last book, 2016's Georgia-meets-Kerala cookbook My Two Souths, so I am super excited to see what she's up to now. In I Cook in Color, Gomez draws on her travels to influence a collection of, well, colorful dishes like "Thai Green Papaya Salad with Dried Shrimp, to her unique spin on Catalonian Paella, to her Passion Fruit, Lime & Grapefruit Grouper Ceviche." Running Press: October 6.
After months of cooking almost every single meal I eat, I am ready for simplicity. And this offering from UK chef/author Sabrina Ghayour, whose Persiana is a must-read for anyone interested in the foods of Iran, promises "a minimum of fuss." Honestly, ban fuss 2020. Recipes include pomegranate molasses- and honey-glazed meatballs; goat cheese, vegetable, and za'atar filo tart; and tahini, almond, and orange brownies. Yes, please. Mitchell Beazley: October 6.
Cook With Me: 150 Recipes for the Home Cook by Alex Guarnaschelli
Chopped judge and NYC chef Alex Guarnaschelli has her third cookbook coming out this fall. Cook With Me will feature family recipes: both those she grew up with (her mom is legendary cookbook editor Maria Guarnaschelli) and those she cooks for her family today. Recipes include baked ziti and two (!) spaghetti and meatballs recipes, roast chicken with barbecue sauce, her mom's blueberry crumble, and more. Clarkson Potter: October 13.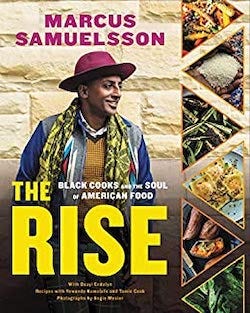 The Rise: Black Cooks and the Soul of American Food by Marcus Samuelsson with Osayi Endolyn
TV star/chef/cookbook author Marcus Samuelsson in a fairly epic project, bringing together 150 recipes "inspired by dozens of other top Black chefs, writers, and activists" to tell the story of Black food in America. Featured in the book are chefs Mashama Bailey, Nyesha Arrington, and Edouardo Jordan; writer/historians Jessica Harris and Michael B. Twitty, and many, many more. Expect this to be one of the major releases this fall. Voracious: October 27.
I Heart Soul Food by Rosie Mayes
Classics here from I Heart Recipes food blogger Rosie Mayes, who draws from her family's Southern and Jamaican roots as well as her own life in the Pacific Northwest for this book of crowdpleasers. Think: blueberry cornbread waffles, deviled eggs with crab and bacon, "Church Lady" lemon coconut pound cake, classics like macaroni and cheese and baked candied yams, and much more. Sasquatch: October 27.
Nadiya Hussain is a former Great British Bake Off winner and a fan favorite, and this book and the Netflix show of the same name it accompanies may make her a favorite stateside as well. When Hussain says "time to eat," she literally means finding the time: this book focuses on efficiency tips and tricks from meal prep to using your freezer smartly to finding new ways to use leftovers, all in the name of making family mealtime run more smoothly. Clarkson Potter: November 10.
---
Flavor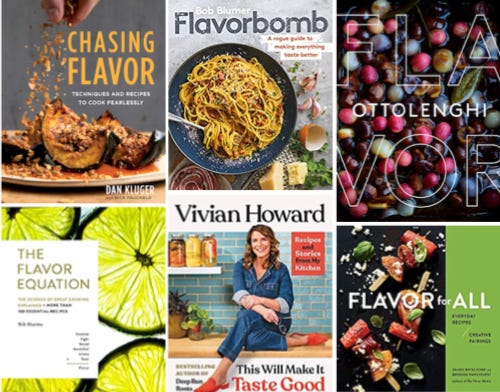 Chasing Flavor by Dan Kluger and Nick Fauchald
New York chef Dan Kluger's first cookbook features 190 (!) recipes, each of which teaches the reader a technique and then gives you a recipe that illustrates the technique. For example: a recipe sugar snap pea salad demonstrates using the same ingredient both cooked and raw in the same dish. Rux Martin: October 13.
Ottolenghi Flavor by Yotam Ottolenghi and Ixta Belfrage
London chef and living cookbook legend Yotam Ottolenghi is back with his eighth (!) cookbook, this time focusing on, you guessed it, flavor. Here, Ottolenghi eleaborates on the plant-based themes of Plenty and Plenty More, but incorporates Italian and Mexican flavors. All the recipes are vegetarian and half are vegan. The book aims to teach people to "be intuitive in the kitchen" by focusing on specific vegetables and how to make them really sing. Ten Speed: October 13.
This Will Make it Taste Good by Vivian Howard
Chef and PBS star Vivian Howard's second cookbook dedicates each chapter to a series of "flavor heroes" like "briny green sauce, spiced nuts, fruit preserves, deeply caramelized onions, and spicy pickled tomatoes" and illustrates how to apply them to dishes. The idea is to give readers an arsenal of go-to dishes that are easy enough to throw together, but not skimping on taste. Voracious: October 20.
The Flavor Equation by Nik Sharma
If you're looking to explore the science of flavor, this is the book for you: here, Sharma applies his background in molecular biology (!) to exploring the hows and whys of flavor. The book divides flavor by chapter with recipes that exemplify each concept, exploring "Brightness (Sourness), Bitterness, Saltiness, Sweetness, and Savoriness (Umami)…Richness (the taste of fat) and Fieriness." And as in his first book, Season, Sharma shot the gorgeous photos. Chronicle: October 27.
Canadian food TV person and serial Guinness World Record holder Bob Blumer's new book divides the concept of flavor in half: the first half of the book explores tips, strategies, and techniques like seasoning and browning to help you develop flavor in your dishes at home. The second half contains 75 recipes that illustrate these techniques, building flavor at each step of the process. Appetite by Random House: October 27.
Flavor for All by James Briscione and Brooke Parkhurst
James Briscione and Brooke Parkhurst expand on the cheffy concepts of their much-loved 2018 book The Flavor Matrix with this volume intended for home cooks. The husband-and-wife pair use principles of chemistry to create dishes with flavor twists like "Steaks with Almond-Cherry Pesto; Caesar Artichoke Dip; Brown Butter, Maple, and Pear Pork Roast; [and] Spicy Kiwi and Bacon Grilled Cheese Sandwiches." Plus also: lots of SCIENCE! HMH: October 27.
---
Stained Page News Fall Cookbook Preview 2020
---
Disclaimers! I have not yet seen copies of all of these books. Everything written here is based on what I know about the book right now. At the end of the season (early December), I'll write a list of my best cookbooks of 2020, which will reflect my experience reading and cooking from these books. Anything in "quotes" is publisher's copy. Books are listed in order of publication date, not preference. Please be kind about the categories, I had to divide them up somehow and many books fit in multiple categories. And while I did try to be thorough, I'm sure I missed some titles. Can't be everywhere at once. This post contains affiliate links through bookshop.org. If you purchase a book after clicking one of those links, I'll receive a commission, which helps me keep Stained Page News affordable.
---