Discover more from Stained Page News
Cookbook fans, you have come to the right place.
Over 12,000 subscribers
Fall Preview 2020: Single Subject, Special Interest
Plus, WITCH COOKBOOKS!!!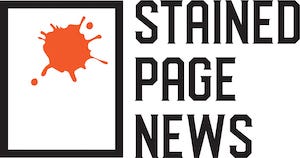 ---
Stained Page News Fall Cookbook Preview 2020
---
Single Subject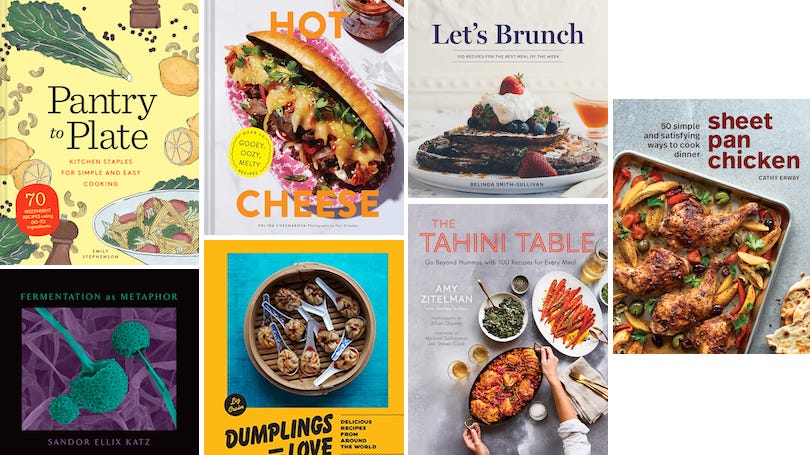 Sorry for the imperfect grid it is Friday!!! There are seven books here. Whatcha gonna do.
Hot Cheese by Polina Chesnakova
I've been writing about food and cookbooks for awhile now, and I sort of pride myself about being able to read about food all day without getting super hungry. My one weakness, though, is melted cheese. Pizza, cheeseburgers, mac-n-cheese—can't write about any of these without having it for dinner that day. Anyway, this is a long way of saying a book called Hot Cheese is extremely up my alley. Chronicle: September 1.
Let's Brunch by Belinda Smith-Sullivan
South Carolina chef Belinda Smith-Sullivan gives brunch a southern accent in this book, her second. The book contains 85 recipes and menus that will help you put together at-home brunches, like "Collard Green and Rice Casserole served with Sugared Peppered Bacon, a side of Rosemary Biscuits smeared with Meyer Lemon Marmalade, and a Pomegranate Mimosa." Yum. Gibbs Smith: September 8.
Sheet Pan Chicken by Cathy Erway
How many sheet pan chicken dinners have I made in the past six months? Many. Which is why I absolutely need this book from renowned food writer Cathy Erway to give my sheet pans a much-needed makeover. Recipes are inspired by cuisines around the world, including "Coriander-Crusted Chicken with Crispy Chickpeas and Pomegranate, Thai Yellow Curry Chicken Thighs with Cucumber Relish, Chicken Katsu with Plum Sauce." This might be the book I cook the most from this fall. Ten Speed: September 29.
Pantry to Plate by Emily Stephenson
I think we've all gotten to know our pantries a bit better recently, right? Emily Stephenson is here to show you how to be smart about it, focusing on 50 pantry ingredients and how to deploy them in various situations. A sort of shop-your-closet guide, with 70 recipes. Chronicle: October 6.
Dumplings Equal Love by Liz Craine
They say every cuisine has some riff on the dumpling, and here cookbook author Liz Craine explores them all. Contains recipes for traditional dumplings from all over the world, plus her own innovative fillings like "Cincinnati Chili; Shrimp & Grits; Nettle & Caramelized Onions; and Bananas Foster Dumplings." Sasquatch: October 13.
Fermentation as Metaphor by Sandor Katz
I am not entirely sure what this book will be like! I mean, I know what it is on paper—"a mesmerizing treatise on the meaning of fermentation alongside his awe-inspiring photography of this transformative process, teaching us with words and images about ourselves, our culture, and being human"—and I know Sandor Katz is THE guy for fermentation books, but beyond that, it will be a bit of a surprise. Chelsea Green: October 15.
The Tahini Table by Amy Zitelman with Andrew Schloss
Amy Zitelman is the CEO of Philadelphia-based Soom Foods, a high-end tahini brand popular among chefs. In her first cookbook, she shows you how to use this sesame-based ingredient in everything from "vegan queso, eggless mayonnaise, and gluten-free brownies…Vegan Mac and Cheese and Tahini Chicken Schnitzel, to Chocolate Halvah French Toast and Tahini Flan." Agate Surrey: November 10.
---
Special Interest

Am I tailgating this fall? Sorry, no. Am I planning on eating lots and lots and lots of tailgating-style food to make up for it? Absolutely. And there's no one I'd rather hear from on the art of football food than Mississippi chef John Currence. Practice your fried food and dip game now; knock 'em out of the park next year (sorry, mixed metaphor, long week). Ten Sped: August 25.
So! This book promises recipes "to recreate delicious dishes referenced in over 500 of your favorite anime series," which seems like…many, many recipes. I am going to guess some of them count for more than one series. A sampling includes "Miso Chashu Ramen from Naruto, Rice Porridge from Princess Mononoke, Onigiri from Fruits Basket, Taiyaki from My Hero Academia, Hanami Dango from Clannad, [and] Rice from Haikyuu." Tiller Press: September 1. 
Friends: The Official Cookbook by Amanda Yee
Okay, let's not belabor this: you know Friends? The RachelPhoebeMonicaRossJoeyChandler show? There's an official cookbook coming out. I used to gossip about this show with my best friend in seventh grade. Monica was a chef, so. Insight Editions: September 22.
Appetite for Power by Bahar Leventoglu
AKA the Billions cookbook. Billions is a show about rich people in New York, like Gossip Girl but with grown-ups. Much like Gossip Girl, this show is very good at showing real New York restaurants, so a cookbook for sure tracks. I once saw Paul Giamatti at Mile End in Brooklyn, which is not the Mile End his character goes to in Billions, but basically I met Chuck Rhoades. Billions! Skyhorse: November 3.
---
Witchy!

A Kitchen Witch's Guide to Recipes by Dawn Aurora Hunt
This book focuses on attracting love and romance, "combining the principles of Pagan beliefs and practices with easy recipes and personal anecdotes." Recipes include "Avocado Chocolate Mousse, Pomegranate Mimosas with Muddled Raspberries, Stuffed Zucchini Pinwheels" and more. Whether you find love or not, sounds tasty. Tiller Press: August 25.
WitchCraft Cocktails by Julia Halina Hadas
Call it cocktails with something extra, this collection offers 70 cocktails "for healing, spells, offerings, and just plain fun." Halina Hadas is a Bay Area bartender who runs a blog by the same name. Adams: September 8.
The Natural Witch's Cookbook by Lisanna Wallance translated by Grace McQuillan
A book for the "modern witch (men included)," this book contains "delicious foods, tonics, masks, and ointments." So not just foods, but beauty/skincare stuff too. Translated from French. Skyhorse: September 29.
The Wicked Baker by Helena Garcia
This book leans more kitschy Halloween than truly witchy, promising "to add a creepy touch to your baking." Recipes include "mummified eclairs, some cinnamon buns that look shockingly like brains, a batch of cookie bats, or a scarily impressive haunted tree cake."
---
Stained Page News Fall Cookbook Preview 2020
---
Disclaimers! I have not yet seen copies of all of these books. Everything written here is based on what I know about the book right now. At the end of the season (early December), I'll write a list of my best cookbooks of 2020, which will reflect my experience reading and cooking from these books. Anything in "quotes" is publisher's copy. Books are listed in order of publication date, not preference. Please be kind about the categories, I had to divide them up somehow and many books fit in multiple categories. And while I did try to be thorough, I'm sure I missed some titles. Can't be everywhere at once. This post contains affiliate links through bookshop.org. If you purchase a book after clicking one of those links, I'll receive a commission, which helps me keep Stained Page News affordable.
---