Discover more from Stained Page News
Cookbook fans, you have come to the right place.
Over 12,000 subscribers
Fergie's Kids Cookbook; Colorful Noodles
Plus: what's Irish food, exactly?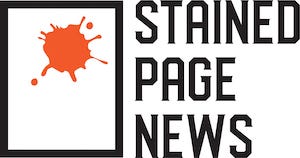 ---
Howdy cookbook fans!
And…welcome back to school? Maybe? Sorta kinda? It's the first day of school here in Austin, anyhow, and I've got a recipe in today's issue that will hopefully solve the weeknight dinner drama for some of you: Singapore Noodles, from Asha Gomez's brilliant (literally) new cookbook, I Cook in Color. Lots of chopping, but it comes together super easy and freezes well, so make extra.
SPN HQ Update! I impulsively ordered Richard Olney's 1978-1980 series The Good Cook off Etsy after last week's interview with chef and cookbook author Cortney Burns; they arrive today and I'll be sure to feature them a bunch over on the SPN Instagram. (No word yet on uh where exactly I will keep all 28 volumes, tbd.) In my garden, the kale is coming along beautifully and fava beans and bush beans went in this weekend. Going to do a container of collards next week, and after that (fingers crossed?!) lettuces! Almost time to pull the okra but I'm hoping for one last harvest before they go. Fall! Can you believe it!
---
By today's standards, Hannah Woolley's books may seem confusing, but she includes all the elements we think essential to a modern cookbook—a trendy title, an alluring frontispiece, an author's statement of purpose, and an index. The recipes may lack many of the attributes we think important such as ingredient quantities, but her instructions would have been intelligible to an experienced cook. As for serving amounts, in Hannah's day a variety of dishes were laid out on the table for all to help themselves or be served by passing plates from hand to hand. For more diners, more dishes would be added, so that the number of people to be served by a given recipe, as is the norm in today's cookbooks, was scarcely relevant.
—Culinary historian Anne Willan on 17th century cookbooks in an excerpt from her new book, Women in the Kitchen. [F52]
---
Sarah Ferguson to Write Kids Cookbook
Sarah Ferguson, Duchess of York, will release a cookbook called Fergie's Fun Food. Australian publisher Serenity Press calls it a "super fun book for kids" to be published in 2021. Ferguson will write the book with food artist/Instagrammer Laleh Mohmedi. The cookbook is part of a SEVEN book deal with Serenity, which includes picture books and chapter books. Cookbooks for kids are all the rage these days, with a bunch coming out this fall.
---
While writing the first, I was pregnant, and for the second I was deep in postpartum depression. I'm having a good time, and my confidence has grown. I fully embrace carbs now—like, putting sweet-potato spread on a baguette. A year ago, I would have said you can't put a starch on bread; now I'm like, who cares? There are no rules.
—Chrissy Teigen discusses her upcoming third cookbook in Marie Claire.
---
---
Sometimes people come into the restaurant and they go, 'God, it's very Japanese.' And you go, but it's all Irish, they go 'But it doesn't look like Irish food.' Because it's fish with some like wild plants or sometimes it could be a potato dish. ... When they think of Irish, they think of hearty, they think of comfort, think of warm. ... And it's not that it isn't all that. But they come in and they go, 'God, Joe.' And that's funny because I have yet to get to Japan. I would love to get there because I do love fish and seaweed, and those are two things that I very much associate with Ireland.
—Chef and author of The Irish Cookbook JP McMahon on what exactly constitutes Irish food. [WBUR]
---
Singapore Noodles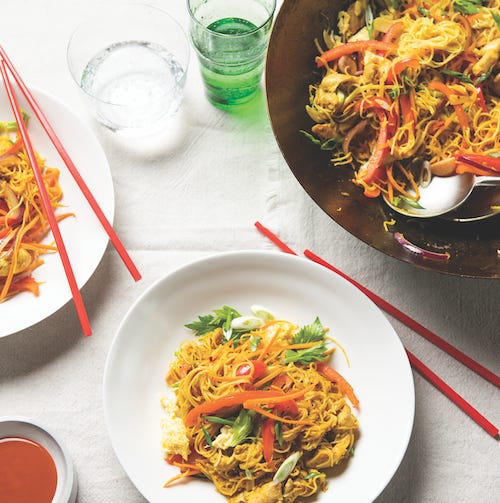 Excerpted from I Cook in Color: Bright Flavors from My Kitchen and Around the World by Asha Gomez and Martha Hall Foose. Copyright © 2020. Available from Running Press, an imprint of Hachette Book Group, Inc.
I've loved Singapore noodles ever since I first tried them at a take-out joint in Queens, New York, more than 25 years ago. I quickly learned how to make my own version and made it weekly during my college years. This dish continues to show up in my weeknight dinner rotation because Ethan loves it, too. And the leftovers are an excellent lunch for him to take to school. It also freezes really well, so I make extra. That way, Ethan can grab a lunch to go and zap it in the lunchroom. There's a lot of prep for this recipe, but it's super-simple to make.
6 servings
1 (16-ounce) package rice sticks

2 quarts boiling water

6 tablespoons vegetable oil, divided

6 large eggs, beaten

1 medium red onion, thinly sliced

6 garlic cloves, thinly sliced

2 stalks Chinese celery, thinly sliced

1 pound boneless, skinless chicken thighs, cut into 1-inch strips

1 medium carrot, peeled and thinly sliced

1 red bell pepper, thinly sliced

2 scallions, thinly sliced

¼ cup low-sodium soy sauce

¼ cup rice wine vinegar

½ teaspoon kosher salt

½ teaspoon granulated white sugar

2 teaspoons turmeric powder

2 teaspoons crushed chili flakes

2 teaspoons garlic powder

2 teaspoons coriander powder

2 teaspoons cumin powder

Sriracha hot sauce, for serving
Place the rice sticks in a large bowl and pour the hot water over them, making sure the rice sticks are covered with the water. Let them soak for about 5 minutes; strain and set aside.
Heat a wok on high heat, add 3 tablespoons of oil to the wok and quickly scramble the eggs. Remove
the eggs and set aside. Place the remaining oil in the wok, then add the onions, garlic, and Chinese celery to the wok, and stir well until the onions are translucent about 3 minutes. Add the chicken, carrots, bell peppers, and scallions, and cook, stirring occasionally for about 5 minutes, until the chicken is cooked through. In a small bowl, mix the soy sauce, rice wine vinegar, salt, and sugar with the spices. Add this mixture to the pan, and stir well. Add the noodles to the pan and stir-fry for another 3 minutes until everything is well incorporated. Add the cooked eggs and toss lightly. Remove from the heat and serve immediately with hot sauce.
NOTES I like to cut the rice sticks with scissors into more manageable lengths when they are soaking in the water. You can make a vegetarian version of this dish using extra firm tofu instead of the chicken. Chinese celery is usually thinner, a lot leafier, and more potent in flavor than regular celery.
---
I always say 'oh, it doesn't get to me…' I pretend not to care. But you know, after everybody goes to bed, I go read the comments... that I pretend not to look at…I think over the years, I've proven that I can publish recipes with long ingredient lists, short ingredient lists... So I don't really mind it so much any more. Simple was kind of proof that you can pare it back a little bit and it is still going to be, you know, highly delicious.
—Flavor author Yotam Ottolenghi knows you think his ingredient lists are too long, doesn't really mind. [Stuff]
---
That's all for today folks! I hope you have a great week. Friday folks can look forward to a chat with cookbook author Asha Gomez about her new cookbook I Cook in Color; if you'd like to join their ranks, consider becoming a paid subscriber.
---