Harris Gets JBFA Lifetime Achievement; New Jamie Oliver
Plus the new Ina Garten cover, REVEALED.
Howdy cookbook fans!
Hi from Austin, where everyone is mourning SXSW being cancelled, but we're thankful safety measures have been taken. Sending good and healthy thoughts to you and yours.
Bunch of news today that has nothing to do with elections or viruses or anything like that! Just good old fashioned recipes. Let's get on with it, but first a reminder that if you want to see me in your inbox again on Friday (for $5/month or $50/year), click the big red button below.
---
Harris to Receive JBFA Lifetime Achievement Award
This morning, the
@beardfoundation
announced I will receive this year's Lifetime Achievement Award. I am humbled, honored, and more than a little astonished to receive this singular award. I am mindful that while my name is on it, it is also meant for those African Americans in the hospitality world in the past who labored unheralded, un-thanked, and for too many centuries unpaid or underpaid. I hope that this extraordinary honor heralds the beginning of a new era when all Americans can sit down and fully participate at the nation's table and none of us are strangers at the feast.
#jamesbeard
#jamesbeardfoundation
Cookbook author and scholar Jessica B. Harris will receive the 2020 James Beard Lifetime Achievement Award. Harris, who won the James Beard Award Cookbook Hall of Fame Award just last year, has written 12 books on the foodways of the African diaspora. Titles include 2011's High on the Hog: A Culinary Journey from Africa to America, 1998's The Africa Cookbook: Tastes of a Continent, and her 2017 memoir, My Soul Looks Back. Congrats to Dr. Harris! [JBFA/press release]
---
Aussie Chefs Launch Australian Culinary Archive
Extremely cool project alert: With the help of a bunch of celebrity chefs, Sydney's Powerhouse Museum is launching the Australian Culinary Archive. According to Good Food, the archive will house "oral histories, recipes, critic reviews, customer complaint letters and restaurant designs; and objects such as artworks, restaurant furniture, food moulds and awards" and will take two years to compile.
The Archive will be spearheaded by publisher Julie Gibbs, and will begin with 1968's influential The Margaret Fulton Cookbook. The goal of the Archive, which will work in conjunction with the museum's indigenous collections, is to help define Australian cuisine. (Do we have any Australian readers out there? Care to comment on how cool this is? Because as stated I think it sounds EXTREMELY COOL but you tell me.)
---
New Jamie Oliver Announced
"This is probably the most user-friendly cookbook that I've ever written," says Jamie Oliver in the video above, announcing his new cookbook, 7 Ways. As the title suggests, the book will be a collection of recipes for every day of the week, "based on the stuff that you always buy." The food is "comfort food-based, but also stuff you don't know you love yet."
Oliver describes the book as the final in a trilogy of simple home cooking books, the other two being 5 Ingredients and Veg. Out August 20 in the UK and, per Amazon, November 3 in the US, from Flatiron.
---
Behold the Cover to the New Ina Garten Book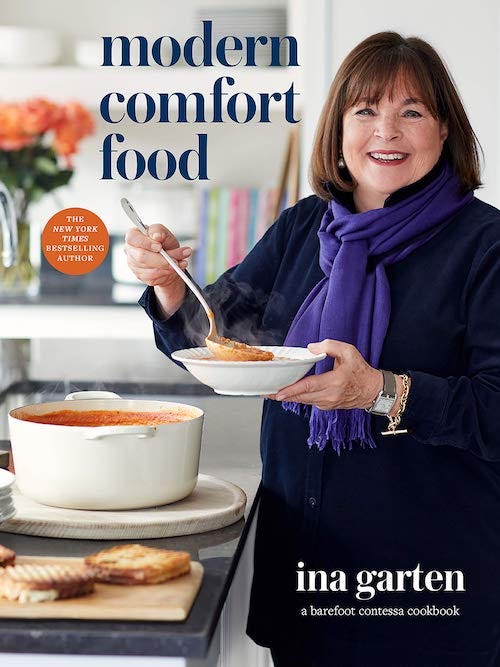 Behold! The cover for Ina Garten's Modern Comfort Food has been revealed. October 27, Clarkson Potter.
---
Check this out!