Discover more from Stained Page News
Cookbook fans, you have come to the right place.
Over 12,000 subscribers
HMH Fall Releases; Aviary Cocktail Books
Plus: PIE!!! And too many links.
Howdy cookbook fans!
First, some housekeeping: if you are a paid subscriber and you got an email saying your subscription was cancelled and then immediately got an email receipt for your subscription payment, can you respond to this email and let me know? Substack is looking into it but I want to make sure everyone is still subscribed who wants to be. (And if you're not yet, become a paid subscriber to get Friday issues.)
Today! Because it's already way too hot here in Austin, we have a lemon icebox pie recipe from Meals, Music, and Muses by Alexander Smalls. I'm going to serve it with sliced peaches, which are already in season here (!!), but perhaps where you live it's strawberry time? In any case: yum. Now, on to the news!
---
HMH Fall Catalog Highlights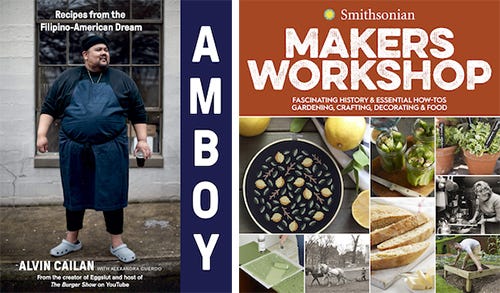 And the fall cookbook catalogs are pouring in. Here are some selections from Houghton Mifflin Harcourt's offerings:
Amboy: Recipes from the Filipino-American Dream by Alvin Cailan with Alexandra Cuerdo will feature the Los Angeles chef's "traditional Filipino fare with French influences" in over 100 recipes, "from simple (tilapia fish sticks; ratatouille adobo) to a seven-day roast pig project that includes instructions for laying a brick fire pit." Laying a brick fire pit sounds like an excellent summer project.

Speaking of projects! Smithsonian Makers Workshop is a collection of "lively how-to projects and historical narratives of four realms of American domestic arts: cooking, crafts, decorating, and gardening." The only food-related project mentioned in the publishers' copy is pickling, but there are surely more.

JBFA-winning New York City chef Dan Kluger's Chasing Flavor, written with Nick Fauchald. The book include 190! recipes, each offering its own lesson in technique.

And for dessert, The Book of Pie by Food52's Erin Jeanne McDowell. Covers pies from sweet to savory to mini and everything in between, plus troubleshooting for your pie hang-ups.

---

Two New Books From Chicago's the Aviary

Chicago chef Grant Achatz and the team behind cocktailery the Aviary have announced two new cookbooks. The larger of the two projects is called Zero, a collection of zero-proof cocktails with ~100 recipes (click through tweet above for preview). The other contains ~30 summery cocktail recipes from the Aviary. Both are available for pre-order.

---
Alison Roman on 'Temporary Leave' From the NYT
That's pretty much it: The NYT has confirmed to the Daily Beast that Alison Roman is "on temporary leave" from her recipe column. No word on when/if the cookbook author will return. This comes after Roman harshly criticized two women of Asian descent—cookbook author Chrissy Teigen and home organization author Marie Kondo—in an interview.
---
Check this out!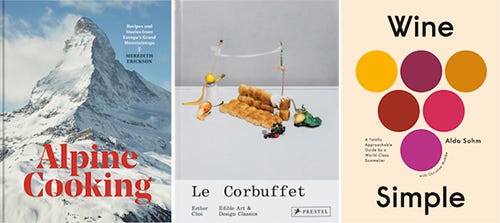 ---
Icebox Lemon Pie
Excerpted Meals, Music, and Muses: Recipes From My African American Kitchen by Alexander Smalls with Veronica Chambers. Copyright © 2020 by Alexander Smalls. Reprinted with permission from Flatiron Books. All rights reserved. Photography by Beatriz da Costa. 
This is the first pie I ever made, and it quickly became the pie of my childhood and my dreams, an obsession that took years to get under control. It was a long time before I could find a way to be in the same room as a graham cracker crust filled with lemony goodness and not lose my mind.
All you need to know is that this is the easiest pie you'll ever make. You literally can't mess it up. It is the perfect dessert after a spicy or robust meal. It's also a great pie to have on hand when you're making something new and untested. No matter what the result of your culinary adventures, this dessert will save the moment and will be all anyone will talk about. That's a recipe worth committing to memory, don't you think?
Makes 1 9-inch pie.
Crust:
2 ½ cups graham cracker crumbs

12 tablespoons (1 ½ sticks) unsalted butter, melted 

¼ cup sugar
Filling:
3 large eggs, separated

Juice of 3 lemons

1 (14-ounce) can sweetened condensed milk

1 teaspoon cream of tartar

3 tablespoons sugar
For the crust: 
Preheat the oven to 300°F.

In a medium bowl, combine the graham cracker crumbs, melted butter, and sugar until the crumbs are evenly moistened. Press the mixture into the bottom and sides of a 9-inch pie tin.
For the filling: 
Cover and chill the egg whites. In a medium bowl, combine the egg yolks, lemon juice, and condensed milk. Mix well and pour over the graham cracker crust.

Bake until stiff, about 30 minutes. Let cool to room temperature, then chill for at least 3 hours or up to overnight.
When ready to assemble the pie:
Preheat the oven to 350°F.

In the bowl of a stand mixer fitted with the whisk attachment, beat the egg whites and cream of tartar on high speed. With the mixer running, gradually add the sugar and beat until stiff peaks form.

Spread the meringue over the pie filling.

Bake until the meringue is golden brown, about 12 minutes. Let cool for 30 minutes, then chill for 30 minutes before serving.

---

That's it for today! See Friday people Friday.