Discover more from Stained Page News
Cookbook fans, you have come to the right place.
Over 12,000 subscribers
Ina Garten Mania; Chilean Chicken
And a reminder to label your freezer pesto.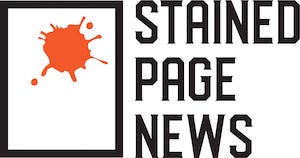 ---
Howdy cookbook fans!
Well, we're in the thick of it now: cookbook season is happening in full force, with a ton of books out today alone. That includes Ina Garten's Modern Comfort Food, which has gotten just oodles of press, rounded up below. Also out today is The Chilean Kitchen by Pilar Hernandez and Eileen Smith, who have been kind enough to share the book's recipe for Pollo Escabechado, chicken braised with wine and vinegar. Sounds like dinner to me!
SPN HQ Update! The garden is gardening along. A critter got into my broccoli bed the very night I planted the seeds, so I guess I'll have to redo that. And seeds are on order for turnips! And more fava beans! (I love fava beans, plus they freeze nicely.) In the kitchen, I made a risotto on Sunday using unlabeled freezer pesto that DELIGHTFULLY turned out to be sorrel pesto. It was great. But also label your freezer pesto. Last night was recipe testing for an upcoming project, also a success. And tonight, blessedly, take-out.
On to the news!!!
---
I hope they write in it and it gets stained. I hope they lose the dust jacket. It was designed to be used…Stained cookbooks make me happy.
—Duff Goldman's new cookbook Super Good Baking for Kids is built for spills. [Jewish Journal]
---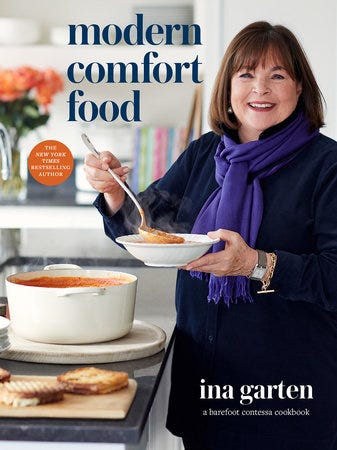 A review! [BookTrib]

What? "I've been known to run the dishwasher, then put more dishes in with the clean ones and run it again." [Delish]

"It's my absolute goal with my cookbooks — that every recipe is successful and comes out exactly as it looks in the photo," she tells the Houston Chronicle. [Chron]

And finally, I just enjoyed this lil treat from Google:

---
Francis Lam Named VP and EIC of Clarkson Potter
Clarkson Potter editor/Splendid Table host Francis Lam has been named Vice President and Editor-in-Chief at Clarkson Potter. Lam edited many of CP's big hits of recent years, including Chrissy Teigen's cookbooks, David Chang's recent memoir, Toni Tipton-Martin's Jubilee, and Ronni Lundy's Victuals. Lam currently has books in the works from Tipton-Martin, culinary historian Jessica Martin, San Francisco chef Azalina Eusope, and more.
---
---
Pollo Escabechado
Pickled Chicken Thighs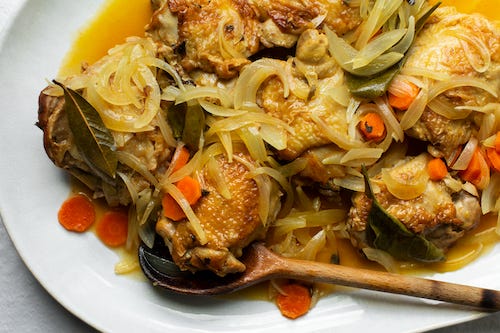 Excerpted with permission from The Chilean Kitchen by Pilar Hernandez and Eileen Smith. Skyhorse 2020. All rights reserved.
Chile owes its gastronomy to a variety of sources, and the food is commonly referred to as mestiza, to reflect that history. This dish clearly traces back to Spanish origin, where fowl was served escabechado (in a sauce flavored with wine and vinegar). In Spain this dish is served cold, but somewhere in translation, Chileans started serving it warm. 
In Chile, this country dish would traditionally be made with quail. Until about the 1990s, there was quite a bit of wild scrubland in central Chile. The thickets and brambles of the central valley and the occa­sional agricultural fields which had gone fallow were a perfect habitat for many animals, including quail. Nowadays, much of this land has been given over to agriculture, and fields are in near-constant use. At the same time, hunting has fallen in popularity. 
Here we make the dish with chicken because these days quail is harder to come by both in Chile and in the United States. There is no mistaking the rich broth and falling-off-the-bone chicken for any other dish, neither in its beautiful aroma nor its distinctive taste.
8 chicken thighs, with bones and skin 

Salt, to taste 

Pepper, to taste 

1 tablespoon white wine vinegar 

1 cup sauvignon blanc 

1 teaspoon sweet paprika 

1 teaspoon dried Mexican oregano 

2 bay leaves 

Seville orange leaves, optional 

2 medium yellow onions 

3 carrots 

1 tablespoon vegetable oil 

1 cup water
Season the chicken with salt and pepper. 

Use a bag or baking dish to marinate the chicken with the vinegar, wine, paprika, oregano, bay leaves, and orange leaves. Let sit overnight in the fridge. 

Cut the onions in half lengthwise and then slice thinly. Peel the carrots and slice into 1⁄8-inch rounds. 

Heat the oil in a big deep pot. Brown the chicken 3 minutes on each side. Add the onions, carrots, and the marinade. Mix and add the water. Cook for 20 minutes over medium-low heat until the chicken is tender. 

Remove the leaves before serving. Serve with the vegetables and sauce spooned over the chicken.
---
That's it for today! See Friday folks Friday! If you'd like to become a Friday folk, become a paid subscriber today! And have an excellent week.
---