Discover more from Stained Page News
Cookbook fans, you have come to the right place.
Over 12,000 subscribers
Ina Releases EARLY, Second Magnolia Bestseller
Plus: more beans content!
Howdy cookbook fans!
Hello hi how are you! News from Austin: I planted sweet potatoes last weekend, so please cross your fingers for them. Got PURPLE SPROUTING BROCCOLI in the farm box, which is fun. It's starting to get hot, though, which is less fun.
I've got a bunch of cookbook news for you this week (Ina! …Joanna?) and a recipe for an Italian bean-pepper-salami-radicchio salad from A Good Meal Is Hard to Find by Amy C. Evans and Martha Hall Foose. I love this kind of hearty salad for summer lunches, with a wedge of that sourdough I know y'all are constantly making. And maybe a glass of wine. No rules 2020!
As always, if you would like a second weekly newsletter on Fridays (mmm sometimes Saturdays), you can become a paid subscriber by clicking the red button below. $5/month or $50/year. Imagine all the cookbook news!
---
Ina Garten to Release New Book 3 Weeks Early
GOOD NEWS!! Because we all need it ASAP, we decided to move up the publication date of my new book MODERN COMFORT FOOD to October 6th! You can preorder it online, at bookstores everywhere, or at BarefootContessa.com. Scroll through for a sneak peek of what's inside - everything from Creamy Tomato Bisque to Boston Cream Pie!
#staysafe
#keepcooking
📷
@quentinbaconphoto
At a time when many publishers are pushing back pub dates for their cookbooks, the Queen of Cookbookery (Contessa of Cookbookery?) herself, Ina Garten, is moving hers forward. Yes, Ina did that. Originally slated for October 27 (which I have previously noted was…daringly close to the US election), Modern Comfort Food will now be released October 6.
"GOOD NEWS!!" writes Garten on Instagram, "Because we all need it ASAP, we decided to move up the publication date of my new book MODERN COMFORT FOOD to October 6th!" Because we need it and also probably because it will sell better. Click over to her Instagram for a few preview photos from the book.
---
Joanna Gaines Has a Second Bestseller on Her Hands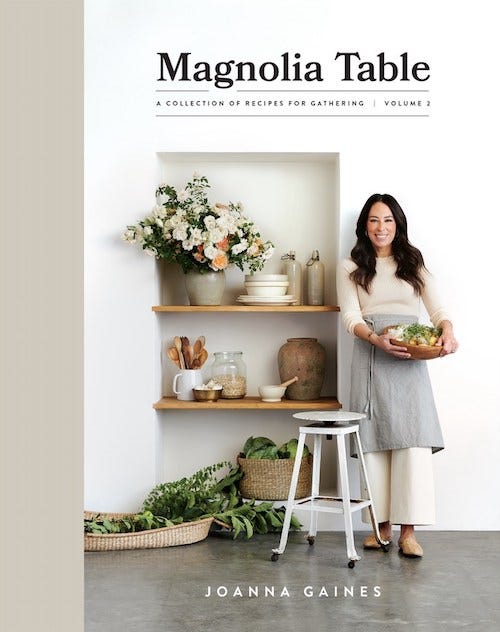 There's a big old Joanna Gaines profile in the New York Times this week, and it seems the Waco shiplapster has published another bestseller. Magnolia Table Volume 2 was the number one best-selling cookbook on the NYT list the week it was published (April 7)—and her first book, published in 2018, was Number 2 the same week. Congrats to Joanna.
---
Check this out!
---
Alice's Rosary Cannellini Salad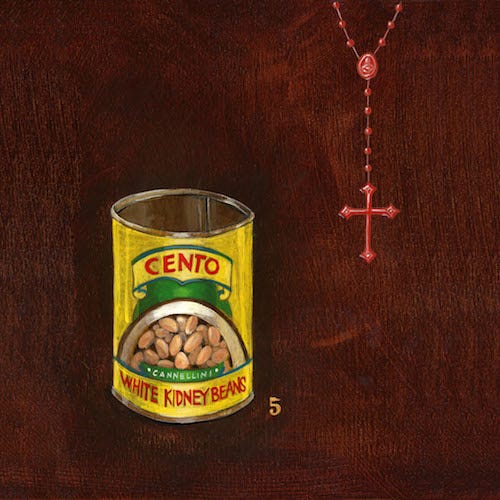 Reprinted from A Good Meal is Hard to Find by Amy C. Evans & Martha Hall Foose with permission by Chronicle Books, 2020
Alice pored over the last installment of an Italian romance. She was so glad she saved up enough of her tip money to fi nally get the "Loyal Reader" subscription. Except that now, Alice thought of Guillermo every time she prayed the rosary or cooked cannellini beans, which happened at least twice a week.
Makes Salad for Six to Eight 
1 large red bell pepper

1 large yellow bell pepper

1 poblano pepper

3 15-ounce cans cannellini beans, drained and rinsed

4 ounces very thinly sliced soppressata, cut into very thin strips

6 tablespoons extra-virgin olive oil

4 tablespoons sherry vinegar

1 tablespoons freshly squeezed lemon juice

1 teaspoon fine sea salt

1 tablespoon very finely chopped fresh rosemary

1 tablespoon very finely chopped fresh oregano leaves

1/4 cup chopped fresh flat-leaf parsley

2 small heads of radicchio, cored and torn into bite-size pieces
Preheat your broiler. Put your peppers on a rimmed baking sheet and broil, turning occasionally, until charred on all sides, 6 to 8 minutes. Set the peppers aside to cool, reserving the juices on the baking sheet.

In a big bowl, combine your beans and soppressata. When cool enough to handle, pull the charred skin and seeds from the peppers and discard. Cut the peppers into thin strips and add to the beans. Pour any juices from the baking sheet over the salad. Drizzle the oil, vinegar, and lemon juice over the salad and sprinkle with the salt, rosemary, oregano, and parsley. Toss to combine everything. Let the salad marinate for an hour or so.

Place the radicchio on a large, deep serving platter and top with your bean salad. Serve at room temperature. 
Note: Jarred roasted peppers are fine to substitute and are always handy to have in the pantry. And you can substitute jarred pepperoncini for the poblano pepper, too, on that kind of a day.
---
A quick note: I try to keep these newsletters super positive, but they are also a lot of work to put together. I've recently discovered a few other newsletters are sourcing a lot of links from Stained Page News—which is fine with me, so long as you also credit where you found them. Let's all play nice together in this wonderful cookbook world, okay?

See Friday people Friday and happy cooking!