Discover more from Stained Page News
Cookbook fans, you have come to the right place.
Over 12,000 subscribers
Howdy cookbook fans! Welcome to the new Stained Page News!
I am absolutely floored by the response to this little newsletter's return, and very excited to get going. A quick annoying reminder that everything is ~free~ for the month of November, but starting in December half of the issues will be available to paid subscribers only. The differences between free and paid options are outlined here; this is an example of a FREE newsletter, (Friday you'll get a sample paid newsletter.) You can get 15% off your first year by clicking the button below.
Quick reminder to SEND ME SCOOPS and let me know if you have a book coming out soon. Okay let's get started!!!
---
First up, the unofficial mayor of Waco, Texas, Joanna Gaines released a video previewing her upcoming book, Magnolia Table, Volume 2 (William Morrow: April 7). The book boasts 145 recipes, both home cooking and sourced from the Waco restaurants Gaines owns with husband/TV man/demo day enthusiast Chip. According to marketing copy, these include:
Mushroom-Gruyére Quiche, Pumpkin Cream Cheese Bread, Grilled Bruschetta Chicken, Zucchini-Squash Strata, Chicken-Pecan-Asparagus Casserole, Stuffed Pork Loin, Lemon-Lavender Tart, Magnolia Press Chocolate Cake.
And the cover: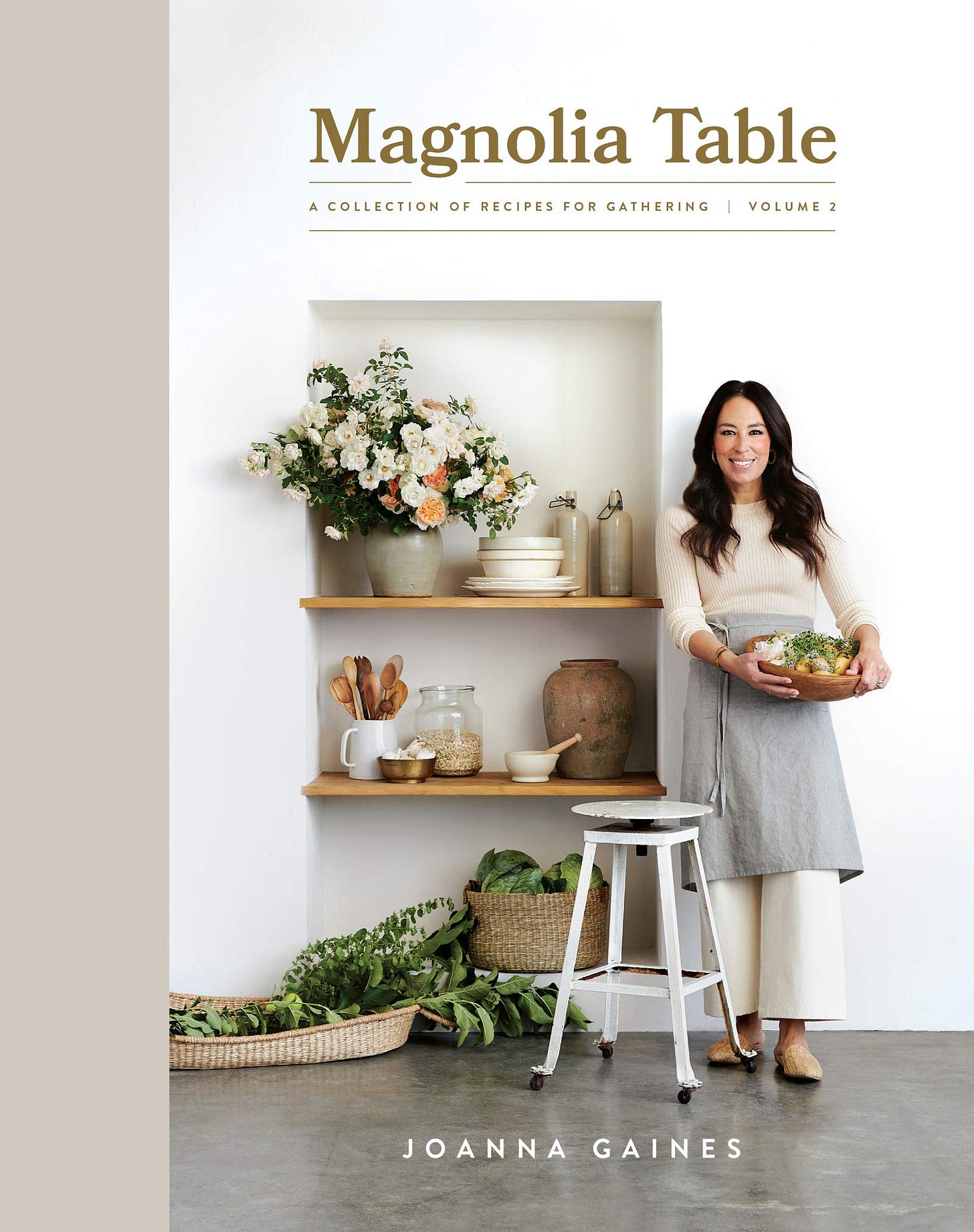 ---
Out Now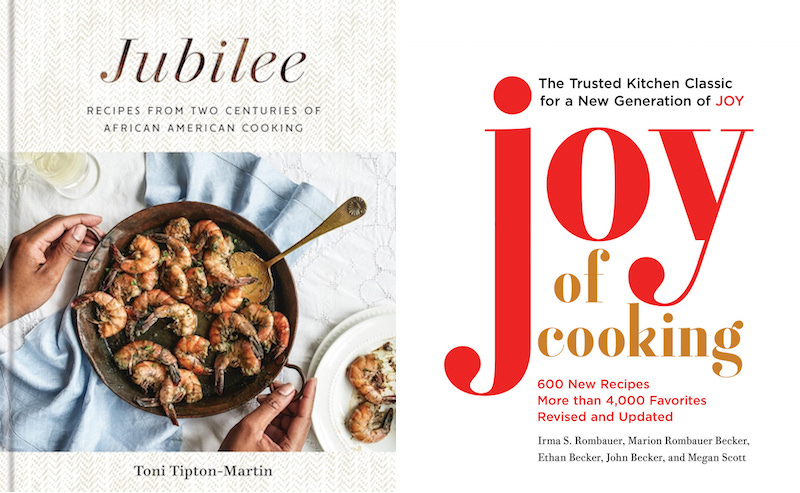 Jubilee: Recipes from Two Centuries of African American Cooking [Clarkson Potter] by historian and food writer Toni Tipton-Martin:
A new edition of The Joy of Cooking [Scribner] with 600 (!) new recipes:
---
What Else
---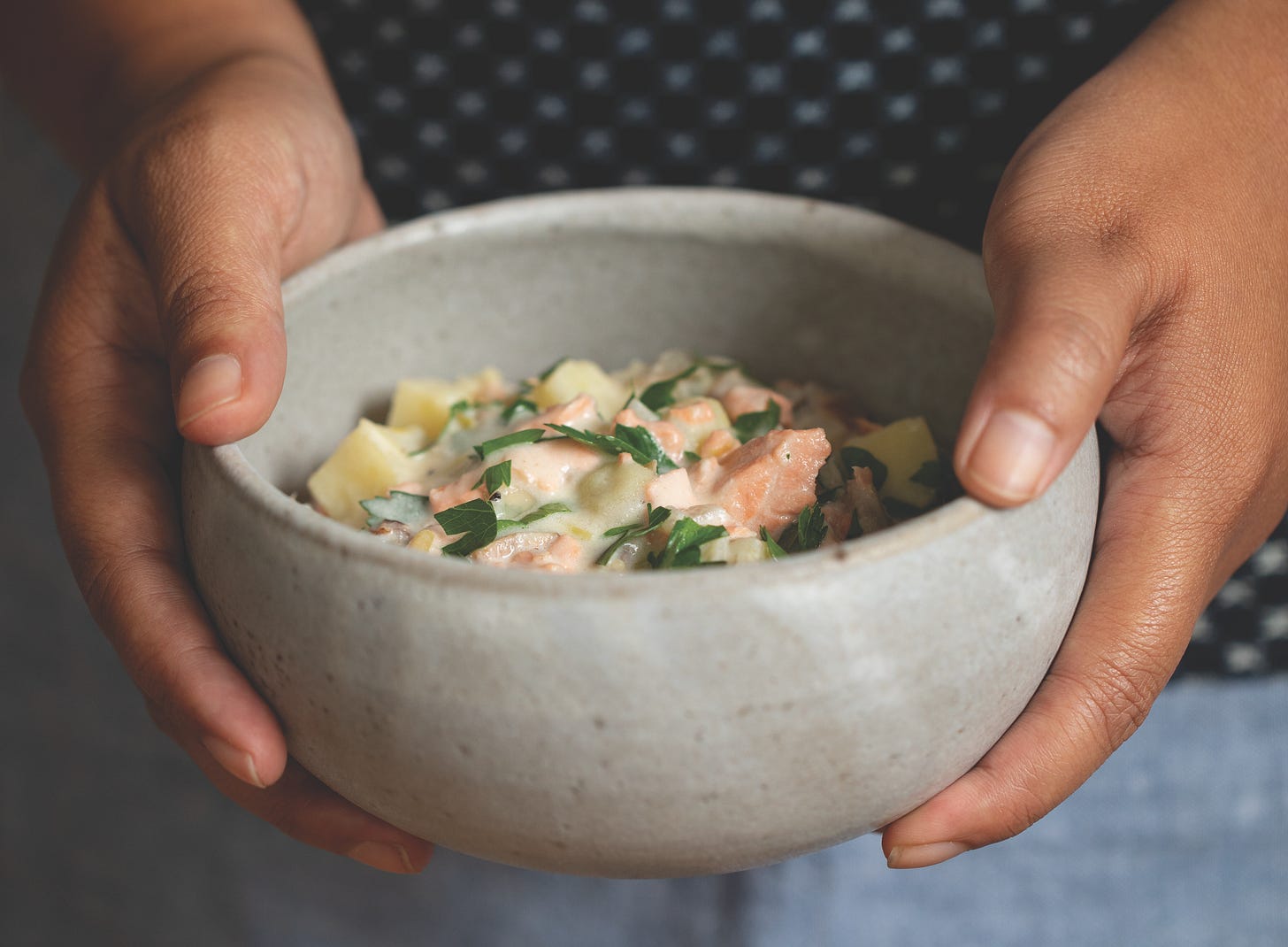 Salmon Chowder
From The Pacific Northwest Seafood Cookbook: Salmon, Crab, Oysters and More by Naomi Tomky, photography by Celeste Noche [Countryman]. Run with permission, all rights reserved.
Clam chowder may get all the press, but this one-​pot salmon version embodies the ethos behind Pacific Northwest seafood: a stunning, soul-​warming dish with the fish as the star of the show. It's dead simple to make, but the flavors are exciting and lively. There are no tricks or trickiness to the recipe, and it works equally well with the fresh salmon called for here, canned salmon, or leftover cooked salmon. Either way, the result is a comforting, delightful soup that emphasizes the flavor of the fish.
Serves 4 to 6
4 ounces bacon, chopped

2 celery ribs, chopped

1 leek, white parts only, chopped

½ teaspoon kosher salt, plus more as needed

1 tablespoon all-​purpose flour

2 large Yukon Gold (or similar) potatoes, diced

2 cups chicken stock

2 bay leaves

1 sprig thyme

½ pound salmon, skin and bones removed, cut into bite-​sized pieces

1 teaspoon Dijon mustard

½ cup heavy cream

Zest of 1 lemon

¼ cup chopped parsley
In a heavy pot or Dutch oven over medium heat, cook the bacon until most of the fat is rendered and the pieces begin to crisp, about 8 minutes. Add the celery, leek, and ½ teaspoon of salt, and cook, stirring occasionally, until the vegetables are soft, about 5 minutes. 
Dust in the flour, stirring to make sure there are no clumps, then add the potatoes, stock, bay leaves, and thyme. Lower the heat and let simmer for 10 minutes. The potatoes should be starting to soften—​you should be able to stab them easily with a fork. If not, keep simmering for a few more minutes.
Add the salmon and mustard, and let cook for 3 to 5 minutes, until the salmon is fully opaque. Turn off the heat, stir in the cream and the lemon zest, then salt to taste.
Garnish with parsley.
---
That's all for now, folks. See you Friday. If you know someone who needs more cookbookery in their lives, do let them know about Stained Page News! And if you'd like to upgrade to a paid subscription, click click click:
If you've got scoops for me or a book coming up, you know where to find me.