Discover more from Stained Page News
Cookbook fans, you have come to the right place.
Over 12,000 subscribers
Inside The British Baking Book
Let's all make a tea loaf!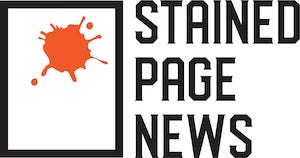 ---
Howdy cookbook fans!
A quick programming note: I have big plans for fall cookbook coverage, but between the pandemic and printing backups and book distribution drama and problems with USPS and and and…there have been some hiccups. And there will continue to be hiccups. And while I am trying my best to bring you a recipe/Q&A each week, some weeks it's just not going to be possible. Apologies in advance!
THAT SAID I am tremendously excited about this week's featured cookbook: The British Baking Book (US title) aka Oats in the North, Wheat from the South (UK title) by Regula Ysewijn. At the bottom of today's issue you'll find Ysewijn's recipe for a tea cake with raisins and currants, a recipe that sounds so, so nice—a counterbalance just as hints of fall gloom set in. And Friday subscribers will be treated to a short Q&A with the author herself.
Other than that today is a short one! More time to bake, in my opinion.
---
I just knew I couldn't sit here for the next three or four months, doing fuck-all because I'll go nuts. So I thought, "I'll just write a book," but I want to actually address—alright, so you feel like shit today, you probably can be in the kitchen for five minutes max, what can we make? You have good days and then, after treatment, bad days. So, on the good days we set ourselves up for the bad days. 
—Australian chef Shannon Martinez on writing a "cooking for chemo" cookbook while undergoing treatment herself. [Cool Hunting]
---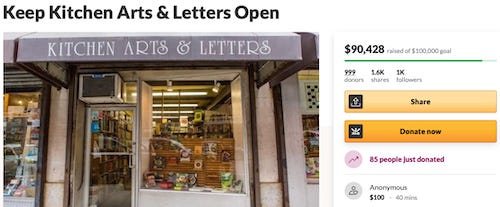 ---
It's a cover like nobody's ever seen before. I don't know how you are in rap, but back in the day, Vibe magazine did a cover of Death Row Records with Tupac, Dre, Suge and Snoop. They had on black turtlenecks with the Death Row necklaces….The cover is going to be like that, with my granny in a turtleneck and all the rest of the Bludso family on the front. Everybody's going to be in black turtlenecks. Then on the back of the cookbook, it's going to be future, with our kids in black turtlenecks.
—Pitmaster Kevin Bludso on the cover of his upcoming barbecue cookbook, The Bludso Family Cookbook.
---
Tea Loaf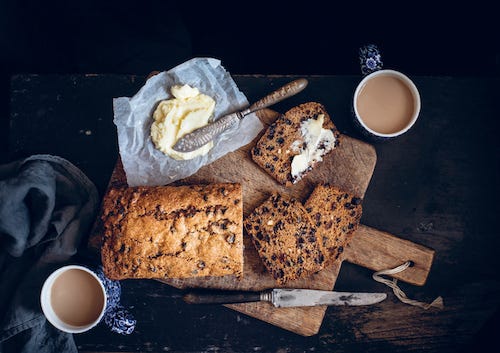 Excerpted with permission from The British Baking Book by Regula Ysewijn. Copyright © 2020. Weldon Owen, publisher. Photograph: Regula Ysewijn.
This tea loaf is a bara birth without yeast—a more modern version of a Welsh cake. The result is a wonderfully moist cake that stays good for days and only gets better with time. It is heavenly when spread with some good butter. This cake is a favorite with my family and friends.
Makes one 9 x 5 inch loaf tin
1 1/4 cups (175 g) currants

1/2 cup (80g) raisins

1 cup hot strong English tea

2 cups plain white flour

1/2 cup (110 g) demerara (coarse raw sugar)

1/2 cup (120 g) soft brown sugar

1/2 teaspoon mixed spice (or pumpkin pie spice)

1/3 cup (50g) candied citrus peel

1 tablespoon (15 g) baking powder

1 egg

Butter, for greasing

Flour, for dusting
Put the currants and raisins in a large bowl. Pour in the tea and leave to soak overnight.

Preheat your oven to 300F.

Prepare the loaf tin: Apply a thin layer of butter with a folded sheet of paper towel and divide it nicely into the corners of the baking tin. Apply a strip of parchment paper in the tin that covers both sides and protrudes slightly above the top of the tin so that you can remove the cake more easily after baking. Dust the lined tin with flour, hold the tin above your workbench or sink, and tap the bottom to remove the excess flour.

Add the flour, raw and brown sugars, mixed spice, candied peeel, baking powder, and egg to the bowl of soaked currants and raisins and mix well. Spoon into the tin.

Bake the loaf in the lower part of the oven for 1 1/2 hours. Check the loaf after 1 hour by gently pressing your down in the middle of the cake; it should be lightly springy to the touch. If the batter sticks to your fingers, continue baking for another 15 minutes or more, covering with foil if it threatens to get too dark.
Serve the loaf with butter.
---
That's all for now! See Friday folks Friday. Let's all have a good week and bake some tea cakes, shall we?
---