JBFA 2020 Cookbook Winners; AI Cookbooks
Plus a increase your Food IQ, some events, good reads, and more.
Howdy cookbook fans!
Hope you are having an EXCELLENT Wednesday. We've got the James Beard Foundation Award winners listed below; I am on mega deadline so no time for analysis BUT I will say The Whole Fish, winner of Book of the Year, is a great book. Congrats to all the winners. Oh, and we have the recipe for blackberry dumplings! From Melissa M. Martin's fantastic Mosquito Supper Club, so scroll all the way to the end.
As always, if you would like to see me in your inbox again on Friday, become a paid subscriber by clicking the big red button below. On to the news!!
---
The 2020 JBF Cookbook Awards Finalists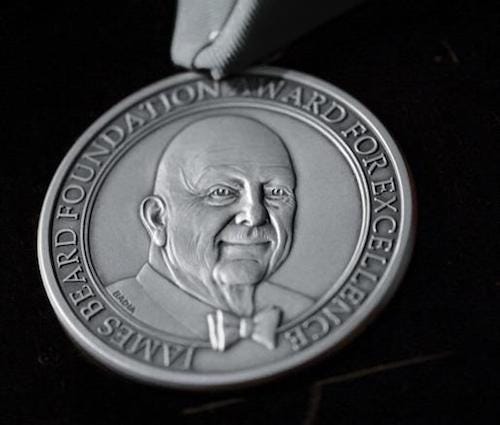 Photo: JBF
Restaurant and Professional
The Whole Fish by Josh Niland [Hardie Grant]
Baking and Desserts
Living Bread by Daniel Leader with Lauren Chattman [Avery]
Beverage
The Nomad Cocktail Book by Leo Robitschek [Ten Speed]
Best Books About Beverages Without Recipes
World Atlas of Wine by Hugh Johnson and Jancis Robinson [Mitchell Beazley]
General
Where Cooking Begins by Carla Lalli Music [Clarkson Potter]
Health and Special Diets
Gluten-Free Baking at Home by Jeffrey Larsen [Ten Speed]
American
Jubilee by Toni Tipton-Martin [Clarkson Potter]
International
Ethiopia by Yohanis Gebreyesus [Kyle]
Reference, History, and Scholarship
The Whole Okra by Chris Smith [Chelsea Green]
Single Subject
Pasta Grannies by Vicky Bennison [Hardie Grant]
Vegetable-Focused Cooking
Whole Food Cooking Every Day by Amy Chaplin [Artisan]
Writing
Eat Like a Fish by Bren Smith [Knopf]
Photography
American Sfoligno; Eric Wolfinger, photographs [Chronicle]
Book of the Year
The Whole Fish by Josh Niland [Hardie Grant]
Cookbook Hall of Fame
---
New Cookbook to Answer Your Biggest Cooking Questions
This just in over the tip line: TASTE editor and cookbook author Matt Rodbard is teaming up with chef Daniel Holzman to write Food IQ: 100 Questions, Answers, and Recipes to Raise Your Cooking Smarts. The book will answer a series of cooking questions that go beyond the basics, like: "What's the difference between cast iron, carbon steel, and non-stick?" "Is it ok to cook with frozen seafood?" and "So why is the farmer's market so damn expensive?"
Rodbard tells SPN the questions get at "unlocking what's in a chef's brain" to the benefit of home cooks and food enthusiasts. Each question will be accompanied by a recipe that demonstrates the subject at hand; for example, the book might have you simmer a bay leaf briefly to understand just what exactly bay leaves add to a dish. Harper Wave, Spring 2022.
---
Check this out!
---
Blackberry Dumplings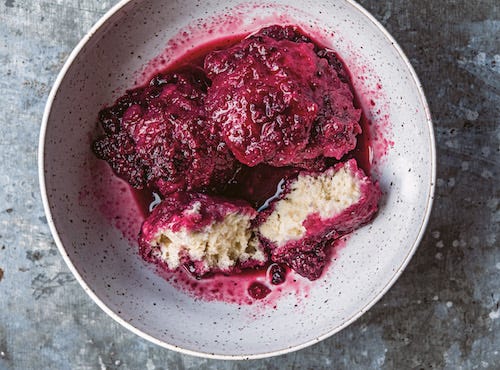 Excerpted from Mosquito Supper Club by Melissa Martin (Artisan Books). Photography by Denny Culbert. Copyright ©2020.
Blackberries come into season at the beginning of April, so that's when I start checking the waterline on the back bayou of my grandparents' land in Cocodrie to see how the crop looks. My dad and I love the unripe blackberries for salads and garnishes; they have a slight bitterness. When blackberries are in full season, we'll pick as many as we can so we can make blackberry dumplings throughout the year. Pair any flavored dumplings with a scoop of "Pop Rouge" Ice Cream or vanilla ice cream.
Makes 24 dumplings
For the Blackberry Stew:
6 cups (750 g) blackberries

2 cups (500 g) raw unrefined sugar

1 bay leaf
For the Dumplings:
2 cups (255 g) all-purpose flour, plus a little more for the top

1 tablespoon baking powder

1 tablespoon kosher salt

2 tablespoons leaf lard

4 large eggs

1 cup (240 ml) whole milk

Ice cream, for serving (optional)
Make the blackberry stew:
In a large bowl, combine the blackberries and sugar; add the bay leaf. Let sit at room temperature for a couple of hours.

Pour the blackberries and 2 cups (480 ml) water into a wide, heavy-bottomed 8-quart (8 L) pot and bring to a simmer over medium heat. Reduce the heat to maintain a simmer and cook for about 45 minutes.
Make the dumplings:
In a medium bowl, sift together the flours, baking powder, and salt. Add the lard and cut it in with your fingers or a fork.

Make a well in the center of the mixture and crack the eggs into it. Add the milk to the well, then use a fork to whisk the eggs and milk into the flour mixture. Just bring the ingredients together—don't overmix. Sprinkle a little flour over the batter to cover it. This also helps coat the scoop with flour when you go in to scoop up the dough. Let sit for 5 minutes.

Working in batches, use two spoons or a small (#100) cookie scoop to drop the dough into the simmering blackberry stew (see Note) and cook, basting the dumplings frequently with the blackberry mixture, until they are set and cooked through, about 6 minutes, then carefully flip the dumplings over and cook, basting frequently, for 5 to 6 minutes more. The dumplings will stiffen and be easy to handle with a slotted spoon. If the batter is still gooey and falling apart, then the dumplings are not cooked yet. Once they are cooked, remove the dumplings with a slotted spoon to a plate. Repeat with the remaining batter.

Eat the dumplings warm as is or serve with a scoop of ice cream.
Note: When cooking the second round of dumplings, you may need to add a little boiling water to the blackberry stew to thin it out.
---
Okay that's it! See Friday folks Friday, and have a great week.