Jose Andres Bio; Tahini Roasted Squash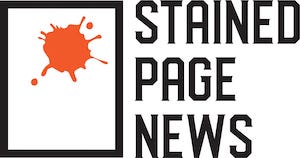 ---
Howdy cookbook fans!
I hope you are having an excellent Tuesday. I am enjoying Austin's crisp blue fall skies after an early morning bike ride home from the tire shop where my car is enjoying a spa day after running over a screw. This weekend I measured the house for Christmas lights (!!!!) and planted snap peas, radicchio, collards, and a lettuce mix. I was supposed to do broccoli too but you know what? There's not always time for everything. Broccoli this upcoming weekend.
Review copies are still slowly trickling in, so instead of cookbook recipes, this weekend I made this orzo with spinach and feta and dill from Melissa Clark—except I did arugula instead of spinach, and served it with salmon. It was fab, highly recommend.
In today's issue: roasted butternut squash with orange tahini sauce, walnuts, and za-atar from The Tahini Table by Amy Zitelman, a recipe that feels fancy and oh-so-seasonal, but is easy enough to make on a weeknight. First, though, some news.
---
José Andrés Illustrated Bio for Kids Coming Fall 2023
Photo: Andrés in Beirut with World Central Kitchen after the August 4 explosion disaster.
People of America! (And presumably wherever English-language children's books are sold.) Children's book author Erin Frankel will write an illustrated biography of chef and humanitarian José Andrés. Andrés is a Beard Award-winning chef with restaurants across the US and in the Bahamas. He is also the founder of World Central Kitchen, an NGO that helps feed those affected by disasters.
Frankel is the author of several children's books, including Remembering Barkley, a story about pet loss/grief. The book will be called Plate of Hope and will focus on World Central Kitchen's efforts. Paola Escobar, whose most recent work I am delighted to inform you includes a children's biography of Selena, will illustrate. Random House Studio, fall 2023. [PM]
---
People ask me about the role of chefs in the 21st century, and I would look no further than Gabriela for the answer. She leads from the front at her restaurants, putting social justice first and advocating for those whose voices are too often marginalized. She walks the walk.
—Speaking of José Andrés, here he is on Mexico City chef/cookbook author Gabriela Cámara, who made Time's list of the 100 Most Influential People of 2020.
---
---
We spent 10 days at Pilar's home in Houston and cooked all the food, shot all the photos, tasted every dish, and revisited and rewrote every story. We also checked every set of recipe instructions while making the food. Pilar cooked all the recipes, and Eileen assisted Araceli on photography, props, and cooking. It was a real communion of minds around Chilean food, music, culture, and memories, and a very intense period of time. Pilar's family graciously went to stay with some friends, and we kept a number of families fed by packing out leftovers every night to make more room for the next day's food. 
—Pilar Hernandez, Eileen Smith, and photographer Araceli Paz tested and shot their new cookbook, The Chilean Kitchen, in record time (plus their recipe for beef empanadas!). [Cherry Bombe]
---
Roasted Butternut Squash with Orange Tahini, Walnuts, and Za'atar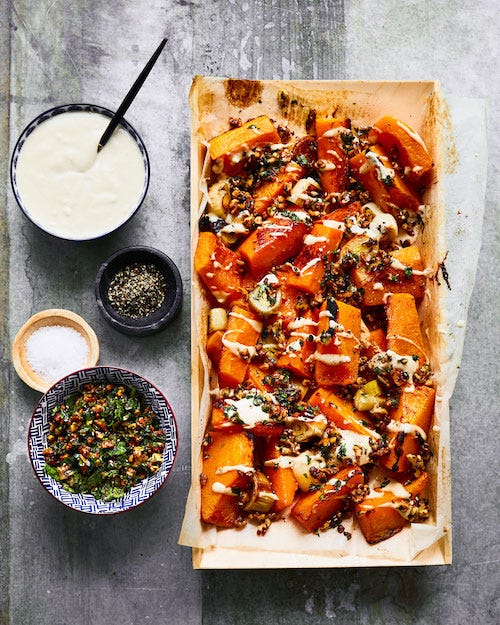 Reprinted with permission from The Tahini Table by Amy Zitelman, Agate Publishing, November 2020. Photo: Jillian Guyette.
Wildly pretty and so easy, these vegetables can be roasted ahead. Simply refresh them in the microwave or a warm oven and finish with the sauce, freshly toasted nuts, freshly chopped herbs, and toast made from a crusty artisanal bread. 
1 (2-pound) butternut squash, peeled, seeded, and cut into wedges

5 tablespoons extra-virgin olive oil, divided

2 large leeks, cut into 1-inch pieces (white and pale green parts)

¼ cup premium tahini paste

5 tablespoons freshly squeezed orange juice

2 tablespoons freshly squeezed lemon juice

1–2 tablespoons water

1 garlic clove, minced

½ teaspoon fine sea salt

⅛ teaspoon crushed red pepper 

⅓ cup chopped walnuts

2 tablespoons chopped fresh flat-leaf parsley

1 tablespoon za'atar

Flake salt and freshly ground black pepper, to taste
Turn the oven to 475°F.

Toss the squash with 2 tablespoons of the olive oil on a large sheet pan. Roast until the squash starts to brown, about 15 minutes. Toss the leeks with 1 tablespoon of the remaining oil and add to the pan of squash. Roast until the squash is tender enough to pierce easily with a knife, about 15 minutes more.

While the vegetables roast, whisk the tahini and orange and lemon juices in a small bowl. Add enough water to make the mixture the thickness of cream sauce. Season with the garlic, fine sea salt, and crushed red pepper.

Heat 1 tablespoon of the olive oil in a small skillet over medium-high heat. Add the walnuts and stir until they darken slightly and smell toasty. Scrape into a bowl, cool for a bit, and toss with the parsley and za'atar.

When the vegetables are done, transfer them to a platter. Season with flake salt and black pepper. Drizzle with the tahini sauce and remaining 1 tablespoon of olive oil, and scatter the walnut mixture on top. Serve right away.

---

Sending love to everyone in Napa suffering from the wildfires, especially my Mason side of the family. Love you all. <3 Please consider climate change when you vote this November, up and down the ballot.

See Friday folks Friday where, pending breaking news, I'm gonna deep dive into the history of celebrity chef cookbook covers. It'll be fun! Join me!

---