Discover more from Stained Page News
Cookbook fans, you have come to the right place.
Over 12,000 subscribers
Howdy cookbook fans!
Big news day! New books by old faves (Samin! Yotam!) were announced this week, the Art of Eating Prize was announced, and much more. As always, if you like what you see in these free Wednesday issues, you can get a second Friday issue each week for $5/month or $50/year. WHAT A DEAL. Click below for more, let's get to it.
---
Obituaries: B. Smith and Norene Gilletz
First, though, some sad news. Two legends of cookbookery died this week, and I have rounded up several odes to their lives and work below. Rest in peace.
B. Smith
Norene Gilletz
Ottolenghi Flavo(u)r Coming this Fall
Big news.. This is the UK cover of my next book, Flavour!! And next to me is my very clever co-author
@ixta.belfrage
who brought in some amazing new techniques and flavours from Mexico, Italy, Brazil and more.  There are more than 100 recipes there and they reveal how to get the best flavour out of the wonderful world of vegetables. Out in UK 3rd September, in North America on 13th October (stay tuned for North American book news coming next week!). Details of all international publishing dates are in the link in my bio. Ixta and I have signed 2000 copies for
@Waterstones
which are available to pre-order now. Signed copies are also available to pre-order from the Ottolenghi website. I'll be going on a 9 date tour across the UK and Ireland discussing my life in Flavour. Dates and locations are in the link in my bio, tickets will go on sale this Friday 28th. I am also going on a North American tour in October, but more on that next week.
Bestselling UK cookbook author/chef/restaurateur Yotam Ottolenghi has announced his next cookbook: Ottolenghi Flavour. (No word on whether the North American edition will get to keep the "U." I assume no.) Out October 13 in the US from Ten Speed, the book is co-authored by Ixta Belfrage (pictured) and will boast 100ish vegetable-focused recipes.
According to the Bookseller, Flavo(u)r will explore "three principles that create great flavour": Process, Pairing, and Produce. Recipes include "Aubergine Dumplings alla Parmigiana, Celeriac and Goat's Cheese 'Tacos', Spicy Mushroom Lasagne, and Romano Pepper Schnitzel." Vegetables!
---
Samin Nosrat Working on New Cookbook
I got to have a deeply enjoyable, meandering conversation on the state of my life with
@helenr
for
@newyorkermag
recently. Link in bio if you'd like to read it. 🧡 photos by
@aysia
In an interview with the New Yorker's Helen Rosner, Salt, Fat, Acid, Heat author and Netflix show host Samin Nosrat announced her next project: "a book that's trying to answer the question 'How do you know what to cook?'" Rosner has more details (and the interview is worth a read just for the Samin-ness of it all), but Nosrat is again teaming up with illustrator Wendy MacNaughton for this project. No word on pub date. Apparently there will be fart jokes.
---
2020 Art of Eating Prize Goes to Caroline Eden's
Black Sea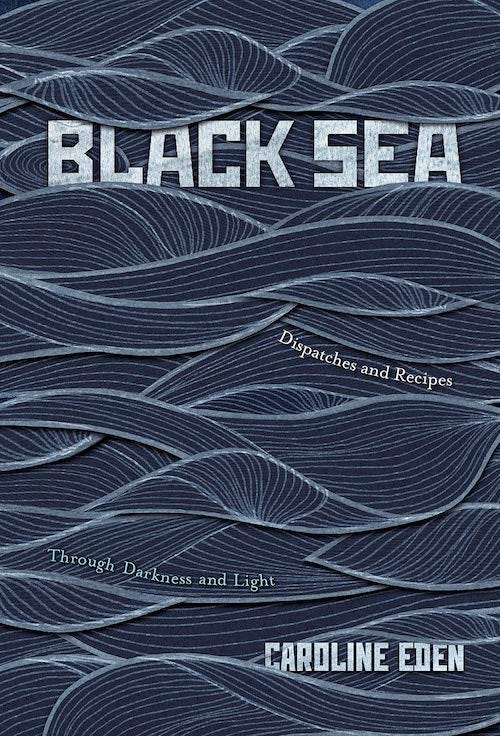 Congratulations to Caroline Eden, author of Black Sea: Dispatches and Recipes, Through Darkness and Light [Quadrille] and winner of the 2020 Art of Eating Prize. In addition to one of the best cookbook covers I've ever seen, Eden swayed the judges with her artful prose. Writes judge/chef Frank Stitt, "Eden's writing is so evocative, so precise, with a rare ability to weave history into travel and an eye towards food and how cooking brings diverse people together." The Art of Eating Prize comes with a $10,000 and a custom ladle trophy.
---
Check this out!