Discover more from Stained Page News
Cookbook fans, you have come to the right place.
Over 12,000 subscribers
New Smitten Kitchen Book; Kenji's Kids Book
Plus Samin Nosrat launches a podcast.
Howdy cookbook fans!
Sorry for disappearing on you like that. I've been out sick—not corona-related, but still a very stressful time to be sick! Anyway, back at it this week with a ton of news to get to, so here we go. I hope you're hanging in there. I was lucky enough to be on the Cookbook Love Podcast, so go listen to that if you like. Plus we have a recipe from Irina Georgescu's gorgeous new book, Carpathia. It's about Romanian food and the recipe is for a bean dip with caramelized onions. I think the world needs more bean dip right about now, don't you? Now for the good news!!
---
Deb Perelman Announces New Smitten Kitchen Cookbook
Deb Perelman aka the blogger/recipe developer behind Smitten Kitchen has announced a third cookbook in the works. I reached out to Perelman for more info and she told me:
I am very slow at writing books. My first book came out in 2012, my second in 2017, this will likely be out in the fall of 2022 — 5 years between each. It gives me a lot of time to think about where I am and where I'd like this book to be. For this third book, I've been thinking about how there's a lot of recipe noise out there. There are more places cranking out food content™ than ever. But the right recipe is an oasis in a storm, the place where you can stop scrolling the feed and close the browser. The goal is for these recipes to have this effect — "Stop! This is what we are making for dinner." I'm working on a collection of recipes I hope will be instant classics that fit seamlessly into our real lives, but with a bit of escapist energy too, because relentless practicality — in cooking or in life — is boring as hell.
This will be Perelman's third book, the first being The Smitten Kitchen Cookbook and the second being Smitten Kitchen Every Day. Knopf 2022 (?). Can't wait.
---
Kenji Lopez-Alt's Kids Pizza Book Coming in September
Hey folks! My new children's book, illustrated by the incredible
@immagigi
is available for preorder, out September 1st of this year. Follow the link in my bio.
100% of my commission on this book and The Food Lab is going directly to producing and providing meal kits for needy San Mateo families during the COVID-19 crisis. An additional 10% of sales is going directly to independent bookstores around the country. I hear The Food Lab makes a great gift, if you want to get your holiday shopping done early and do some real good for those suffering most during these difficult times.
Every Night is Pizza Night is my first children. Join Pipo as she learns lessons about community, family, open-mindedness, and what it really means to be "best." It's aimed at toddlers 3-7 years old, and includes a bonus recipe for parents and kids to make together. I'm proud as can be of it.
Man, I WISH every night was pizza night. Currently eying my last frozen pizza contemplating if its day has come. Anyway! Serious Eater and cookbook author J. Kenji López-Alt is coming out with a kids book this fall called Every Night Is Pizza Night, about a little girl learning about the global foods in her neighborhood. There's also a recipe for pizza. Illustrations by Gianna Ruggiero. Pre-order here.
---
Samin Nosrat Launches Home Cooking Podcast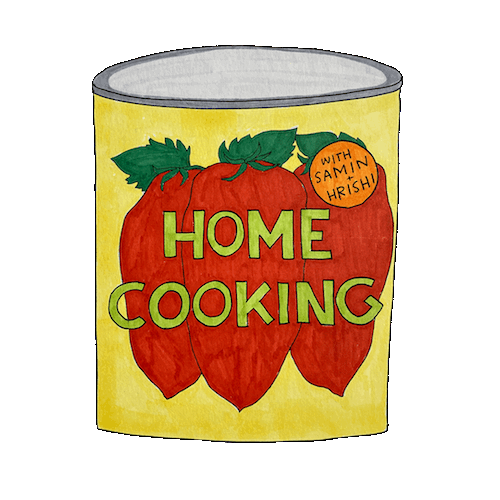 Cookbook author and food TV person Samin Nosrat has announced a new podcast with podcaster Hrishikesh Hirway (Song Exploder, West Wing Weekly). Called Home Cooking, it's a call-in/email-in show where Nosrat answers questions about cooking during quarantine. They're planning four episodes, the first came out Friday. I could use a little Samin Nosrat in my life right now.
---
Check this out!
Okay that's it! Thanks for being here with my, friends. Hopefully will get another newsletter out this week but honestly things have been kind of tough over here and I'm trying to be kind to myself. I hope you are being kind to yourself, too.