Discover more from Stained Page News
Cookbook fans, you have come to the right place.
Over 12,000 subscribers
New World Sourdough and Lots to Read
Plus, a long-overdue "change."
Howdy cookbook fans!
Hope today finds you well. Today we have a recipe for birote from Bryan Ford's New World Sourdough: Artisan Techniques for Creative Homemade Fermented Breads. It's a technique-heavy recipe; perhaps a bit more so than recipes I typically run. SO! I encourage you to check out his book for details on everything from shaping to proofing to baking. You'll also need a sourdough starter for this recipe, in case you missed the March memo to become obsessed with sourdough bread. If you did, Ford has many, many details on his website.
Lots for you to read this week! So get baking, get reading!
---
This email contains affiliate links through bookshop.org. If you purchase a book after clicking one of those links, I'll receive a commission, which helps me keep Stained Page News affordable. Links are not necessarily recommendations. If a book's in the news, I'll link to it, be it garbage or treasure.
---
Taking the T—- out of T—- Kitchen
I don't want to give too too much oxygen to this because this should have happened years ago (or, you know, not happened to begin with), but: the white people behind the racistly-titled Thug Kitchen cookbooks have finally, finally decided to change their name. They haven't said what the name will be changed to, yet, and also it only appears as a small word—CHANGE—at the top of their homepage. So I guess I'll believe it when I see it.
Here are several stories from 2014 that dig in:
---
Check this out!
---
Birote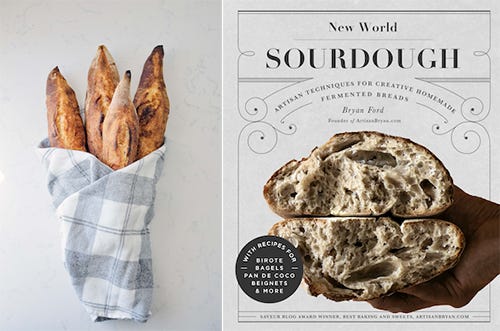 Excerpted with permission from New World Sourdough by Bryan Ford. Quarry Books 2020, all rights reserved.
I find nothing more satisfying than recreating the unique breads of Latin America in my very own kitchen. I especially love when the bread is meant to be stuffed with savory fillings and drowned in spicy salsa—in Mexico, the torta ahogada is just that. Birote (pronounced bee-row-teh) is a crunchy, darkly baked sourdough bread said to have a flavor unique to the environment of Guadalajara, but if you grab your favorite beer and some limes, you'll come pretty close!
For the levain:
50 g mature sourdough starter

100 g bread flour

90 g warm water
For the dough:
400 g all-purpose flour

100 g bread flour

315 g water

100 g levain

50 g light beer, divided

Juice of 1 lime

10 g salt
First, build the levain:
In a tall jar or medium bowl, mix the mature starter, flour, and warm water until incorporated. Cover with a lid or clean kitchen towel and leave in a warm place for 3 to 4hours, or until doubled in size. You can use your levain immediately, or refrigerate it for 12 hours to use at a later time or the next day.
To make the dough:
In a large bowl, mix the flours and water. Let this mixture rest for 30 minutes.

Add the levain, the beer, and the lime juice. Using your fingers, squeeze together and incorporate the ingredients until the dough is smooth and no excess liquid remains. Cover the dough with a cloth and let rest for 30 minutes.

Stretch the dough into itself a few times and flip it over in the bowl. Let rest for 30 minutes.

Repeat the stretching. Let the dough ferment at room temperature for 3 1/2 hours.

Cover the dough and refrigerate overnight, 8 to 12 hours.
To shape and proof the dough:
Place the dough on a floured work surface, divide it into 5 pieces (roughly 200 g each), and shape each piece [into a roll].

Transfer the dough to a cuttingboard, couche, or kitchen cloth. Let proof for 1 to 2 hours.
To bake the bread:
I prefer to bake these on a sheet pan dusted with semolina. Place the baking vessel in the oven and preheat to 500°F (250°C).

Transfer the bread to the baking vessel and bake for 10 minutes. Reduce the oven temperature to 475°F (240°C) and bake the bread for 15 minutes more.

Let the steam out. Transfer the bread to the top rack for 5 to 10 minutes, or until it is dark brown—keep an eye on it. Remember, you want a dark bread with a thick crust so you can create a delicious soaked sandwich. Don't be afraid to bake it longer than you are used to.

Let your bread cool and enjoy it as a soaked sandwich, like the torta ahogada, or with oil, vinegar, butter, or jam.

---
Okay friends that's all for today! See Friday people Friday. Hope you are well.