Discover more from Stained Page News
Cookbook fans, you have come to the right place.
Over 12,000 subscribers
Pepper Teigen's Cookbook Title REVEALED!
Plus: more Alpine cooking from Meredith Erickson
Howdy cookbook fans!
Welcome to Stained Page News, your internet source for cookbook news. Big news today in newsletter land: SPN was featured in a piece by Matt Rodbard over on Taste with the extremely flattering title The Future of Food Media Is in Your Inbox. The future of cookbook news is in your inbox, literally, with my 2020 fall cookbook preview currently going out every week day to paid subscribers—you may join their ranks for $5/month or $50 a year by clicking here. (And to my paid subscribers: apologies for this news delay, we're back tomorrow with pastry, baking, and dessert cookbooks!)
Today in Texas we're celebrating indoor season as it's 145 degrees outside and will be for the foreseeable future. I don't even look at the weather this time of year. A good time to read about cookbooks. On to the news!!
---
Title, Details on Pepper Teigen's Spring 2021 Book Revealed
Vilailuck "Pepper" Teigen, mom to Chrissy, has a cookbook coming out in the spring. According to publishers info I dug up in the book database Edelweiss, the book will be called The Pepper Thai Cookbook : Family Recipes from Everyone's Favorite Thai Mom*. Selected additional info from Edelweiss:
Known as "Pepper Thai" for her love of spicy chiles, Pepper whips up the most delicious dishes in the Teigen-Legend household on the regular, like Bow-Tie Pad Thai, Crispy Cauliflower Hash, and Red Curry Meatball.

In this debut cookbook, Pepper shares more than 80 playful…The chapters are quirky and fun, like "Always Snacking" (Thai Jerky, Son-in-Law Jammy Eggs), Salads but not Boring (Coconut-Citrus Yum), Back Home in Khorat (Turkey Grapow, Grilled "Gai Yang" Chicken), and Pepper's Pantry (Puffy Fried Eggs, Sweet Chile Jam). In addition to recipes, Pepper tells stories about immigrating to the U.S. from Thailand, learning to cook Thai dishes with American ingredients and substitutes, and what it's like to raise a famous daughter.
The book made headlines this week as Chrissy and makeup artist Kristine Studden posted snapshots of the photoshoot for the book on Instagram. Vilailuck, who hails from Thailand, has had her recipes featured in both of Chrissy's cookbooks (Cravings has a chapter called "Thai Mom") and is frequently featured on the Cravings website.
On Vilailuck's instagram in March, she posted photos of several dishes with the caption "Working on my recipes," so head over for (maybe? perhaps?) a preview of what's in store. Clarkson Potter, Spring 2021.
*I'm aware this link is broken; that's where it will be in Bookshop when it's available for presale. Watch this space.
---
Meredith Erickson's
Alta Italia
to Follow-up
Alpine Cooking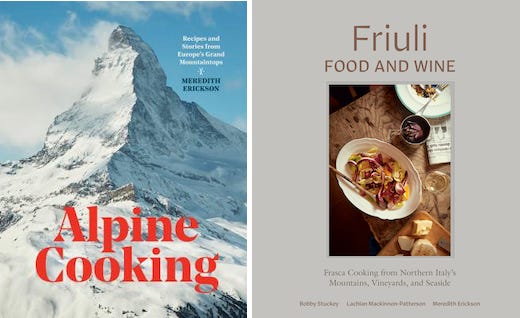 Veteran cookbook author Meredith Erickson (the Joe Beef books, Le Pigeon) did an interview with Taste recently about her new cookbook Friuli Food and Wine, written with sommelier Bobby Stuckey and chef Lachlan Mackinnon-Patterson of Boulder restaurant Frasca. In the interview, she reveals she's working on a spiritual sequel to 2019's Alpine Cooking to be called Alta Italia, focusing on the foods of Northern Italia: "It's the same vibe as Alpine (same team, same photographer: Christina Holmes). It's a travelogue turned up to 11."
Erickson told SPN a little bit about the book:
Alta Italia is an elegant, romantically old-school, almost forgotten way to reference Northern Italy. Just saying it aloud makes you want to gesture with your hands like a well-suited noble Lombardian signore on the ancient cobbled streets of Milan. This book is a narrative history of Northern Italy using recipes to punctuate each stop along the journey. 

In Alta Italia I will take you across the Serenissima autostrada, from the ribbon-shaped coast of Liguria through the historic rolling vineyards of the Piedmont into the storied dining rooms of Torino and Milano. Together we'll whisk through the back doors of the tucked-away lakeside kitchens of Garda, Como and Maggiore and then up, past Verona, onto to the gentle slopes of the Veneto and Alto Adige. There will be weekend lunches in Brescia and Bergamo, and inspired recipes from Padua and Alba.
Alta Italia will be published by Ten Speed in 2023.
---
Molly Yeh's New Cookbook Part of 2 Book Deal
i'm working on my next cookbook!! HOME IS WHERE THE EGGS ARE is about the coziest tastiest recipes that nick, bernie, and i enjoy on a regular basis. it features the kind of food you can shovel into your mouth from the comfort of a sausage sweatshirt and third-day hair, stuff that you can manage to make with a toddler in your arms (mayyybe 🤷🏻‍♀️😂), ingredients that you have right now (or can amazon… you can amazon mochi bits right?!), and flavors inspired by our family's chinese/jewish/scandinavian/midwest heritage. I AM SO EXCITED and i cannot wait for you guys to see it. it will be out in fall 2022 with
@williammorrowbooks
, which is a long way away but i promise to share the recipe development process as i go!!! ❤️🥰🍳🏡📘
#homeiswheretheeggsare
As reported last week, food TV person/blogger Molly Yeh is working on a new cookbook called Home Is Where the Eggs Are. Since then, new details have emerged: Yeh writes on her Instagram above that the book will feature "the kind of food you can shovel into your mouth from the comfort of a sausage sweatshirt and third-day hair, stuff that you can manage to make with a toddler in your arms…and flavors inspired by our family's chinese/jewish/scandinavian/midwest heritage."
And perhaps more exciting, according to Publishers Marketplace the deal is for not one book, but two! Eggs will be published by William Morrow fall 2022; details on the second book TBD.
---
Look, I'm not saying that you can't use turmeric on a menu or in a cookbook unless you do a doctoral dissertation on ayurvedic medicine. I'm just saying that a couple of sentences at the top of a recipe would place it in context. I love the commingling of cultures. My cookbooks are not all Indian, because I don't eat like that. I don't experience life like that, and I don't think most Americans do, either. So I'm not saying that Indian food should only be cooked by Indians. But it would be great if a recipe that went viral were placed in the context of its own history.
—TV host and author Padma Lakshmi on appropriation and viral recipes. [NYT]
---
---
We broke the book down in seafood chapters so we can talk about the life of a fisherman, how shrimp get sold, how to get good shrimp. We do the same with local oysters. We talk about the problems in the industry and possible solutions. We talk about coastal erosion and the loss of bayou, both metaphorically and physically. With that comes loss of tradition and culture.
—Chef Melissa Martin talks tradition and loss and seafood in her new cookbook, Mosquito Supper Club. [NOLA]
---
WOO! That's it. See paid subscribers tomorrow with more fall book preview; see the rest of you next week!