Discover more from Stained Page News
Cookbook fans, you have come to the right place.
Over 12,000 subscribers
Recipe: Cheesy Tater Tot Hot Dish
What more do you need than the promise of hot cheese and tots?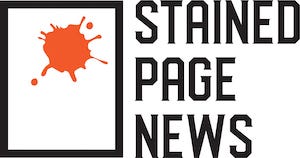 ---
Howdy cookbook fans!
Announcement: on October 27 at 1:00PM CT, I'll be speaking on a panel called The Art of Newsletters (!) with Joe Yonan (Washington Post), Jonathan Nunn (Vittles), Tanya Sichynsky (Washington Post), and Sam Sifton (New York Times). It's part of the digital IACP conference; there's a lot of other good stuff happening, check it out! (To get access to my panel and much more, you'll need a Core Conference ticket.)
And a programming note: people sometimes ask what the Friday paid issues contain, and the answer is: more original content! Some issues have Q&As with authors. Last week I looked at a chef co-author's desire for more credit for a book he wrote with a reality star; the week before, it was recipe bylines and what it means to "adapt" a cookbook recipe for reprint in a publication (and how I handle that here!). Plus I open comments on Friday issues. And I've got an exploration of 20th century chef cookbook covers waiting for the next time there's a slow news day. Join me by clicking the big red button below!
In today's issue: HOT CHEESE! When I heard there was a book coming out this fall called Hot Cheese by Polina Chesnakova, I knew I had to feature it. Even better? The recipe is for TATER TOT HOT DISH aka a casserole topped with tater tots. And hot cheese. (A little bit I pride myself on my ability to read about food for hours without getting super hungry, as it is literally my job. My one weakness, though, is hot cheese. Cheeseburgers and pizza. What can I say, I'm from Wisconsin.)
SPN HQ UPDATE! Spent this weekend cooking like it wasn't in the 90s outside, roast chicken and potatoes and braised cabbage and baked oatmeal. Had planned on planting (more) fava beans and some hakurei turnips, but, again, in the 90s outside. Some day it will be fall in Texas. Last night tested my new Instant Pot recipe for Texas Monthly and it came out a dream, so keep an eye out for that—coming to a texasmonthly.com near you soon.
---
There's a misconception that [the cuisine] is difficult, that it's far, that it's not 'sexy,' for lack of a better word. But that's not true. Everything you need, for the most part, is in your pantry. We want to dismantle that this food is somehow at a reach.
—Hawa Hassan, on her goal for her new cookbook In Bibi's Kitchen: The Recipes and Stories of Grandmothers from the Eight African Countries That Touch the Indian Ocean, out today. [Vogue]
---
Marcus Samuelsson at the Smithsonian October 29
Are you taking advantage of all the digital talks and panels and such going on during the pandemic? You really should try a few—these are events that would typically only be available for people in big cities, but now are available to, well, anyone! Here's a good one to start: on October 29 at 6:45 ET, the Smithsonian is hosting chef/author Marcus Samuelsson to discuss his new book, The Rise: Black Cooks and the Soul of American Food. Samuelsson will be in conversation with Osayi Endolyn, his co-author on The Rise, and Jamila Robinson, Philadelphia Inquirer Food Editor, will moderate. Tickets are $25 for members/$30 for non-members.
---
---
And when an idea for a cookbook came to me, I knew I was fully restored, alive again. I saw it clearly: a book inspired by my cancer story, yet not defined by it, one that belonged to my community. To return to them the debt of soup and life they had given me, sewn together in pages that held our collective story.
—Cookbook author Caroline Wright, buoyed by soup, launches a Kickstarter for a new cookbook. [BA]
---
Tater Tot Hot Dish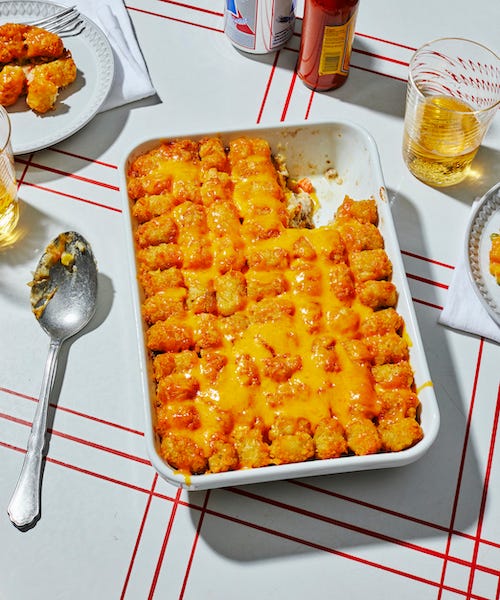 Reprinted from Hot Cheese by Polina Chesnakova with permission by Chronicle Books, 2020. Photo: Paul Sirisalee.
7 tablespoons [100 grams] unsalted butter

1 medium yellow onion, diced

1 medium carrot, peeled and diced

1 celery stalk, diced

Kosher salt

2 garlic cloves, minced

6 tablespoons [55 grams] all-purpose flour

2 cups [480 ml] whole milk

2 teaspoons chicken or beef bouillon base, or 1 bouillon cube

1 pound [455 grams] 80 or 85% ground beef

2 cups [240 to 280 grams] frozen corn, peas, or a combination of the two

1 tablespoon Worcestershire sauce

1/3 cup [80 grams] sour cream

One 2 pound [910 grams] bag frozen tater tots

8 ounces [230 grams] sharp Cheddar cheese, coarsely grated (2 cups)
1. Heat the oven to 350°F. Butter or oil a 9 by 13 inch [23 by 33 cm] baking dish.
2. In a large saucepan or pot, melt 6 tablespoons [85 g] of the butter over medium heat. Add half of the onion, the carrot, celery, and a pinch of salt and cook until the vegetables soften and the onion turns translucent, 7 to 8 minutes. Add the garlic and cook for 1 minute more. Add the flour and stir to incorporate it into the vegetables—they will clump into one dry mass. Cook for 2 minutes. Slowly begin to stir in the milk a little bit at a time, waiting until the vegetable-flour mixture absorbs the liquid before pouring in more. Stir in the chicken bouillon base. Bring to a simmer and cook, stirring frequently, for 2 to 3 minutes, or until the sauce has thickened and coats the back of a spoon. Remove from the heat and set aside.
3. In a large skillet, melt the remaining 1 tablespoon butter over medium heat. Add the remaining onion and a pinch of salt and cook for 3 to 4 minutes to soften. Increase the heat to medium-high, add the beef, and cook until browned, another 3 to 4 minutes. Stir in the corn (and/or peas, if using) and cook for 1 minute more to warm through. Remove from the heat and season with the Worcestershire sauce and salt. Add the beef-corn mixture to the pan with the creamed soup base. Add the sour cream and mix to combine. Transfer the mixture to the prepared baking dish. Cooled and covered, the hot dish can be refrigerated for up to 2 days in advance. 
4. Top with even rows of tater tots (feel free to play around with the design) and bake for 50 minutes, or until the tater tots are browned and crispy. Remove from the oven, sprinkle with the cheese, and continue baking until the cheese melts, another 10 minutes. Let cool for 5 to 10 minutes before serving.
---
That's all for today! I'll see Friday folks Friday. Have a great week.
---