Discover more from Stained Page News
Cookbook fans, you have come to the right place.
Over 12,000 subscribers
SPN on Insta, A New Cookbook Club
Plus: book deals! On a Tuesday! I know!!!
Howdy cookbook fans!
How's it going? Gearing up for a presumably uneventful 4th of July of staying inside and not going to parties, myself. But I do have some exciting news, which is…
THE STAINED PAGE NEWS INSTAGRAM IS HERE!
Cooking from this one a lot lately: Falastin by Sami Tamimi and Tara Wigley [Ten Speed]
Give me a follow maybe! My plan is to post new cookbooks as they come in, but who knows what shenanigans I'll get up to. Also, tag me in your cookbook cooking projects! It'll be fun!
And because it's that time of year, I've also got a recipe for Green Tomato Pie from Ashley Strickland Freeman's new book The Duke's Mayonnaise Cookbook. It's like regular tomato pie, only GREEN!
Now, news.
---
This email contains affiliate links through bookshop.org. If you purchase a book after clicking one of those links, I'll receive a commission, which helps me keep Stained Page News affordable. Links are not necessarily recommendations. If a book's in the news, I'll link to it, be it garbage or treasure.
---
Salt & Spine Podcast Launches Cookbook Club
We're so excited to share that our new cookbook club launches this week! And we're thrilled to announce that our first two featured authors will be Naz Deravian (in July) and Priya Krishna (in August)! Cook along with us (if you'd like) and then come together with these authors for a super fun virtual *DINNER PARTY* each month hosted with our friends
@civickitchensf.
⠀
⠀
Find book-buying links and sign up for club updates at the link in our bio—and stay tuned right here on Instagram for more!
#TalkCookbooks
Salt & Spine podcast has announced the launch of their brand new spanking cookbook club. For July, they've chosen Naz Deravian's Bottom of the Pot, about Persian food. And for August, Priya Krishna's Indian-ish, about, well, Indian-ish cooking. Sign up here.
---
Coming Attractions
So I can finally reveal the cover of my first cookbook The Pie Room!! 🤗🤗🤗
.
An amazing shot from
@johncareyphoto
that captures what is inside perfectly. The book is out on the 24th September published by
@absolute_cooks
and is available for preorder now... the link to buy on Amazon is in my profile so please head over there and get your copy lined up!
.
Thank you
@jamieoliver
for the cover quote and for everything else you've done to help, absolute legend 🙌
.
I'm getting really excited now 🤗 🤗🤗
Normally I save Coming Attractions for Friday's paid subscriber issue, but we've got some good ones today, so why not. First up, above: The Pie Room by London chef Calum Franklin, coming in September. This is UK, so by "pie" they mean "stuffed with meat." They are quite pretty, though—give Calum a follow above if you could use some pretty meat pies in your life.
Food writer and fellow Substacker Alicia Kennedy will write Meatless, examining veganism and "green-washed 'plant-based' capitalism." Beacon Press, pub date TBD.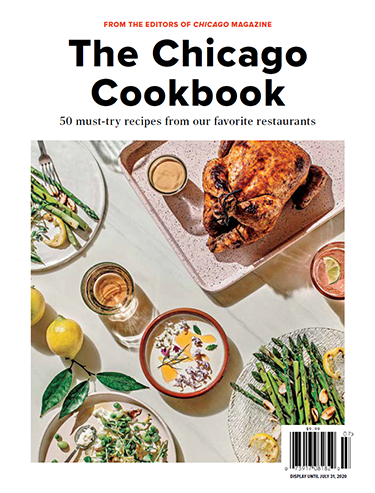 This one is technically already out now, but: Chicago magazine has published a collection of recipes from Chicago restaurants called The Chicago Cookbook, including Avec, Big Jones, Parachute, Giant, and more. Order here.
---
Check this out!
---
Green Tomato Pie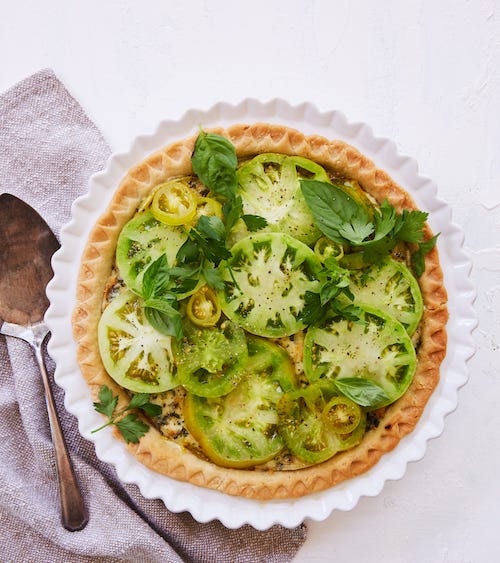 Excerpted from The Duke's Mayonnaise Cookbook by Ashley Strickland Freeman, Grand Central 2020. Used with permission, all rights reserved. Photo: Mary Britton Senseney.
There are a lot of recipes out there for tomato pie, but they all use ripe red tomatoes. I love the tanginess of green tomatoes, and in this application they're heavenly. The combination of tart green tomatoes and a creamy filling of fresh basil, parsley, and chives, all baked in a flaky crust, yields the ultimate tomato pie. 
Serves 6 to 8.
5 green tomatoes, sliced 

1 teaspoon salt 

Flaky Pie Dough (see below)

1 cup shredded sharp white Cheddar cheese 

1 cup freshly grated Parmesan cheese 

3⁄4 cup Duke's Mayonnaise 

2 cloves garlic, minced 

2 tablespoons chopped fresh basil, plus more for garnish (optional) 

2 tablespoons chopped fresh flat-leaf parsley, plus more for garnish (optional) 

2 tablespoons chopped fresh chives 

1⁄4 teaspoon freshly ground pepper 
Arrange the tomato slices in a single layer on paper towel–lined rimmed baking sheets. Sprinkle evenly with salt and let stand for 1 hour. Pat the tomatoes dry. 

While the tomatoes stand, make the Flaky Pie Dough. 

Preheat the oven to 375°F. Roll out the dough to a 1⁄4-inch-thick round. Fit into a 9-inch pie plate or tin; fold the edges under and crimp. Prick the dough with a fork. Fill with parchment paper and dried beans or pie weights and bake at 375°F for 18 minutes, until the crust is baked through. Remove the crust from the oven. Reduce the oven temperature to 350°F. 

Stir together the cheeses, mayonnaise, garlic, basil, parsley, chives, and pepper in a medium bowl. 

Layer one-third of the tomatoes in a single layer on the bottom of the baked crust; top with half of the cheese mixture. Repeat layers. Top with the remaining tomatoes. Bake at 350°F for 30 minutes, or until the crust is browned and the filling is bubbly. Let rest for 10 minutes before slicing. Garnish with additional herbs, if desired. 
Note: I like to add the final layer of tomatoes during the last 10 minutes of baking so they hold their shape. I also like to use a variety of heirloom green tomatoes, from green grape tomatoes to green zebra slicing tomatoes. 
Flaky Pie Dough
2 cups all-purpose flour

1/2 teaspoon salt

1/2 cups Duke's Mayonnaise

1/4 cup cold water
Pulse the flour, salt, and mayonnaise in a food processor until crumbly. Gradually add the cold water through the food chute and pulse just until the dough comes together. Shape into a disk and let rest at room temperature for 30 minutes. Or refrigerate until ready to use. Let stand at room temperature 1 hour or until pliable. 
---
Okay, that's all for today! See Friday folks Friday, have a great week.