Discover more from Stained Page News
Cookbook fans, you have come to the right place.
Over 12,000 subscribers
The Wiggles Cookbooks; 2020 Book Sales
And RIP to a Houston legend.
---
Howdy cookbook fans!
It is *checks notes* Wednesday, apparently! Sorry to miss you yesterday, we had some technical difficulties. But! There is a lot to get to today, thankfully.
SPN HQ UPDATE! Honestly, not much to report. I made a kimchi pork stew this weekend that was fantastic, and actually a rabe/farro/sausage/pesto soup that was really good too. Neither of those were from cookbooks, though. My garden is a little sad and it's supposed to freeze tonight, so. Not many updates there either. Womp.
This is also the last free issue for Stained Page News for 2020. This year has been a lot of things to a lot of people, and I hope for you it wasn't so bad. For this little newsletter, 2020 has been everything, and I want you to know I am so thankful to each of you for joining me every week to appreciate cookbooks. You made this awful year just a little bit brighter for me, and I hope that I helped make your year a little brighter, too.
I have big things planned in 2020, including a book club focusing on cult cookbooks (!), more contributions from people who aren't me (!!), and OBVIOUSLY a preview of what we can expect from the cookbooks of 2021 (!!!). (Gosh it feels good saying 2021.) If you want in on all that, become a paid subscriber—and, what the heck, I'll offer annual subscriptions at 20% off until the end of the year.
Thanks again. And now, on to the news.
---
I did this because I wanted to understand why these products exist in the first place. I had always assumed they are inferior to cookbooks written by people who have devoted their lives to writing cookbooks, but — counterpoint — what if I was wrong? Am I above shameless marketing ploys? I used to work at a renaissance festival, after all! And now, of all times, would it be so terrible to immerse myself in the made-up tastes of pretend 1980s Miami to hang out for a while with my aging, fictional friends?
—This review of The Golden Girls Cookbook is not what you think. [Grub Street]
---
Kids Supergroup The Wiggles Launch Cookbook Series
Australian kids group The Wiggles have announced a new cookbook series, featuring recipes aimed at children, with publisher Are Media. The first two books are already out: Cooking with the Wiggles, shown above, and Emma's Tea Party. Cooking features recipes like "eggs, toasties, burritos, meatballs, chicken nuggets, pasta, soup, chocolate cookies," while Tea Party is purportedly lighter fare like "sandwiches, pizza, cheesy chicken strips, potato wedges, fruit salad and pikelets." 2021 plans include books on "baking and healthy lunch box meals."
I don't have kids so I had to ask parent pals about the Wiggles, but even I had at least heard of them. Contrary to what the cover above might have you believe, The Wiggles is not a cartoon but rather a band for kids that both tours and does TV shows. They've been around since 1991, with various lineups. The current members of the Wiggles are Anthony Field, Lachlan Gillespie, Simon Pryce, and Emma Watkins (she's the one throwing the tea party). Per The Takeout's Allison Robicelli, "Kids like it when adults talk directly to them at their level, and they like dancing around and burning off energy. This results in naps, which are great."
---
A strong sense of place is important. You can find endless recipes on the internet, so a cookbook needs to go beyond just the ingredients and method. I appreciate authors who show you how they think about cooking, with tips on flavor, ingredients, tools, methods — the things they would tell you if they were in the kitchen with you. And beautiful photography certainly helps.
—Lara Hamilton, owner of Book Larder in Seattle, on what makes for a good cookbook. [Seattle Mag]
---
2020, Baby: Book Sales Up, Bookstores Struggle
As this forsaken year dwindles to a close, we have a better idea of the shape of book sales during 2020. And according to NPD Bookscan, book sales have more than recovered from the plunge that occurred during the early days of COVID-19. No doubt thanks to all those sourdough books y'all bought, I'm sure. That's the good news.
The bad news is bookstore sales are down, pretty consistently. Publishers Weekly reports bookstores sales were down 27.8% in October, year-over-year. Which sucks. Which means those sourdough books are coming from Am*az*n and W*lm*rt.
So! If you still have some shopping to do, here's an idea: try your local independently owned bookstore. It's a drum I bang a lot around here, but is worth repeating. Plenty of bookstores offer curbside—my local, Book People here in Austin, has a particularly good set up. And cookbook shops across the US are happy to ship (although we are more or less out of the shipping window for Christmas), including faves like Kitchen Arts & Letters in New York, Omnivore Books in San Francisco, and Now Serving in Los Angeles. Make your New Year's resolution to support local bookshops. Do it. Okay!
---
Cookbook Author and Longtime Houston Chronicle Food Editor Ann Criswell Dies
From 1966 to 2000, Ann Criswell was the food editor of the Houston Chronicle. She was also the author of eight (!) cookbooks. And on December 15, she died of complications due to COVID-19 at the age of 87.
I'll let you head over to the Chronicle to read more about Criswell's accomplishments—her food sections were 26-30 pages each week—but a quick story. When I was working on my book about Austin restaurant recipes, I judged a fried chicken competition in Round Top (which is halfway between Austin and Houston). A bunch of the judges were from Houston and when I told them about the book, they said, "Oh, like Ann Criswell!" The look on their faces when I said "Who's Ann Criswell?" could have frozen lava. Anyway, I have since then righted that wrong, and you should consider this a formal invitation to do the same.
---
---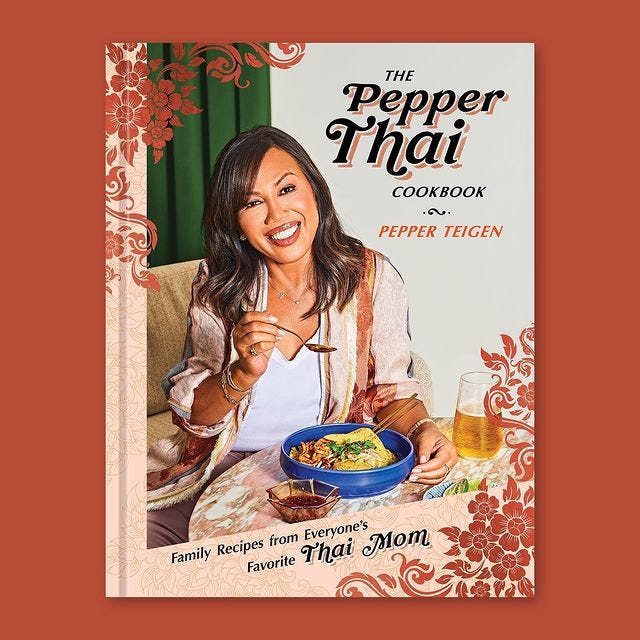 ---
And Yet More Best of 2020 Lists
---
That's all for today, folks. Friday folks, I will see you Friday—remember to email me asks for personalized cookbook recommendations, if you want! Thanks everyone.
---