Discover more from Stained Page News
Cookbook fans, you have come to the right place.
Over 12,000 subscribers
Awesome Cookbook, Great Job; Vegan Mexican Cooking
Plus a recipe for a last minute Thanksgiving casserole.
Howdy cookbook fans and HAPPY THANKSGIVING!!!
I hope y'all have big plans—US readers, please let me know what you're cooking in the comments!
So this is the last issue of SPN before I split issues into those for everyone and those for paid subscribers only. And I want to take a minute to explain why I've chosen to charge for some of the issues, because it's not a decision I take lightly.

I ADORE cookbook news. I collect book deal intel like baseball cards. I delight in stumbling upon the cover art for a book from an amazing chef on Instagram. I live for combing through fall cookbook catalogs, for tweeting massive threads of all the weird upcoming titles I find on Amazon. And I still, after nearly 12 years of covering the cookbook beat, get super jazzed when something new and exciting and innovative comes across my desk.

I started Stained Page News in early 2018 because no one was covering cookbooks how I like to cover them. And to my extreme surprise and delight, people subscribed! Interacted! Sent me emails about dumb jokes I make at the verrrrry end of the link round up proving you actually read the whole thing!
But, REAL TALK, this newsletter takes a lot of time to put together. And I am a freelancer. Eventually, I couldn't justify spending that many hours a week working on something that brought in zero dollars. It broke my heart, but SPN was shelved for almost a year.
Until I heard about Substack. Substack provides a format that makes Stained Page News possible. It lets me produce a newsletter with a ton of free, fun content (recipes!!) and makes spending literally half my working hours combing through the #cookbook hashtag on Instagram financially feasible.
I promise the free issues will still be packed with tons of good cookbooky stuff. But if you choose to subscribe, you'll get twice the newsletters, and you can comment on posts and threads. You're also helping make sure I'm able to continue producing SPN.
If you subscribe before December 1, you'll get 15% off an annual subscription. After that, subscriptions will run $5/month or $50/year. If you would be so generous, click here:
Okay! On to a brief bet MIGHTY Thanksgiving edition of Stained Page New! Looking for holiday recipes to run when we return, and, as always, SCOOPS! so send me an email.
---
DEALS! DEALS! DEALS!
All deals via Publishers Marketplace unless otherwise noted.
Noted Eric of comedy duo Tim and Eric Eric Wareheim will write Bacchanalia: Lessons in Food and Wine for Ten Speed. Written with decorated cookbook editor Emily Timberlake, the book will be "an illustrated cooking and lifestyle book for those who want to suck the marrow out of the good life." Wareheim is also behind California natural winery Las Jaras. Apologies to Mr Wareheim for stealing this random photo off his Instagram but it seemed to fit the Bacchanalia theme.
Why does avocado look so good when it's spread in this way? Like I literally just want to pick out the avocado and eat it haha. They almost look like caterpillars lol
Provecho will be a vegan Mexican cookbook from Edgar Raw blogger/photographer Edgar Castrejon. Coming from Ten Speed in fall 2021, the book covers 100 recipes "many of which take 30 minutes or less and rely on readily accessible ingredients." Fans of Castrejon's blog already know this one is gonna be a stunner. No apologies to Mr Castrejon for embedding one of his pretty pretty photos.
---
Check This Out
---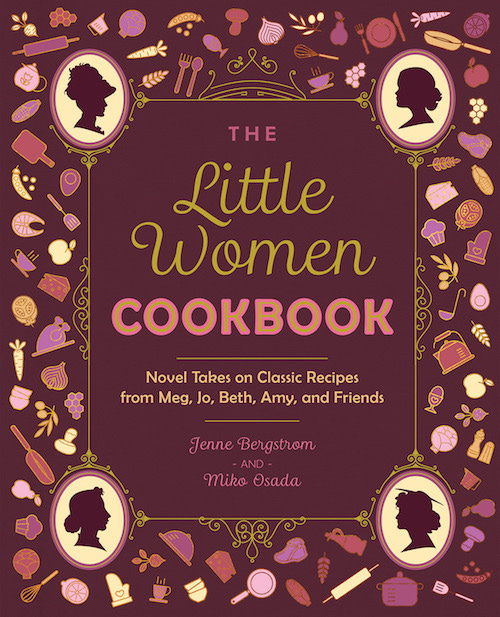 Recipes excerpted from The Little Women Cookbook by Jenne Bergstrom and Miko Osada, Ulysses 2019. Run with permission, all rights reserved.
The History of a Squash
Once upon a time a farmer planted a little seed in his garden, and after a while it sprouted and became a vine and bore many squashes. One day in October, when they were ripe, he picked one and took it to market. A grocerman bought and put it in his shop. That same morning, a little girl in a brown hat and blue dress, with a round face and snub nose, went and bought it for her mother. She lugged it home, cut it up, and boiled it in the big pot, mashed some of it with salt and butter, for dinner. And to the rest she added a pint of milk, two eggs, four spoons of sugar, nutmeg, and some crackers, put it in a deep dish, and baked it till it was brown and nice, and next day it was eaten by a family named March.
The only actual recipe in the novel, Beth's story for The Pickwick Portfolio makes a light but cozy side dish. If you find the traditional Thanksgiving sweet potatoes with marshmallows to be overly sugary, this would make a nice alternative. 
Makes 6 servings
2 lbs butternut squash, cut in approx. 1-inch cubes

2 tablespoons salt (for the boiling water)

3 tablespoons butter, divided

2 cups whole milk

2 eggs

3 tablespoons brown sugar, divided

½ teaspoon nutmeg, plus a pinch more

30 crumbled saltine crackers (about 1 ½ cups crumbs), divided
Boil the squash with the salt in a large pot of water until soft, about 15-20 minutes. Drain the water and mash the squash with 2 tablespoons of butter.
Whisk the milk and eggs together and add to the squash. Add 2 tablespoons sugar, ½ teaspoon nutmeg, 1 cup cracker crumbs, and more salt if needed.
In a small bowl, mix the remaining cracker crumbs, sugar, and nutmeg with 1 tablespoon melted butter.
Put squash in a buttered oven-safe dish (at least 2 quarts) and sprinkle the top with the crumb mixture. Bake at 375 degrees until heated through and browned on top, about 30-45 minutes. It should be puffed and slightly set in the middle.
---
That's all folks! Get in touch if you want, subscribe below if you want, and have a most excellent Thanksgiving.