Discover more from Stained Page News
Cookbook fans, you have come to the right place.
Over 12,000 subscribers
Howdy cookbook fans!
Long time no see! How's it going? I am back from my trip and getting back into the swing of things. Today, that means a ton of BOOK DEALS, as well as the return of Frances Abrantes Baca to explore a facet of cookbook design—today we're talking BOOK SPINES!
SPN HQ update! It has finally cooled off a bit (according to my phone it is 95 out right now, lol) which means soon I will have to do something about my planters (the something is called sheet mulching) which got super overgrown when it was too hot to function. Other than that, the biggest difference between now and this summer is the produce: it might not feel like fall outside, but you better believe I am cooking with cooler weather produce. Tonight it's gonna be miso-glazed sweet potatoes, crispy tofu, and kale sauteed with kimchi. YUM.
Lots in store for you this fall—fascinating pieces from contributors, lots of fall cookbook releases, and a Big Announcement that I am just dying to press "send" on—but you'll have to wait on all of that. Because now, first, the cookbook news.
---
The Creative Brief with Frances Abrantes Baca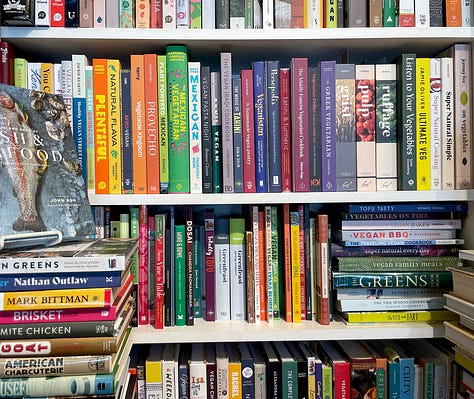 When admiring a cookbook's design, its cover gets much of the attention. However, a book's spine is almost as important—sometimes more so—in attracting the eye. A well considered spine not only ensures a book's durability, but it also uses every inch to beckon a reader to the shelf. In fact, spines are often the only part of a book seen in a store. Real estate on shelves is tight, and a "spine out" presentation—versus a "face out" presentation, where the cover faces outward—is the typical way a book is displayed.
So how do designers make a book's spine "pop"? We have many tricks up our sleeves: big type, high contrast, bright color, art, and special printing effects. But what I'm really interested in are spines that not only compel us to pick a book up, but are executed with a skill that leaves a lasting impression. Sara Schneider, creative director at Chronicle Books, puts it aptly: "It's not enough to be impactful in how spines communicate content. They should offer a peek at the content's aesthetic point of view, and create a visceral reaction."
Schneider's design for the Ruffage, Grist, and Pulp trilogy is an excellent example of not only strong visual cohesion as a series, but also the sensitive use of photography to capture the essence of the recipes. Will Webb's design for The River Cottage Handbooks, likewise, skillfully uses photography to unify the series, and offers a tantalizing glimpse of its contents.
Many of Phaidon's cookbooks have exceptionally eye-catching spines. Books such as Greece: The Cookbook, The Nordic Cookbook, Vegan: The Cookbook, and the bamboo-clad Japan: The Cookbook feature designs that beautifully reflect each book's unique spirit. Though their titles are nondescript, their distinctive spines help commit the books to memory.
Expressive typography can leap off a spine—or threaten to burst its boundaries, as in the case of Lizzie Vaughn's design for Stuffed, whose title lettering (by Monique Aimee) swells with chocolatey brown goodness. Designed by Evi-O.Studio, Tokyo Stories' title literally sparkles, its gold foil letters complemented by bold color and playful illustration that recall the city's vibrant personality. 
Cookbooks by well-known authors sometimes capitalize on their celebrity by placing their photos on spines, though this approach rarely produces remarkable results. A notable exception is a tiny photo of Carla Lalli Music, printed on the pink belly band that wraps her book Where Cooking Begins, designed by Decade. The portrait is a delightful little Easter egg I discovered on only one of many copies of her book.
I would be remiss not to mention Polpo and its striking exposed Smyth-sewn binding. Exposed spines are notoriously difficult to print on and generally disliked by retailers for their challenge to legibility. But Polpo's one-word title, wide width, and expert production are leveraged to spectacular effect by design studio Praline.
These noteworthy spines show that a good measure (give or take a centimeter) of design imagination can help ensure a cookbook's journey from a crowded store, to a cozy kitchen. Stay tuned for more spine-out stars in future editions of The Creative Brief with Frances Abrantes Baca.
---
I'm a little late to this, but above find the trailer for Sitting in Bars with Cake, an Amazon Prime movie based on the 2015 memoir-with-recipes of the same name, by Audrey Shulman. The premise is Corinne (Odessa A'zion) convinces her pal Jane (Yara Sahidi) to bake cakes and bring them to bars, to meet guys. And then it seems to have kind of a sad turn? Unclear. Also Bette Midler is in it. It's out now!
---
Coming Attractions: Kwame Onwuachi! Bonnie's! Florida! Maine! Pie! Martha's Vineyard! Gregory Gourdet! AND A LAO COOKBOOK!!!!!
TWO BOOK DEAL! TWO BOOK DEAL! Kwame Onwuachi, chef at the critically lauded Tatiana in New York City, and author of Notes from a Young Black Chef and My America, to write TWO BOOKS for Knopf. The first is called All Hours, "a cookbook structured around a day in the life of the author," once again written with Onwuachi's longtime collaborator (and friend of SPN) Joshua David Stein. Pub date TBA.

Brooklyn chef Calvin Eng to write the excellently-titled Salt, Sugar + MSG with Phoebe Melnick, for Clarkson Potter. Eng is the chef at Brooklyn restaurant Bonnie's, and his book will be a "showcase of the author's cooking style and a tribute to classic Cantonese flavors and techniques seen through an American lens for the home cook." Pub date TBA.

Chef Kia Damon to write Cooking with Florida Water, a cookbook about, you guessed it, Florida, in which Damon makes the case that "the author's home state, too long excluded from the canon of Southern cooking." On her Instagram (apologies Substack won't let me embed it), she writes, "CWFW is an act of cultural preservation and resistance. It's a love song. It's an honest look at a complicated state. It's a return home." I'm into it! Voracious, pub date TBA.

Maine chef Devin Finigan, of Aragosta, to write an untitled Maine cookbook with Peter Kaminsky. "Classic recipes and new spins representing all parts of Maine." Artisan, pub date TBA.

Hey here's a familiar name! Tara Royer Steele, whom I have heard of because of her connection with the Royer's pie empire in Round Top, Texas, will write Keep Your Fork, There's Pie! for Harvest House. It's about, well, you know. September 2025.

Island Home by Julia Blanter will explore "the restaurants, farms, fishermen, bakers, and food artisans" of Martha's Vineyard, in 100 recipes. Rizzoli, Spring 2025.

Portland chef Gregory Gourdet to write Weekday Table, a follow-up to 2021's Everyone's Table, again written with JJ Goode. Over 100 recipes "where big, global flavors converge with accessibility." Ten Speed, pub date TBA.

For whatever reason, Lao cookbooks are one of the most common recommendation requests I get and there just aren't that many published? Well NOT FOR LONG because Saengthong Douangdara, aka the guy behind Saeng's Kitchen, will write Saeng's Lao Kitchen, "a tribute to the cuisine of Laos with recipes, personal experiences, and historical context that brings Lao foodways from laab, jeow, sticky rice dishes, and more to the Lao diaspora and beyond." Yesssss, give me Lao sausages and I will be a happy lady. Ten Speed, pub date TBA but not soon enough.

Skyhorse has picked up the memoir-with-150-recipes The Spirit of the Herbfarm, written by the late chef Ron Zimmerman. Herbfarm was an early farm-to-table restaurant, opening outside Seattle in 1986. Summer 2024 (soon!).

Camilla Marcus, of no-waste packaged foods brand west~bourne, to write an as-yet untitled book "celebrating the soul and spirit of California living while honoring the principles of regenerative agriculture and pointing the way toward a more sustainable food system." Chelsea Green, fall 2024. (They better think of a title soon!)

ASMR TikToker Edith Galvez (7.2 million followers) to write an as-yet untitled cookbook focused on both traditional Mexican dishes and her favorite American dishes, with an eye towards cooking as a balm to anxiety. (Not sure if ASMR is part of the book or…even how one would do that, but.) Simon Element, pub date TBA.
---
AWARDS SEASON Two awards programs to report on today! First, the shortlist for the Taste Canada awards, which honor both English and French language cookbooks and food books, have announced their 2023 shortlist. The winners will be announced October 30. And on the other side of the Atlantic in the UK, the Guild of Food Writers have announced their annual award winners, including a lifetime achievement award for Ken Hom CBE. Congrats to all honorees!
---
---
RIP Longtime Betty Crocker recipe developer and alumna of The Pillsbury Bake-Off Kay Emel-Powell has died. Emel-Powell was behind such Betty Crocker Kitchens titles as Harvest Time Pies, Creative Holiday Recipes, and Betty Crocker's Smart Cook. She also helped launch BettyCrocker.com. She was 76; read a full obituary here. [Star Tribune]
---
Fall Book Previews!
1
I mean, I know YOU DO, or you wouldn't be here.